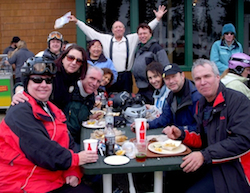 Inskiers Ski and Snowboard Club Race Team....Racing at Lake Tahoe Resorts.
Anyone can race!
There are race categories for skiers and snow boarders of all ability levels. Beginning racers can start by navigating an easy course of 10 or more gates. At the other end of the spectrum, there are hot racers and boarders with low race handicaps who display "olympic techniques" for the rest of us to envy. We race together as a team, against other clubs who are members of the Far West Ski Association. Our "home" league, Singles League, consists of 5 teams from the Bay Area.
Come Race and Enjoy The Camaraderie
Inskiers Team Victorious at Mammoth Mountain FWSA Races
Our team is open to single and married Inskiers members, age 21 and over. Individuals of all ability levels may participate by earning points for the team in their own race category.
It is really easy to sign up for racing! Go to
http://slracing.org
You may register online or you may print your form and bring it to either David Baird or Joe Seiwert III, Inskiers Race Directors, at a meeting or mail it to the Inskiers P.O box (see the Contact section of this web-site) along with your check. It will be a great season and we hope to have lots of racers again this year.
Information and Registration for Singles/Sierra League Racing:
Note: Every Inskier racer is subsidized $20 by the club for their racing application fees.
David Baird Joe Seiwert III
Inskiers Racing Directors
---
Inskiers Club Singles League Race Schedule 2023/2024 season
Time to think about racing and skiing!

CLINIC

-

January 12 Friday

-

Alpine Meadows (cost TBD)

Race 1

-

January 13 Saturday AM

-

Alpine

Meadows - GS

Race 2

-

January 13 Saturday PM

-

Alpine Meadows - GS

Race 3

-

February 16 Friday

-

Northstar - GS

CLINIC

-

March 15 Friday

-

Alpine Meadows

(cost TBD)

Race 4

-

March 16 Saturday AM

-

Alpine Meadows - Slalom

Race

5

-

March 16

Saturday PM

-

Alpine Meadows -

Sla

lom

Race 6

-

March 22 Friday

-

Northstar - GS

Racey Affair - March 23 Saturday - Zano's in Truckee

Far West Championships -

April 3

-

4 - Mammoth

Dave Baird & Joe Seiwert III
© Inskiers Ski & Snowboard Club 2023

Updated 11Nov23 by AA