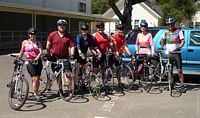 Inskiers Ski and Snowboard Club is a year-round club open to single adults age 21 and over. Based in the San Mateo/Foster City area, we are associated with five other Bay Area Singles League Ski Clubs as well as with the Bay Area Snow Sports Council and the Far West Ski Association.
Prospective members must attend at least one regularly scheduled meeting or social event before Inskiers can process the application.
After you have attended a meeting/social event, to join the club, please print out the membership application and waiver below; complete them and send to the address on the membership form.
Inskiers Membership Application
Inskiers Group Email and Non-Solicitation Policy
With the other clubs in our league, we share both competitive and social winter snow sports activities. When the snow is not falling.....we manage to fill our calendar with a diverse menu of sports activities, group excursions and events such as...biking…rafting…water skiing…hiking... dancing…volleyball…dining…movies...concerts.
We welcome guests at any of our scheduled activities. Check out our calendar.
You are also invited to join us at one of our regular club meetings -
During the winter, General Meetings are held the 1st Tuesday of the month. Socializing starts at 6:30 p.m. and the meeting starts at 7:00 p.m.
We frequently have speakers and provide club activity updates. Come join us in a relaxed and friendly atmosphere.
During the summer we BBQ at Burton Park on the 1st Tuesday of the month. Please click on our calendar for the exact dates and locations of the meetings each month.
Updated 02Jan23
© Inskiers Ski & Snowboard Club 2023