UPCOMING EVENTS
"Pre-Race Party" at the inviting home of Dave and Cathy Baird on Saturday November 11, 2023 at 6:00 PM
Inskiers meet at this location in the fall and winter months :
On March 7, 2023 the club will meet at:
Bridgepointe Mall
2206 Bridgepoint Parkway
San Mateo, CA 94404
A social mixer begins at 6:30 p.m. and the club meeting commences at 7:00 p.m. We frequently have speakers and provide club activity updates. Come join us in a relaxed and friendly atmosphere.
---
Inskiers Vacination Policy
Inskiers follow San Mateo County and the State of California guidelines regarding COVID-19 precautions. Please follow the link below to see the latest safety measures by county.
Current safety measures - Coronavirus COVID-19 Response
---
Inskiers Skiing Hard At Jackson Hole, Wyoming FWSA Ski Week

Monika, Dave, and Karen
---
Inskiers Walk The Ancient Temple Of Abu Simbel At The De Young Museum
The Inskiers enjoy the special Egyptian exhibit at the De Young Museum. Ramses the Great's best known monument was saved from destruction dam at Aswan.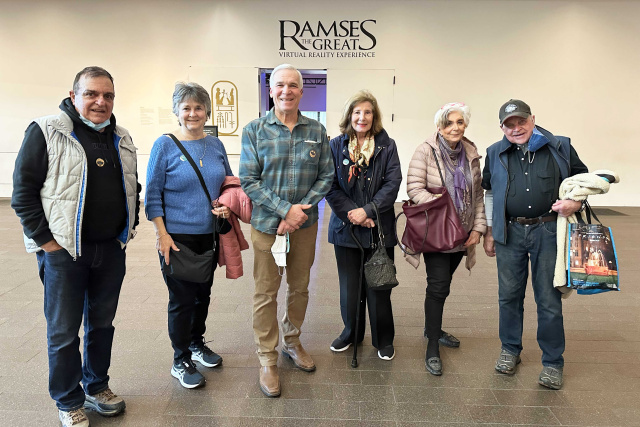 Smiling left to right: Maurice, Susan, Brian, trip leader Cathy, Cathrine and Igor
---
Inskiers Annual Holiday Party and Christmas Lights Stroll
Carols were sung, guests dined and danced, toasts were made, the best ugly sweaters worn, and everyone had a most joyous evening at Mike and Marci's for this year's Inskiers Holiday Party.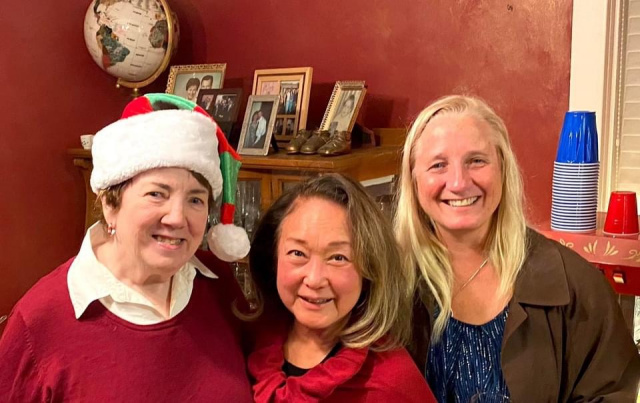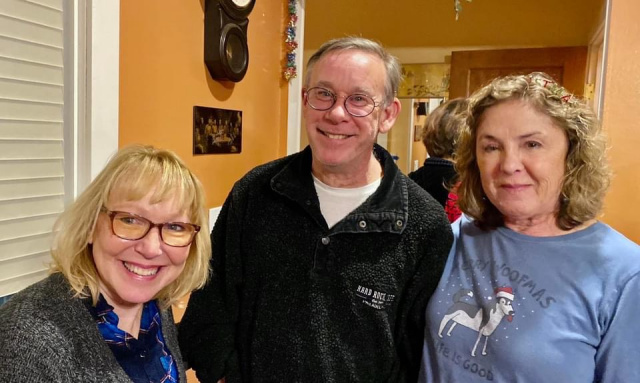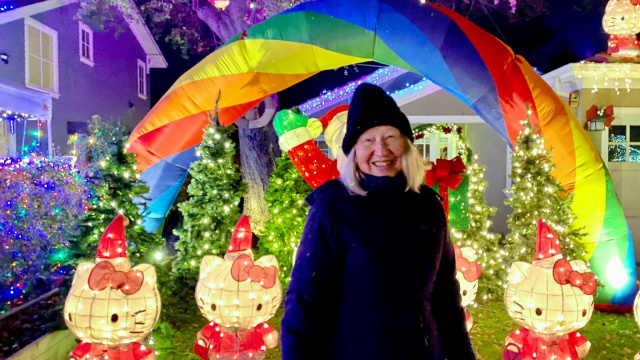 ---
Inskiers Annual Bocce Ball Picnic in Burton Park
Over sixty-five Inskiers filled the Bocce courts in Burton Park in San Carlos this past Saturday for the club's annual social and membership drive. This event is always great fun and is organized by Cathy, our membership chair.

.
---
Inskiers Blind Wine Tasting at Gary and Cathy's
Gary describing different varietals, corked vs uncorked wines, and the nuances of the many wine bottle types. Cathy Looks on and enjoys.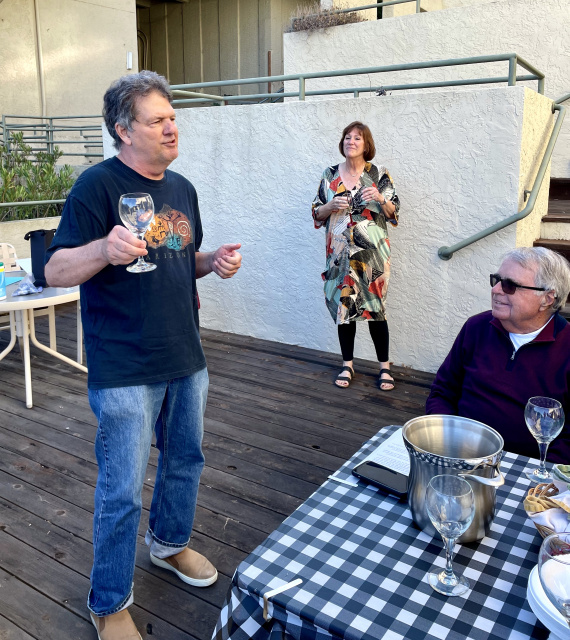 Happy attendees: David F, Bill M, Cathy B, Sonia M, Karen A, Gail B, Marion M, Dave B
---
Inskiers Outing To Tunnel Tops State Park, San Francisco
Inskiers met at the Presidio Golf Club Cafe for lunch and then took a brisk hike together up to the Tunnel Tops State Park to gather in the vistas around the Golden Gate.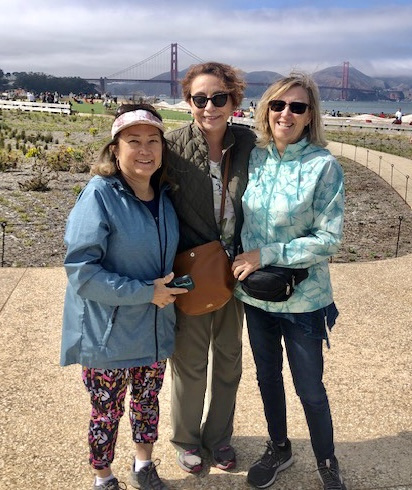 Linda, Chris, and Cathy

---
Inskiers Cyclists Tour Northern Italy
In August, Karen Albrecht led an enthusiastic group of Inskiers on a leisurely eight day Bike and Barge trip along the waterways of the River Po from Venice to Mantua. In the evening the Inskiers ate and drank regional dishes prepared by chefs on board ship. In the day they rode with guides through the fabulous Italian countryside and rural hamlets.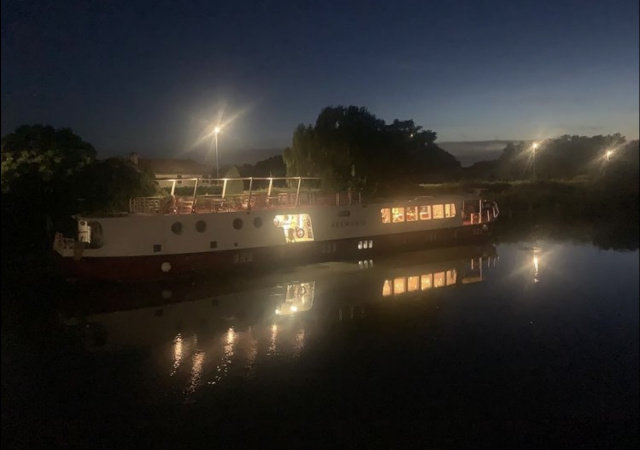 ---
Inskiers Dominate Far West Ski Championships at Mammoth Mountain
The Inskiers race team traveled to Mammoth Mountain in April to represent Singles League in competition with all of the Far West teams. The amazing Inskiers team managed to crush the opposition again this year. Six team racers from Inskiers medaled over the course of the three day event. John Skidog Walsh and Karen Albretch excelled with first place finishes in the slalom and giant slalom races.
Debbie, John, Karen, and Monika Accepting Racing Medals
.
The race team carbs up and plans strategy the evening before the race.
---
Inskiers Wish Farewell To Tyler and Catherine
Inskiers women gathered at the Inskiers cabin to wish a bon voyage to Catherine and Tyler Tollstrup are nrelocating to Hilton Head, South Carolina.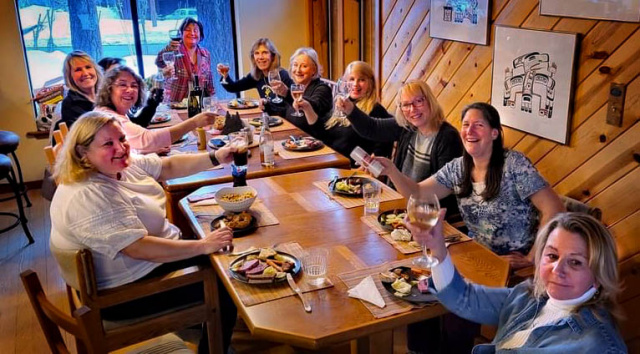 ---
Inskiers First 2022 Race at Alpine Meadows
Blue skies and big smiles! The Inskiers had a most awesome cabin weekend!
Brian, Debbie, and Karen pose for the camera (below).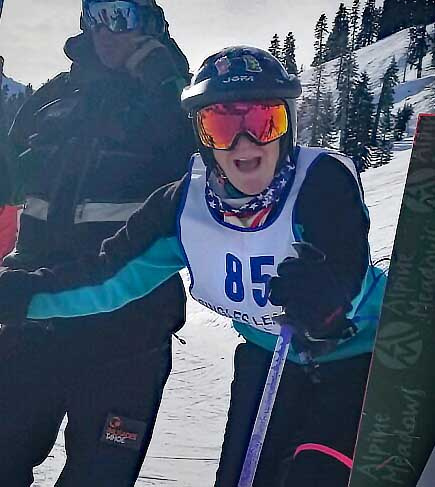 Karen and Madam Pres Marci line up in the starting gate for their giant slalom race.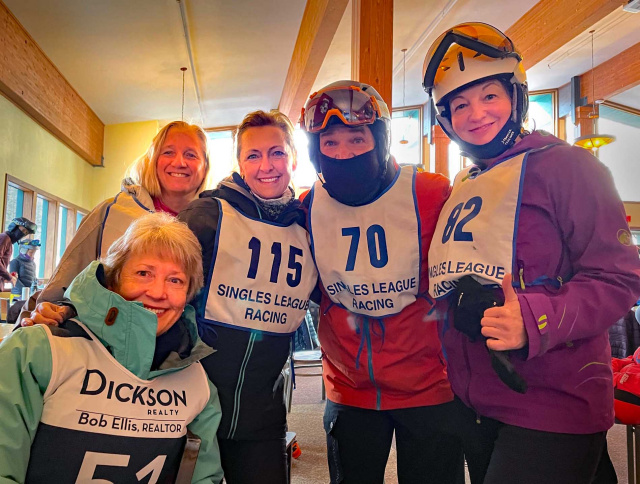 Inskiers racers pose while collecting trophies. Rooting for the home team at the fabled Inskiers cabin
(Thank you David B and Marci for the photos)
---
Snowshoeing at the Inskiers Cabin
Cathy displays chic snowshoeing attire at the Inskiers cabin.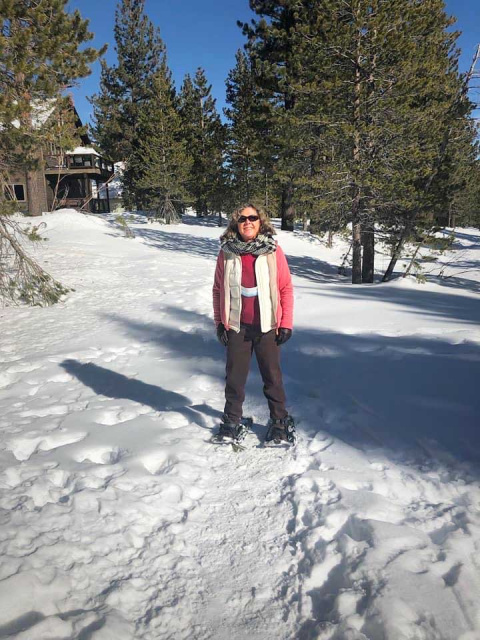 ---
Inskiers Skiers Race Party and Dave and Cathy's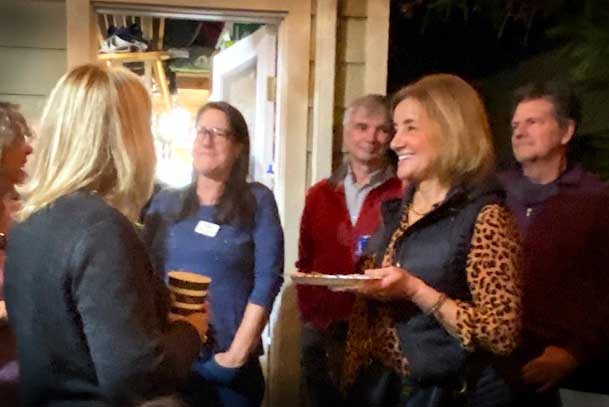 Over sixty Inskiers gathered at Dave and Cathy's home in San Mateo to celebrate the new ski season, the opening of the club cabin and the great prospects for snow this winter.
---
Inskiers Day After Thanksgiving Beach Party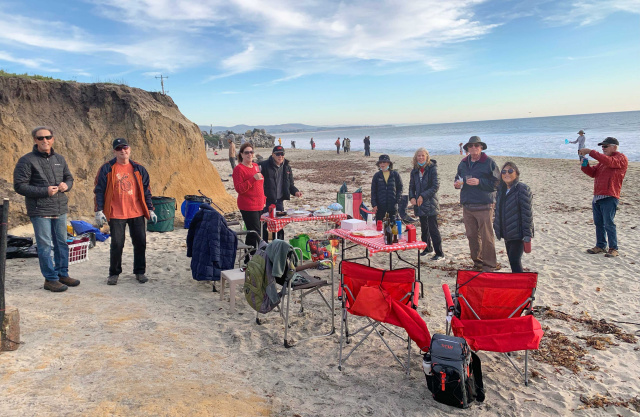 Gary and Cathy host the annual Inskiers Day After Thanksgiving beach party. Great weather
and mellow vibes provided fun for all.
---
Inskiers Bocce Ball Picnic and Membership Drive in San Carlos
Over sixty members gathered at Burton Park to have fun on a warm sunny afternoon in the annual Inskiers bocce ball competition and picnic. The participants celebrated afterwards with pizza and salad and conversation. This very successful renewal event was well orchestrated by Cathy (membership) and brought in several new members to the club.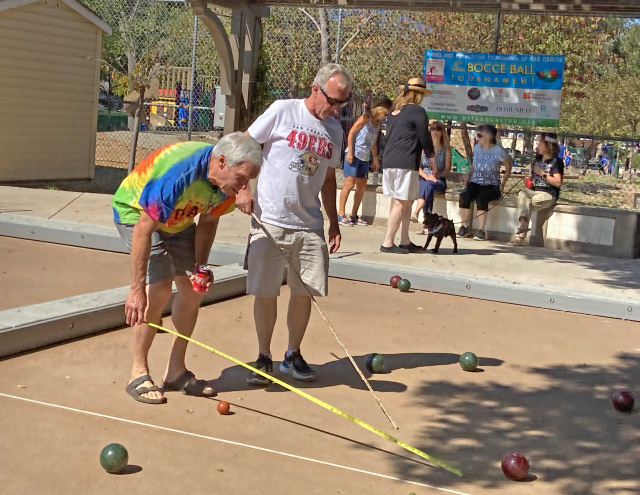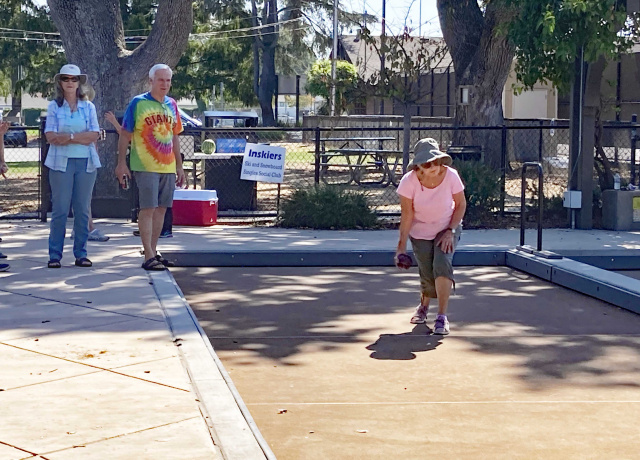 Bocce is a game of inches - Brian and David Kathryn Bowling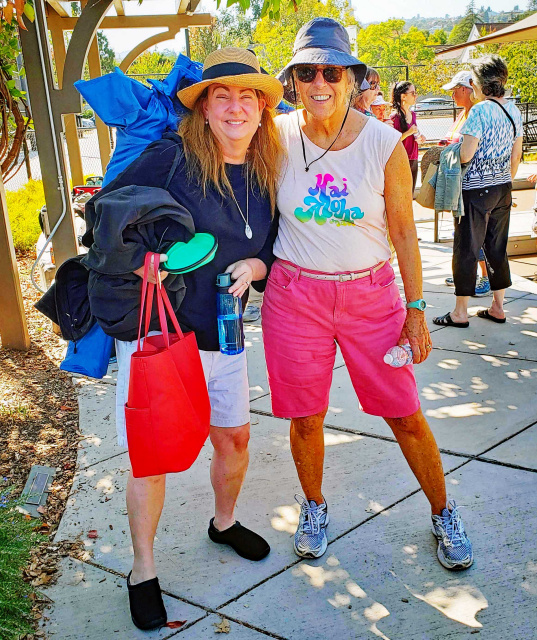 Catching Up Marie and Mary Ann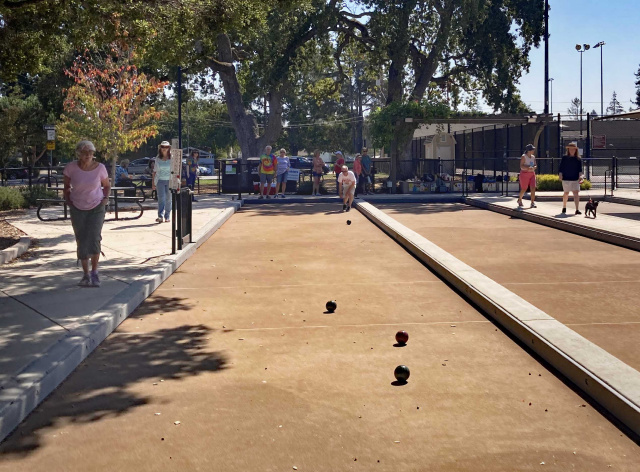 Bocce Champions David Delivers
---
The Inskiers Great Re-awakening Potluck at Mary Ann's and Ed's
Ed and Mary Ann graciously host the July club potluck on the deck of their San Mateo home. The summer evening event was
attended by over sixty joyous Inskiers and their guests.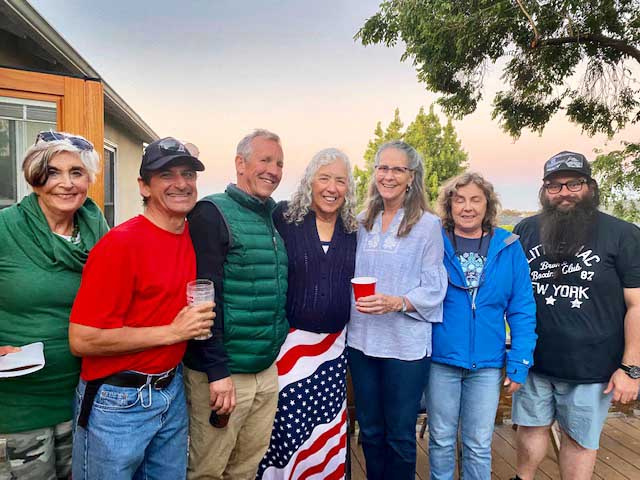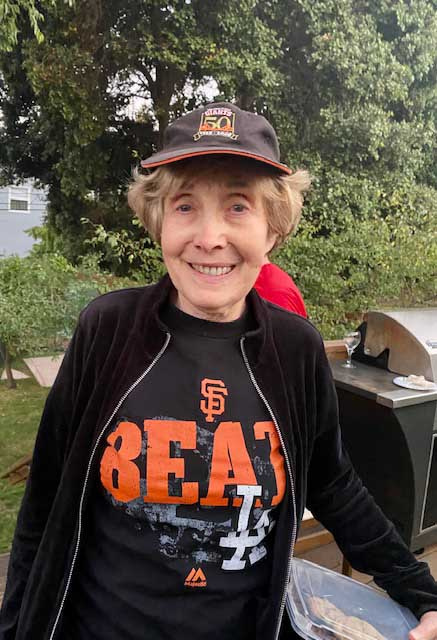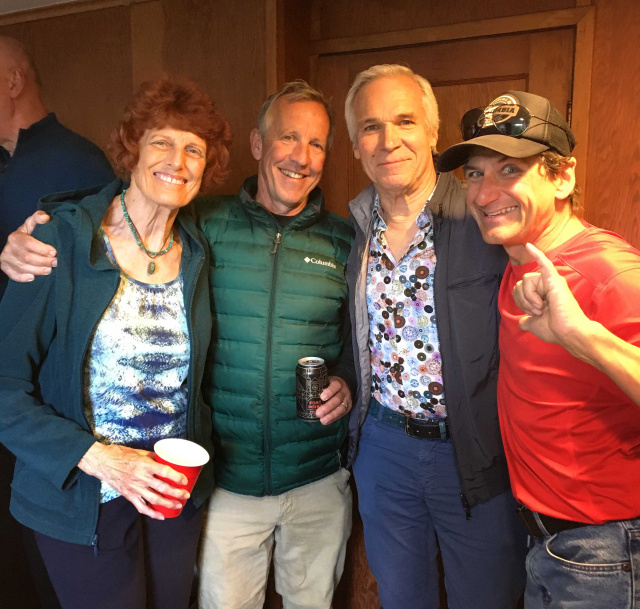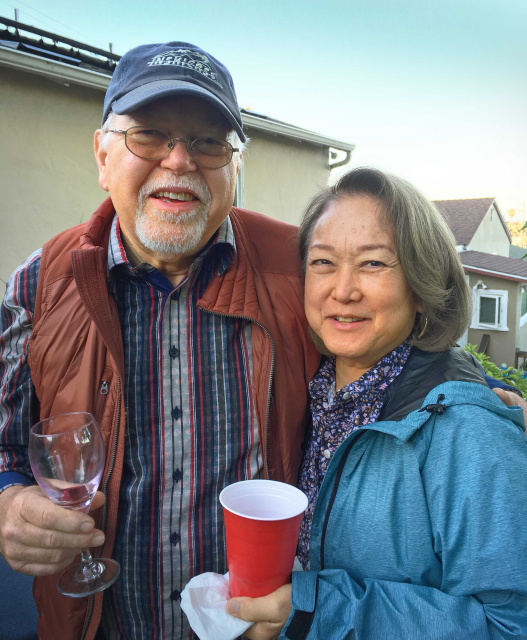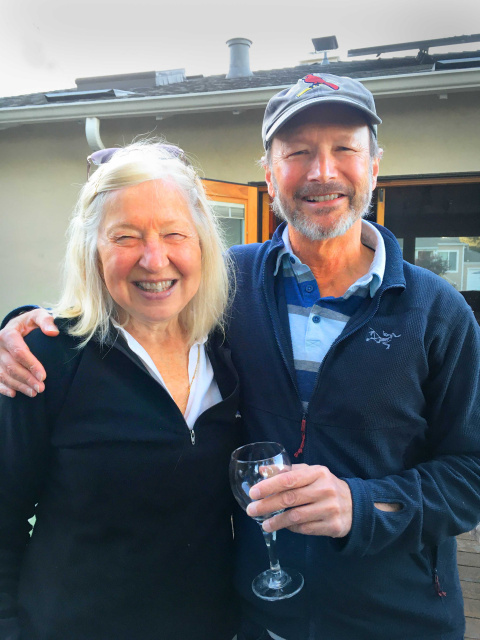 ---
Inskiers Holiday Toy Drive and Masked Bash
Socially distanced and definitely masked up at the Marvin Gardens for Inskiers X-mas Toy Drive.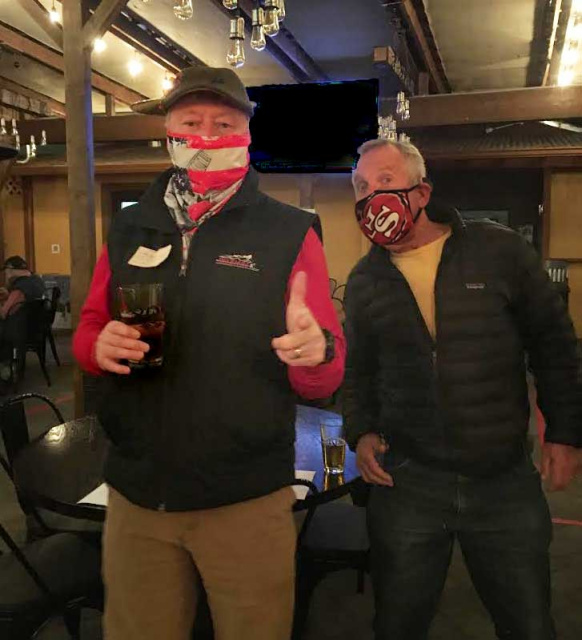 ---
Inskiers Social Distancing Happy Hour at Marvin Gardens
President Marci organized the Inskiers first Social Distancing Happy Hour on Saturday and it was a huge success. Marvin Gardens has remodeled their patio and they have all of the social distancing protocols in place. There was much happiness displaced seeing friends again face to face after over two months of separation. We hope to see you at the next happy hour. We'll have fun and still continue to adher to all of the proper social guidelines.
---
Inskiers Ladies at the 2020 FWSA Utah Ski Trip
---
Inskiers Celebrate Chinese Lunar New Year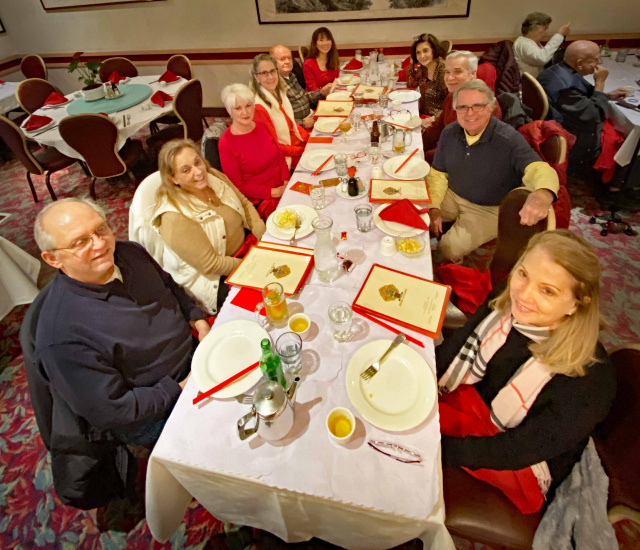 Sara hosted a fun Chinese New Year at King Chaun last Thursday evening.

The gang enjoyed the evening, especially as we went family-style with the food. Every dish was well prepared and quite tasty, even the four different fish dishes. Brian and I were happy to add three different wanton appetizers, also uniquely and carefully prepared.

The food provided by the King Chuan was major cut above what they have presented in years past. Obviously, there is a new—and well qualified—chef. The staff was competent and attentive while the restaurant's interior was both festive and fun.

Looking forward to next year, the Year of the Ox.
---
Inskiers David and Cathy Enjoying BAC Week in Big Sky Montana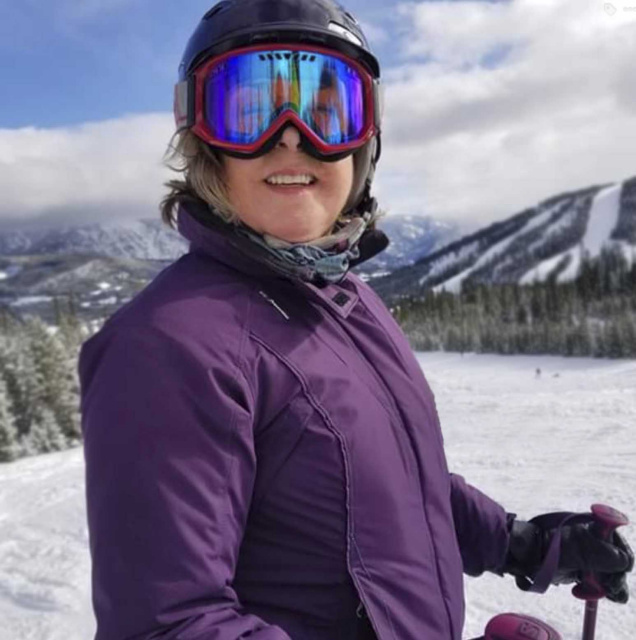 ---
Inskiers Annual Holiday Potluck 2019
We're so very proud of the Kelly O'Dea, the USMC, and all of the Inskiers members that supported the Toys For Tots drive at our club annual holiday party. Kelly turned her home into a beautiful Christmas wonderland for the club get together. We collected a van full of toys to be donated and enjoyed the best of times doing so.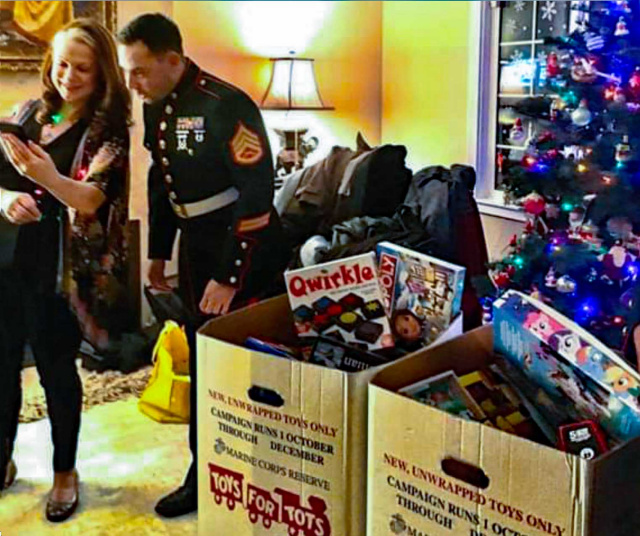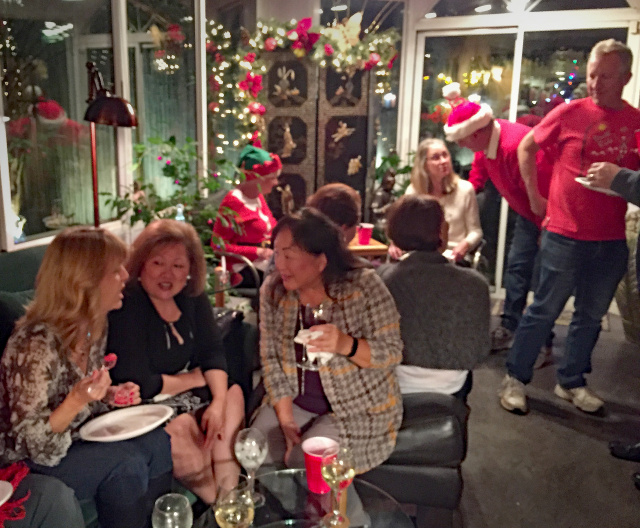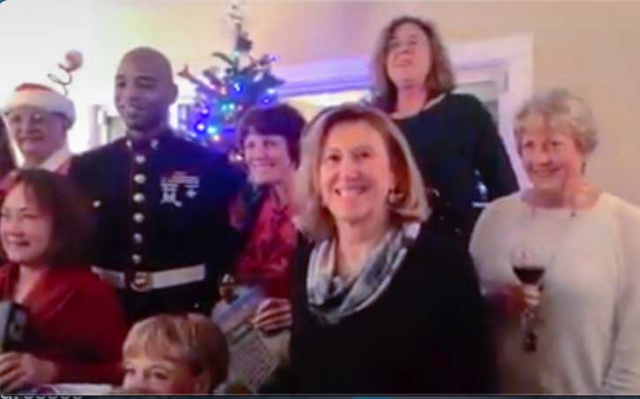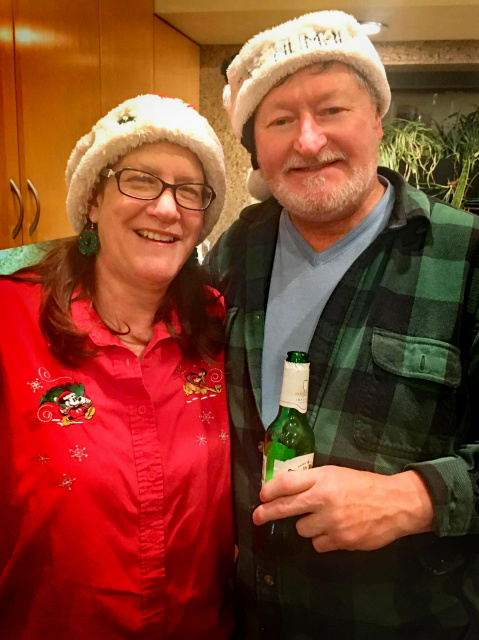 Photos by Mary R.
---
Inskiers August Potluck at Burton Park
Members Enjoying the Midsummer Evening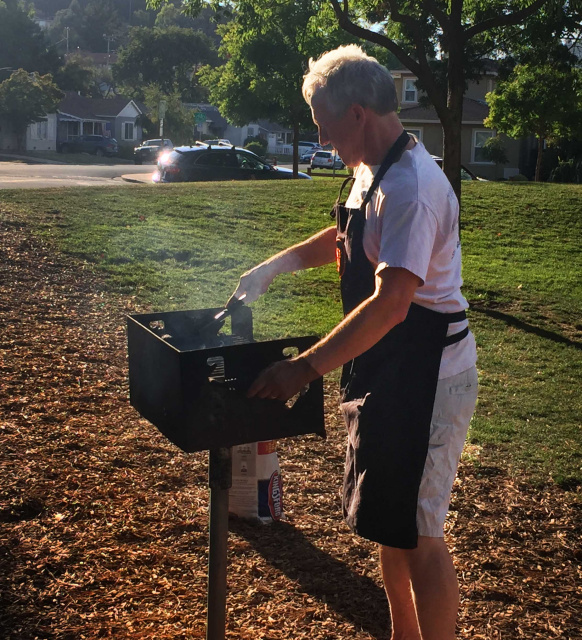 David & Lisa: Passing the Torch Chef Prepping the Grill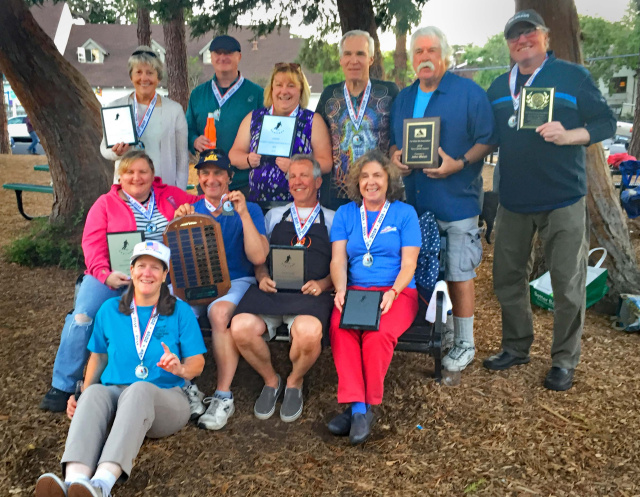 Celebrated Inskiers racers receive a multitude of racing accolades from FWSA, John Walsh. The Inskiers team won the BAC's prestigious "Most Points Per Racer" for the second year in a row.
John Walsh receives the Far West Ski Association's Terry Smith award. This is FWSA's highest award for a skier.
---
Inskiers Annual June Bocce Picnic
Angie and Carol Toss Bocce With Inskiers in Background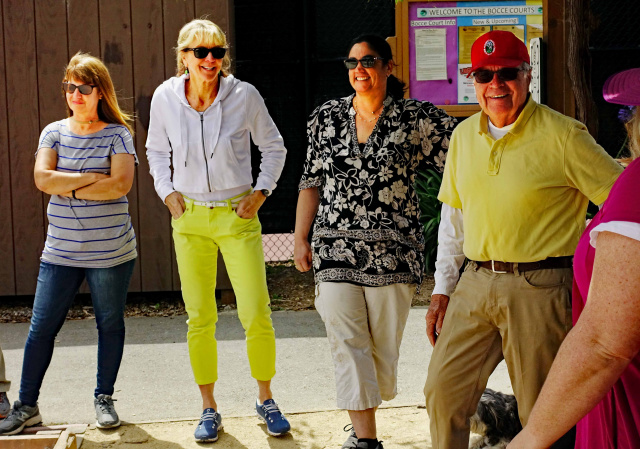 Ready to Play Bocce Ball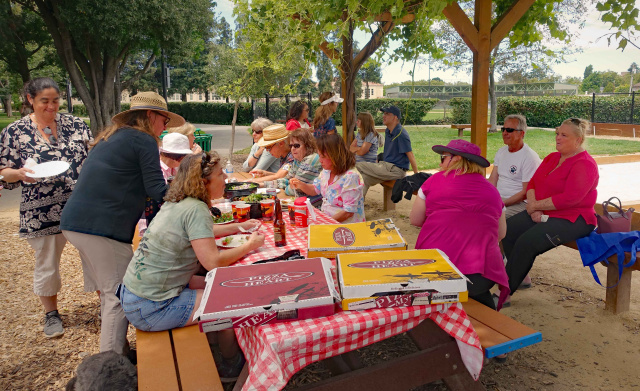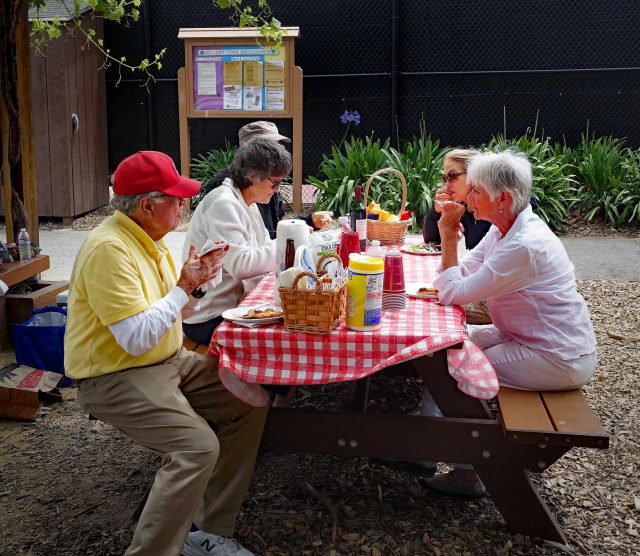 Lunch Break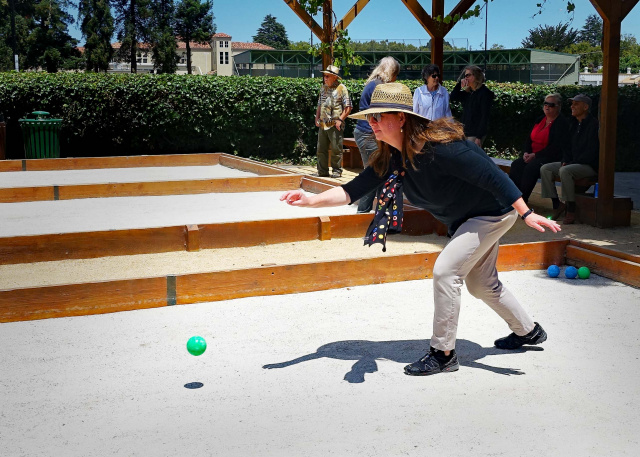 Bocce Victors: Dave, David, Denise, and Marilyn Marie Tosses the Bocce Ball
---
Inskiers Very Own - John Skidog Walsh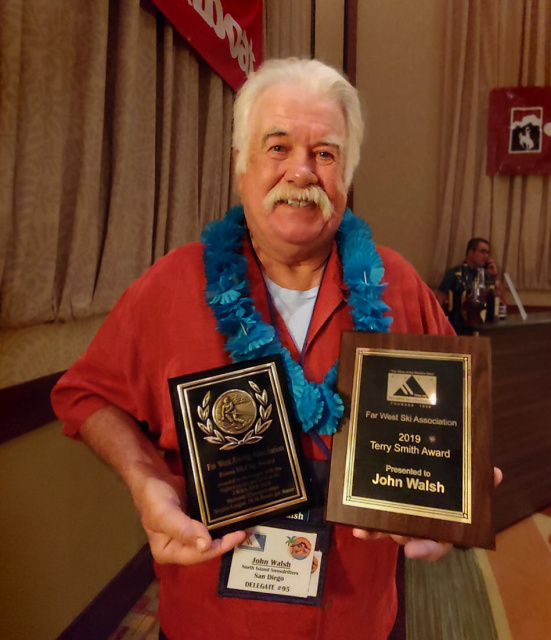 At Far West Ski Convention 2019 in Indian Wells (near Palm Springs): "I am honored to win the Terry Smith Award for ski racing and the Roma McCoy Trophy for Singles League highest points average at the Far West Championships in Heavenly Valley this year. I am very flattered by all this ." - John Skidog Walsh
---
Inskiers Race Team at Racey Affair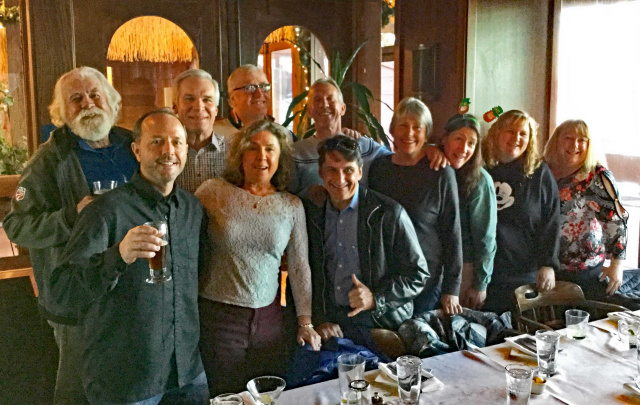 Inskiers Race team celebrate the season's victories at Jake's on the Lake. The Inskiers
racers dominated the highly competitive Singles League field with Jan O and Cathy B winning
most points per female racer and David B winning most points per male racer. Congratulations team!
---
Inskiers at Far West Ski Week in Steamboat Springs, Colorado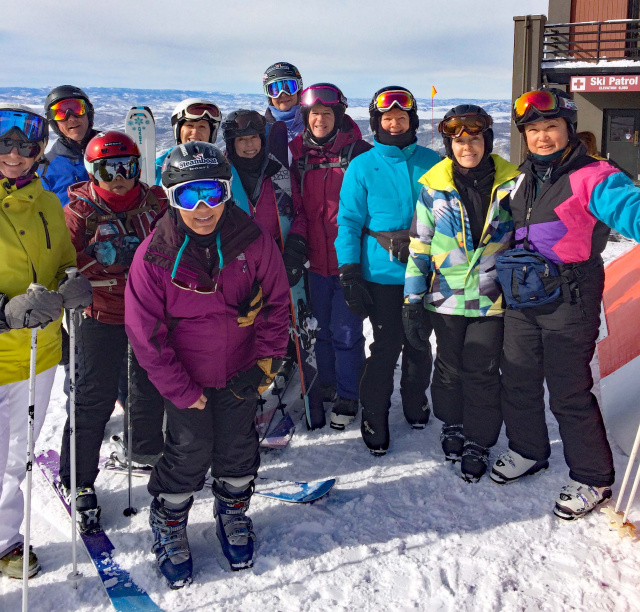 Inskiers Atop Gondola at Steamboat Springs
Kathy, Angie, and Sonia on High Alert Inskiers Relaxing
for Steamboat Wildlife
Just back from a wonderful Far West Ski Association Ski Week in Steamboat Springs, CO. Some 11+ Inskiers and honorary Inskiers (Amy, Karin and Elsie) descended into the Hayden Airport and then took a short Go-Alpine Shuttle into the Steamboat Springs Ski Resort. Lodging for the BAC included the Bronze Tree, Dulany, Lodge and Ptarmigan Hotel. Some were true ski in/out, some ski in, and others needed a short shuttle to access the mountain. The free shuttles made the access pretty easy.
Sunday was the first day of skiing for most and a snow squall came in very fast, shutting down the Gondola, a few ski lifts that were higher up the mountain and the free Mountain Tour, around 11a. Seems that just as quickly as the squall came roaring in, it left, leaving a good day of skiing, sans the flat light. Afterwards, there was a Super Bowl Party at the Steamboat Grand. There was plenty of good food and drink the entire game! My fellow Inskiers surprised me with a birthday cake and rousing rendition of Happy Birthday, at half-time. I was blown away by the gesture, you all are the BEST! Thank you so much! Some of us went over to the Lodge to watch the end of the game in Brian, Amy, Kathy and Sonia's condo.
Monday was the first Giant Slalom Races, on the run off of Christie Peak Express Chair. It looked pretty steep up top, but you'd have to ask Dave Baird, Craig Faitel or Brian Burgess, as they were the Inskiers who raced. The rest of us enjoyed skiing all over the Mountain. That night, we dined at the Truffle Pig, down in the Gondola Square. That is where the group picture on the Polar Bear was taken.
Tuesday and Wednesday were ski days. Did I mention the mountain is a blast? Varied terrain, lots of blue runs, some groomed black runs, wide open bowls to tree skiing (not me). In other words, something for everybody and different skill sets. Tuesday, we had a yummy Italian dinner in town, at a place called Mambo. I think everyone enjoyed their meal and wine there. I remember more partying at the Lodge in BAKS condo and being shown a backway short cut back to the Dulany and then more gabbing, laughs, and education in herbal supplements, thank you Linda Watanabe. Wednesday night was our BAC Council dinner at the Ore House, followed by a western line dance lesson. The dance floor was packed! Lots of fun! Oh, and I forgot to mention that we met Billy Kidd that night.He is such a good public speaker. His enthusiasm for all things skiing is infectious.
Thursday, while others did their thing, Sonia, Amy and I had an amazing massage at the Spa in the Steamboat Grand. My massage was courtesy of my very thoughtful and generous friends. Can't thank you all enough. You all are too much. For me, the massage was perfect timing: tired, achy legs and painful knees. That night was the Banquet and Dance at the Steamboat Grand. Our BAC trip leader, Gail Burns, was all decked out as Glenda, the good witch. Betsy Couch looked adorable in her Scarecrow costume. Again, the dance floor was packed.
Friday, our last day of skiing, the ski gods gave us sunny skies, good lighting and great runs. Good way to end the ski week. I'd have to say that overall, the ski/snow conditions were very good. Some had a couple inches of powder to ski through that sounded like a blast.
Saturday, our departure day, a few of us went downtown to check out the Winter Festival. They actually closed down the main road, Lincoln street, for "races" horse drawn skiers pulled down the street to see who and which horse had the fastest time. I saw a few snow sculptures on the side of the road and organziers where hoping to break a Guiness world record that night for the largest fireworks.
If you have been thinking about doing a FWSA Ski Week, do it! It really is a lot of fun, and someone else does the planning of the trip for you. I met so many really nice people, had a great time, got in some good skiing and made new friends with a group from the Modesto Ski Club (my condo roomies).
Lastly, I'd like to give a big thank you to our Gail Burns, who worked so hard prior to and during the ski week, making sure everything worked out okay for all of us.
---
Inskiers Enjoying Morning Freshies at Alpine Meadows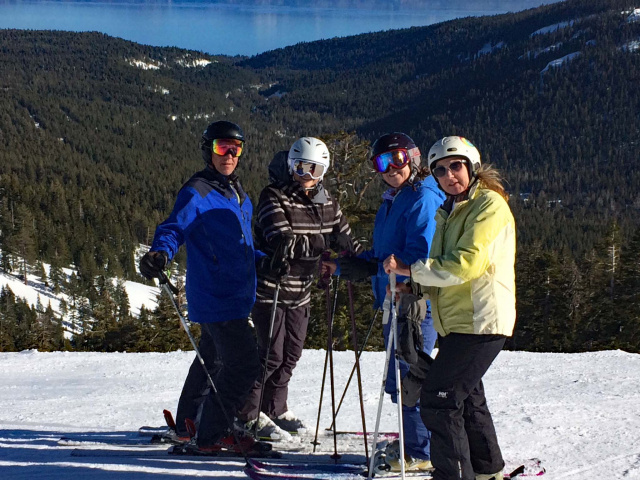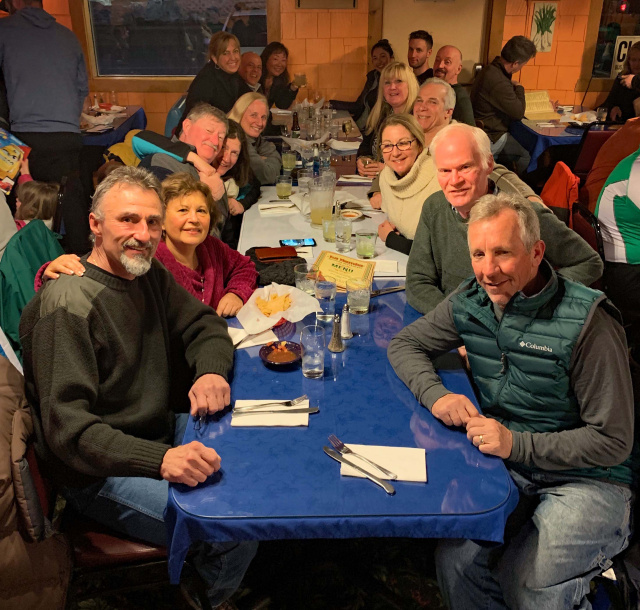 Atop Sherwood Bowl: Brian, Mary Ann, Sonia, Angie, and Kathy Inskiers at La Bamba's
David, Jan, Cathy, and Kathy Ready for dinner after a hard day of skiing
---
Inskiers Celebrate Dave's Delicious Dinner - 2018 Edition
The gathering was a bit larger than usual - Dave and Cathy had to rig an extension to their dinner table. Still, the kitchen was up to the task -- delivering perfectly cooked and timed courses. The wine was plentiful, and the pairings were inspired (including two bottles of Margaux). The conversation was lively, but we did not discuss politics, religion or gender, and did not solve any world problems. It was another wonderful Inskiers evening.
Richard, Bill, Graeme, Chef Dave, Craig, Grace, Susan, and Cheryl
Here was the menu from Dave's Delicious Dinner:
Caprese Salad Amuse-bouche

Scallops wrapped in Prosciutto

Garden Salad with Nuts with Blue Cheese Dressing

Pasta with Red Cream Sauce

Macadamia Encrusted Cod

Filet Steak

Chocolate Sponge Cake with Vanilla Ice Cream
- Richard
---
Inskiers Taste at Fogarty Wine Cellars
Gail, Susan, Kathryn, and Bill had perfect weather, great wine and food at our Fogarty event this past Sunday!
Photo by Gail.
---
Inskiers Tour FILOLI Gardens
This weekend Pamela, Elizabeth, Carol, Cathy, Susan and Sonia walked the stunning floral garden display at nearby FiLOLI.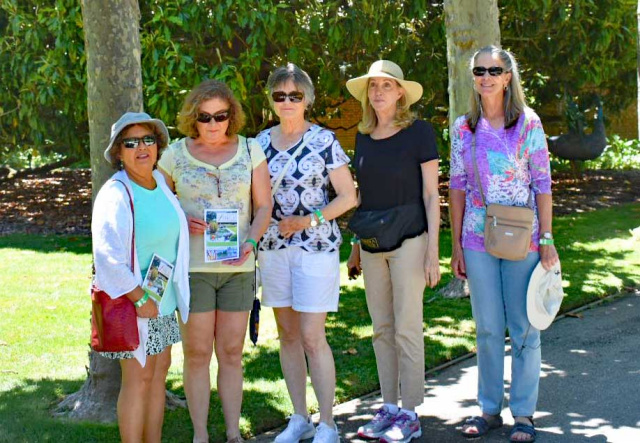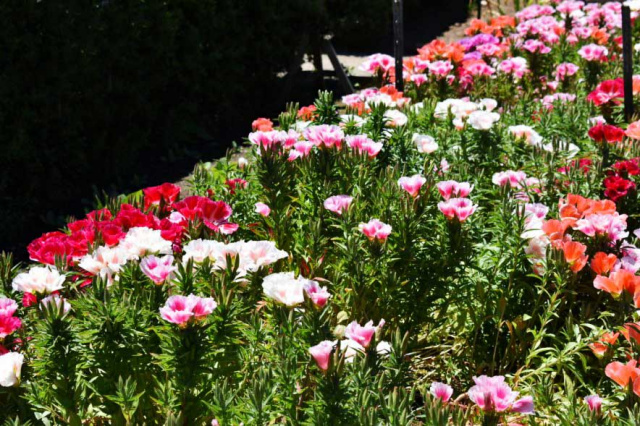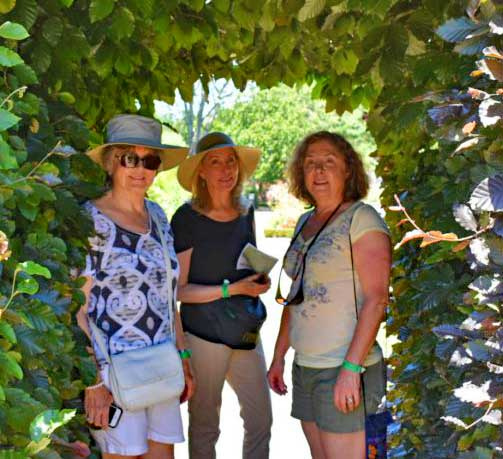 ---
Inskiers "Escape Room" Challenge
This past Saturday the Inskiers who won the Escape Room auction item enjoyed a team bonding, fun, and at times a frustrating, challenge. We tried to solve puzzles, make sense of various clues and locate hints to "Escape the Asylum." Sadly, no one escaped! Afterward, most of us went over to O'Neil's for a drink.
- Angie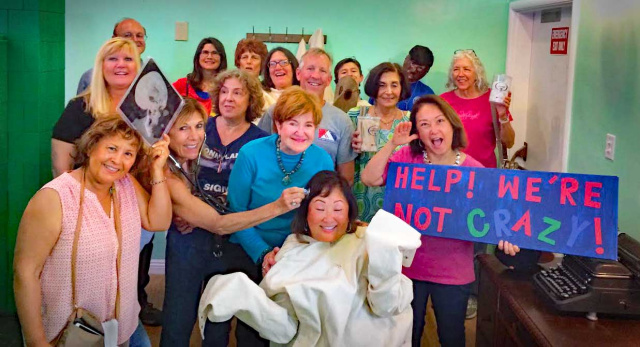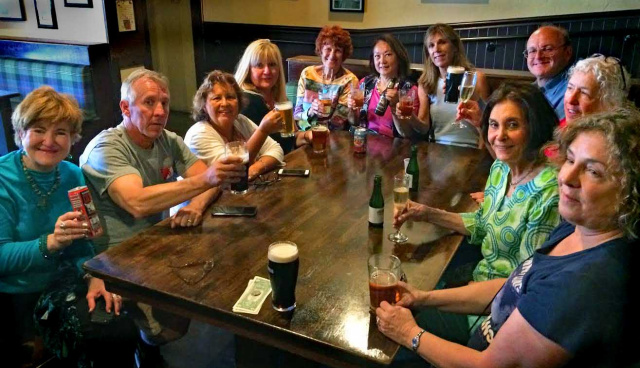 ---
Inskiers 4th of July Fireworks Potluck at David and Bonney's
Fireworks boomed and and glasses clinked at a most festive Independence Day celebration hosted by David and Bonney.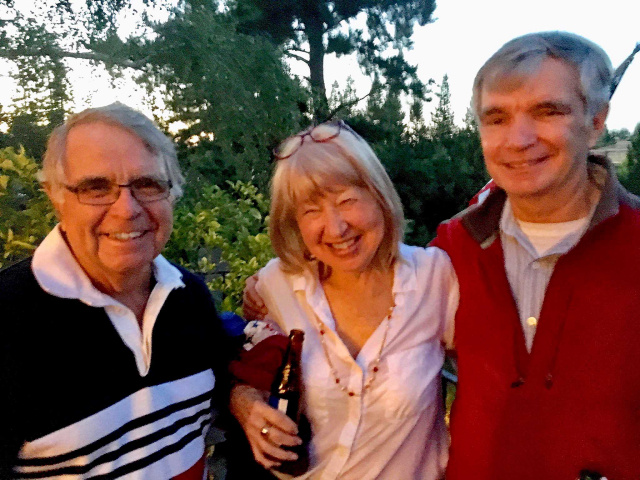 ---
Inskiers Astro Bowl
Marilyn hosted a lively and jovial bowling night at Astro Bowl in Pacifica this past weekend. Seen here posing with Mr. Bowling Pin are Brian, Marilyn, Cheryl, David and Richard. This event is becoming so popular that Marilyn is considering expanding this event into a regular club affair.
---

Inskiers Annual Picnic and Bocce Ball Tournament
Ah! Warm summer days with bocce ball, pizza, and good friends. Over sixty Inskiers gathered at the Burlingame Rec Center bocce courts for our annual bocce tournament and summer picnic. Seen below are Alica and Kathy tossing the bocce. We all then took a break to share lunch on the picnic tables. See also the two groups of tournament winners. First Group: Mary Ann, Angie, Don, and Marylyn. Second Group: Kathryn, Elizabeth, Cathy, and Debbie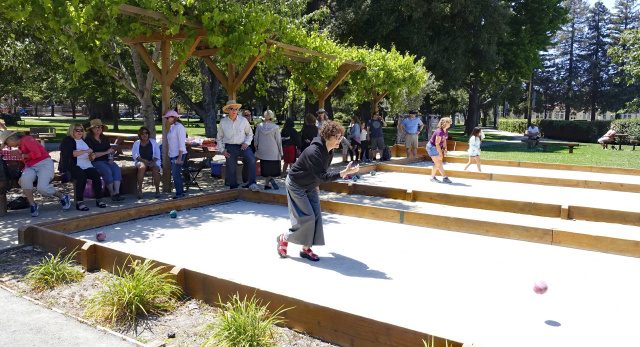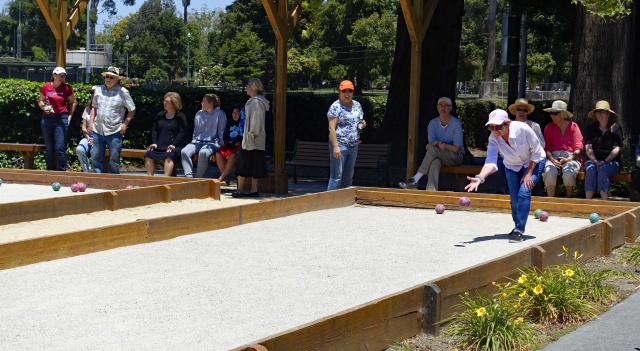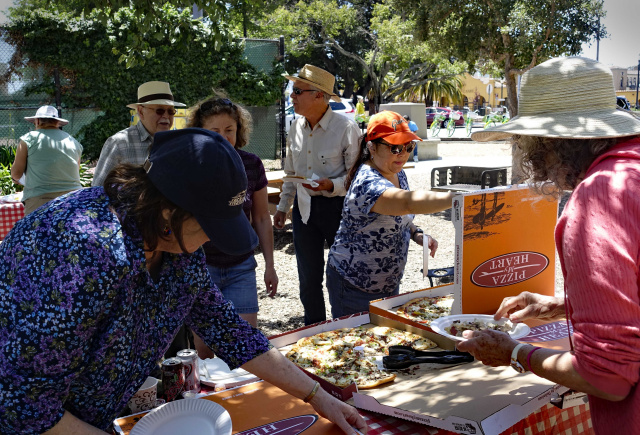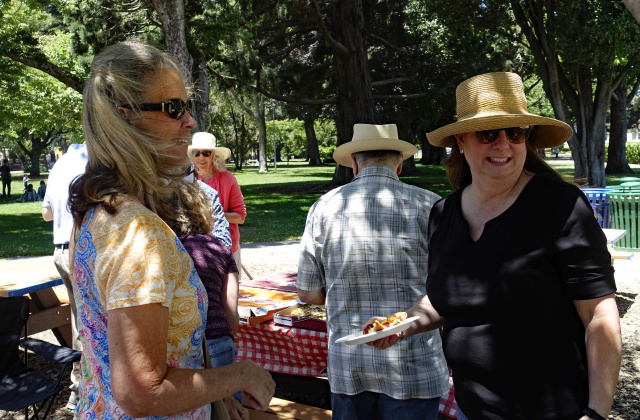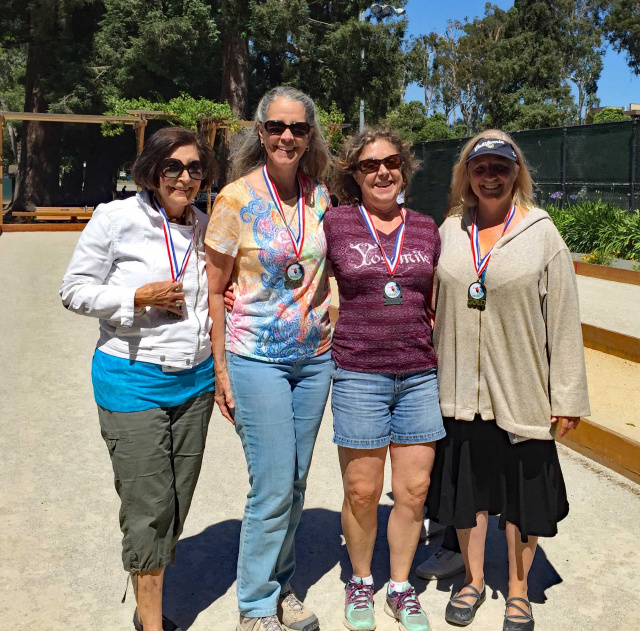 ---
Inskiers Spring Bocce Ball
Thank you to Brenda for hosting and Ed for organizing the Inskiers Spring Bocce Ball Tournament. Everyone dined on fine wine and a BBQ that included David's much acclaimed Louisville style ribs. The boys vs. girls format of the games provided for a lively afternoon of bocce with each side showing special encouragement for the other. Though the boys led the scoring for twenty frames, the girls persisted and surged in the last frame to outscore the boys and claim the tournament trophy.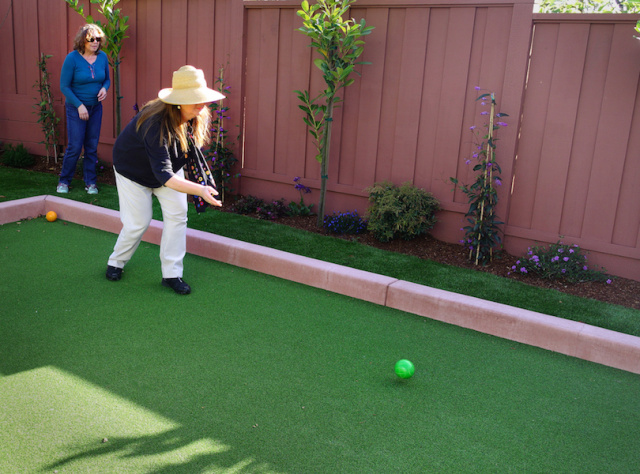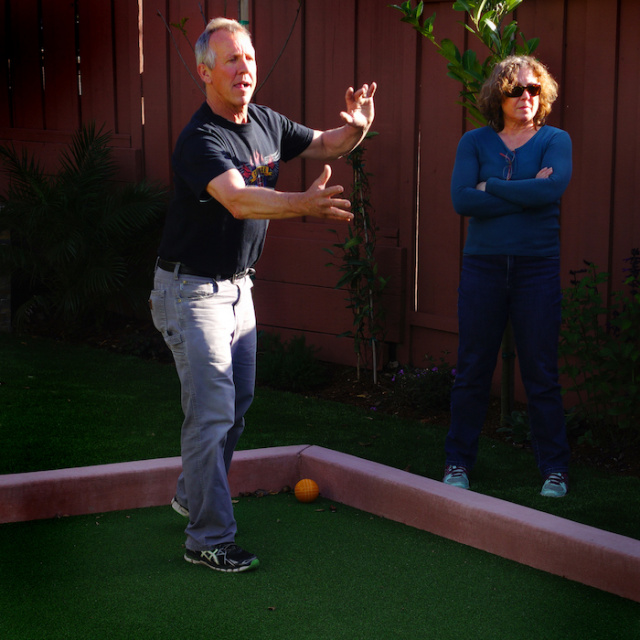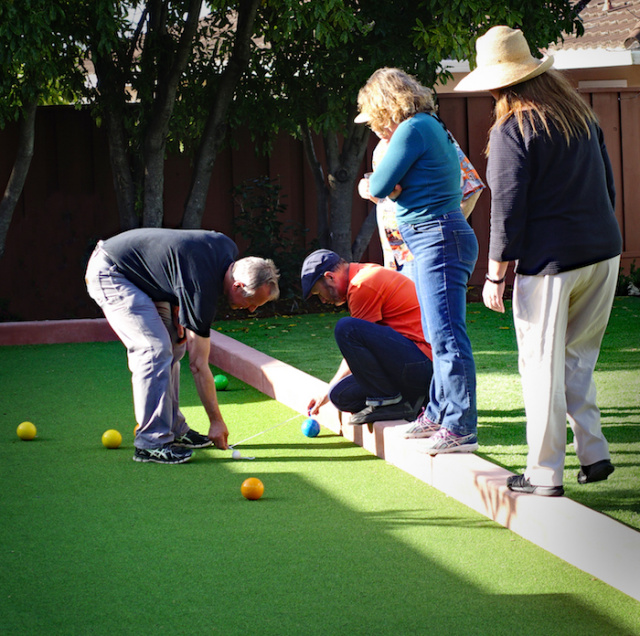 Marie Skillfully Tosses the Bocce Ball David Directing His Throw Time For A Measurement
Sheryl Delivering a Score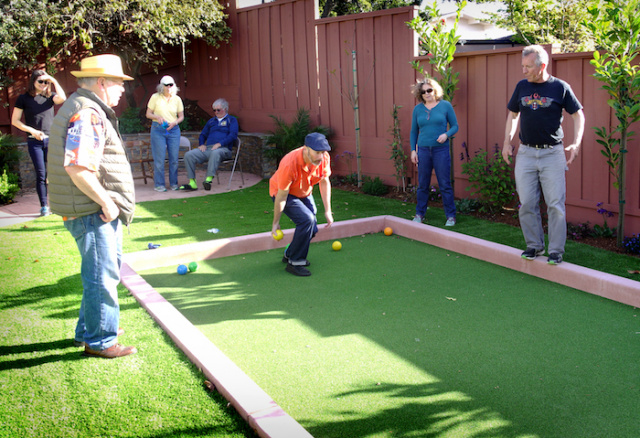 Bill Is In Perfect Form &