Inskiers meet at this location in the fall and winter months :
1160 Old County Road, Belmont, CA
A social mixer begins at 6:30 p.m. and the club meeting commences at 7:00 p.m. We frequently have speakers and provide club activity updates. There is an outdoor seating area. Come join us in a relaxed and friendly atmosphere.
The Inskiers also meet once a month at a member's home for a potluck. The get together is informal and fun. The club provides tableware and everyone bings food to share as announced. The Inskiers potluck starts at 6:30 p.m. and announcements are made through GoogleGroups.
---
We have

signed

the lease for the Inskiers ski cabin this season! The cabin opens December 11 and reservation are now being accepted. See our Cabin page in the website here for more information. Also, we will have a large and active recreational ski racing team this season under the direction of David Baird. Racing is the best way to improve your skiing and meet other people that love to ski.
---
Inskiers Indoor Activity Vaccination Policy
Hello Everyone!
Your humble board had a board meeting on August 3rd. After a spirited discussion, we passed the following motion:
Attendees of indoor Inskiers' sponsored events must provide proof of COVID vaccination in advance of, or at the time of the event, or provide a negative COVID test taken within 72 hours of the event.
The day after our meeting the CDC and others started recommending the same thing. This week there is a new mask mandate for indoor activities. Being the responsible, health conscious club that we are, we will also be wearing masks indoors. We welcome any feedback on our decision, but do think this is for the good of all of us.
Marci Lyzun
Inskiers President and current BAC Woman of the year
---
Inskiers Filoli Holiday Tour
Last year we had such a great time at Filoli that we are going to do it again on Thursday, December 9th.
This time we'll be able to see all the holiday decorations inside the house as well as the gardens. You can find more info about holidays at filoli here.
Below are all the details:
What - Inskiers visiting the Filoli to kick off the holiday season
Where - Filoli 86 Canada Rd, Woodside
Time: meet in the parking lot at 4pm
Cost - $38 ( 20% discount for members) buy your tickets here!
Misc - Be sure to let me know if you are coming so I know who to expect.
I'll send another email closer to the event date with additional info for those attending.
Looking forward to seeing you all at Filoli!
---
Inskiers Bocce Ball Picnic and Membership Drive in San Carlos
Over sixty members gathered at Burton Park to have fun on a warm sunny afternoon in the annual Inskiers bocce ball competition and picnic. The participants celebrated afterwards with pizza and salad and conversation. This very successful renewal event was well orchestrated by Cathy (membership) and brought in several new members to the club.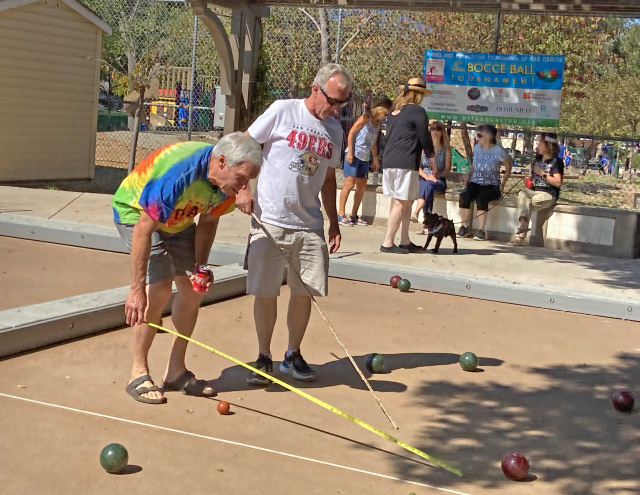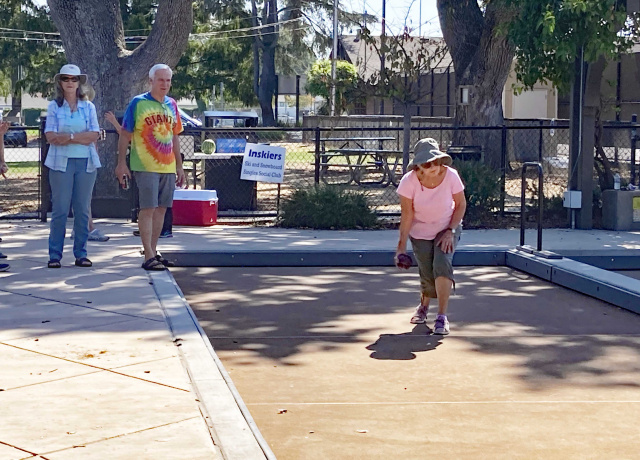 Bocce is a game of inches - Brian and David Kathryn Bowling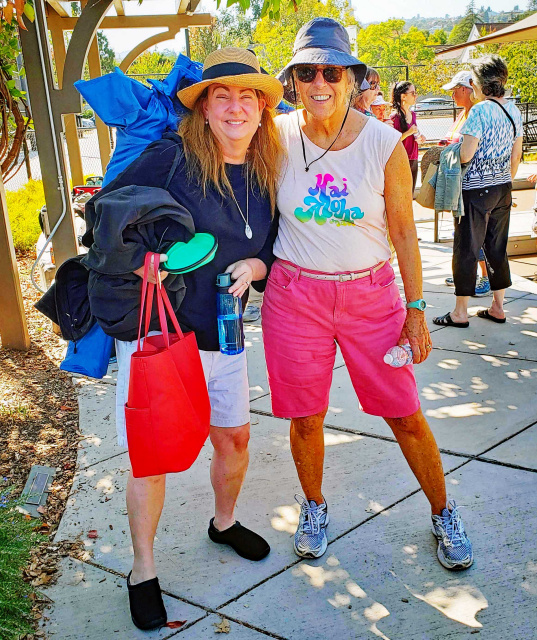 Catching Up Marie and Mary Ann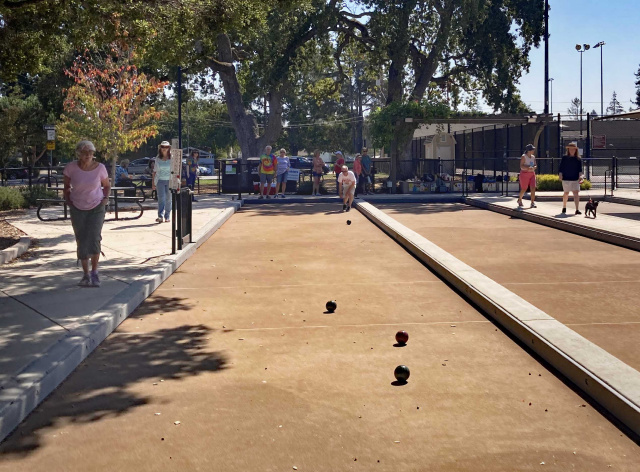 Bocce Champions David Delivers
---
The Inskiers Great Re-awakening Potluck at Mary Ann's and Ed's
Ed and Mary Ann graciously host the July club potluck on the deck of their San Mateo home. The summer evening event was
attended by over sixty joyous Inskiers and their guests.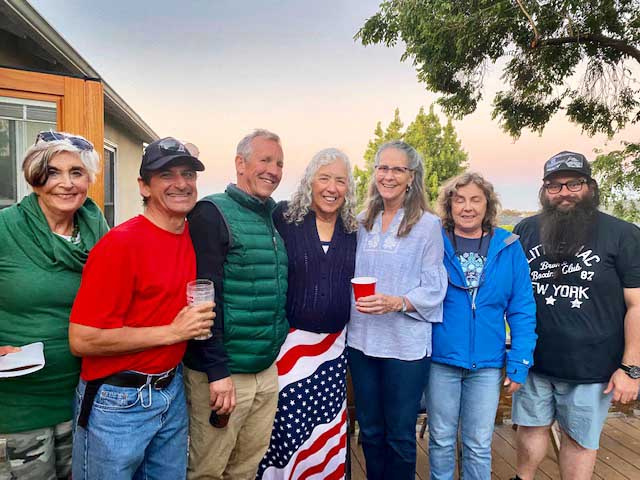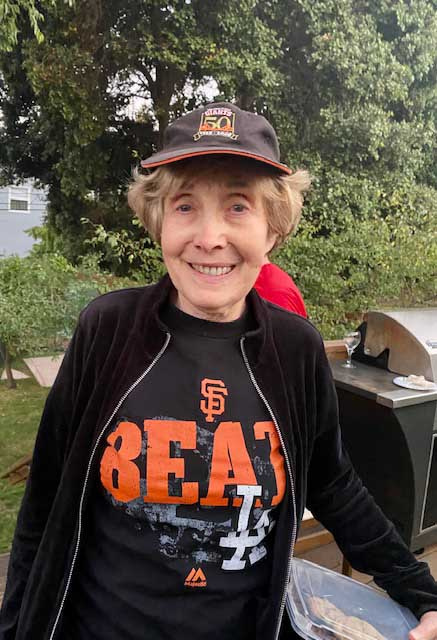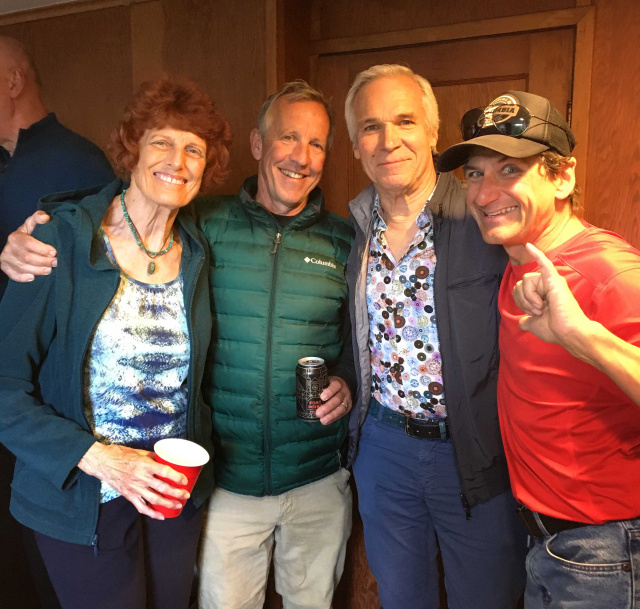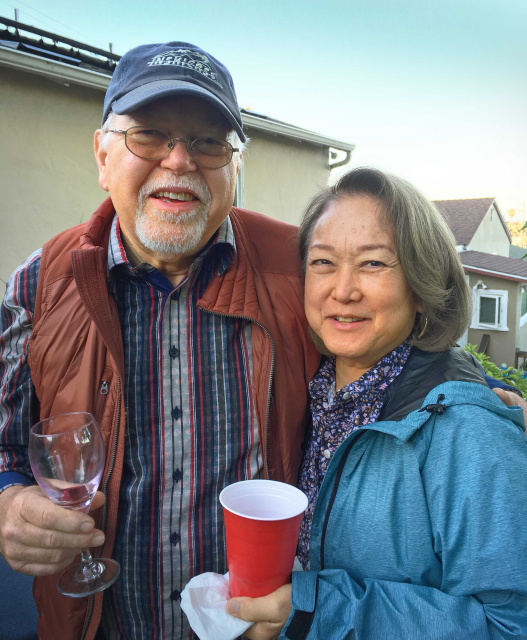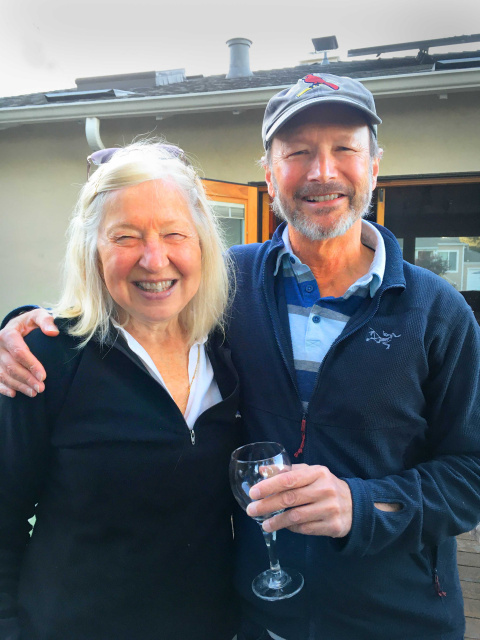 ---
Inskiers Holiday Toy Drive and Masked Bash
Socially distanced and definitely masked up at the Marvin Gardens for Inskiers X-mas Toy Drive.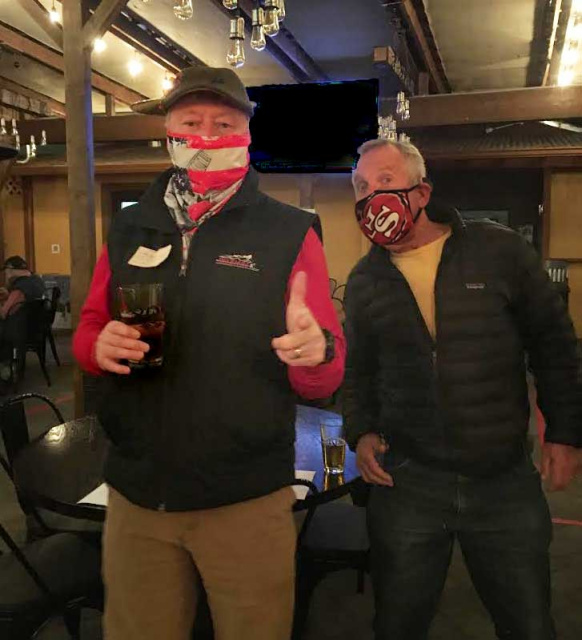 ---
Inskiers Social Distancing Happy Hour at Marvin Gardens
President Marci organized the Inskiers first Social Distancing Happy Hour on Saturday and it was a huge success. Marvin Gardens has remodeled their patio and they have all of the social distancing protocols in place. There was much happiness displaced seeing friends again face to face after over two months of separation. We hope to see you at the next happy hour. We'll have fun and still continue to adher to all of the proper social guidelines.
---
Inskiers Ladies at the 2020 FWSA Utah Ski Trip
---
Inskiers Celebrate Chinese Lunar New Year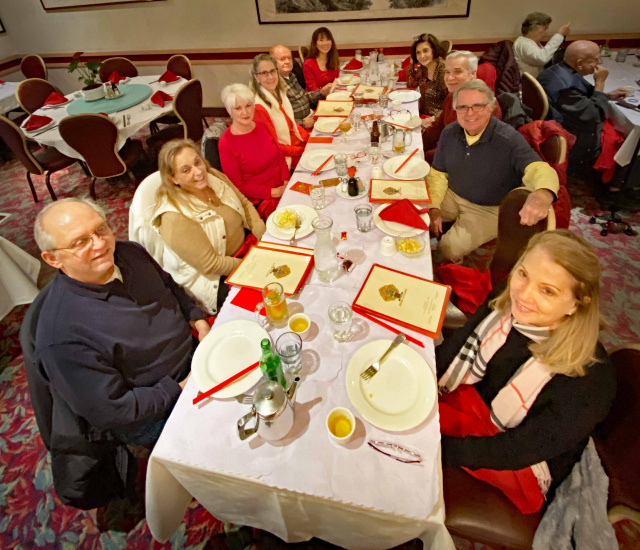 Sara hosted a fun Chinese New Year at King Chaun last Thursday evening.

The gang enjoyed the evening, especially as we went family-style with the food. Every dish was well prepared and quite tasty, even the four different fish dishes. Brian and I were happy to add three different wanton appetizers, also uniquely and carefully prepared.

The food provided by the King Chuan was major cut above what they have presented in years past. Obviously, there is a new—and well qualified—chef. The staff was competent and attentive while the restaurant's interior was both festive and fun.

Looking forward to next year, the Year of the Ox.
---
Inskiers David and Cathy Enjoying BAC Week in Big Sky Montana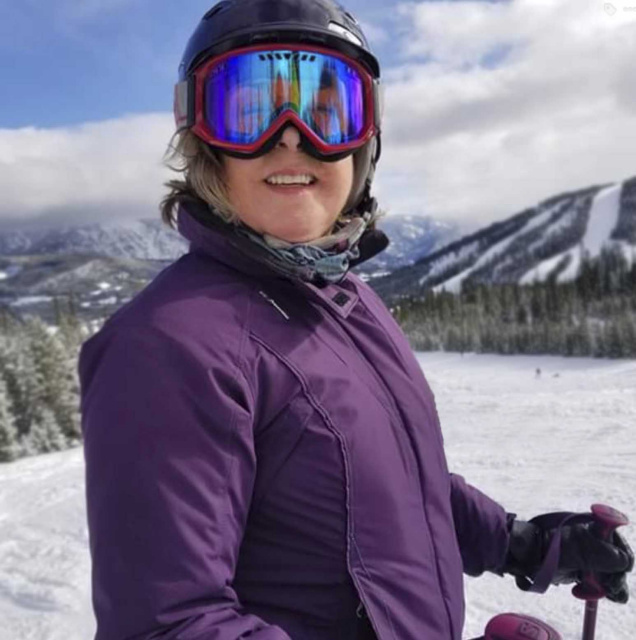 ---
Inskiers Annual Holiday Potluck 2019
We're so very proud of the Kelly O'Dea, the USMC, and all of the Inskiers members that supported the Toys For Tots drive at our club annual holiday party. Kelly turned her home into a beautiful Christmas wonderland for the club get together. We collected a van full of toys to be donated and enjoyed the best of times doing so.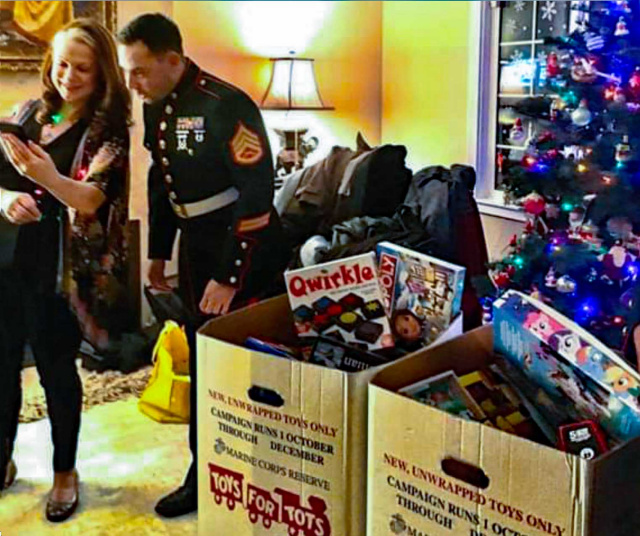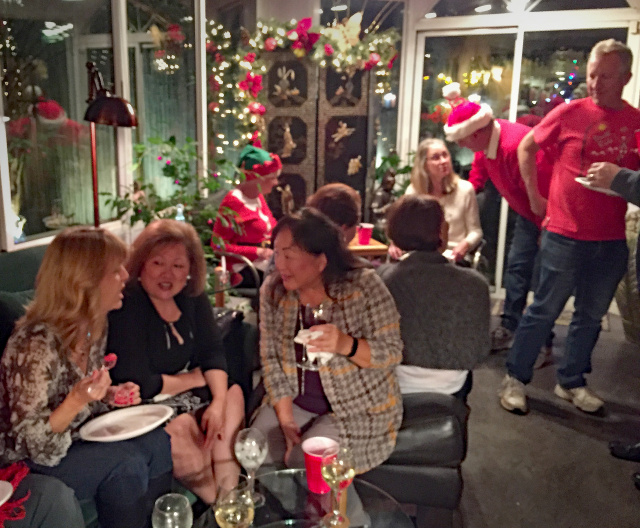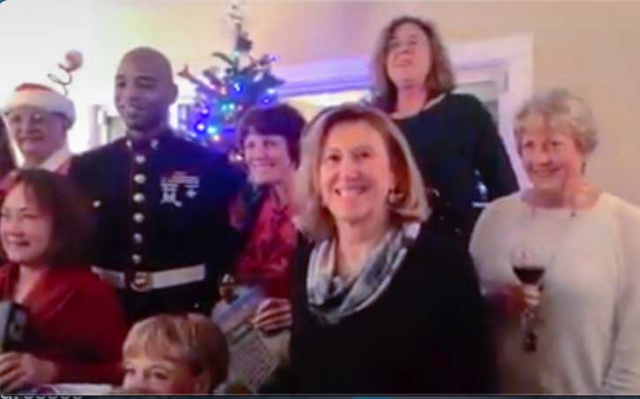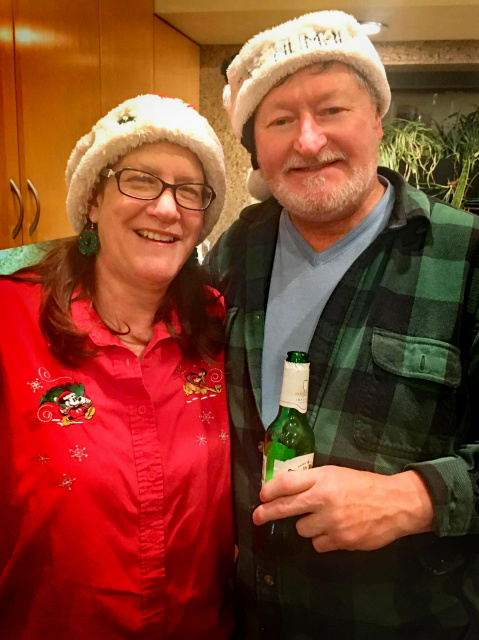 Photos by Mary R.
---
Inskiers August Potluck at Burton Park
Members Enjoying the Midsummer Evening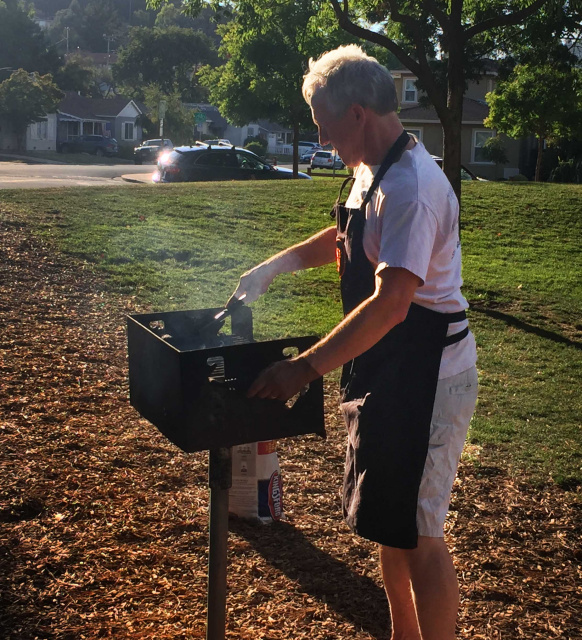 David & Lisa: Passing the Torch Chef Prepping the Grill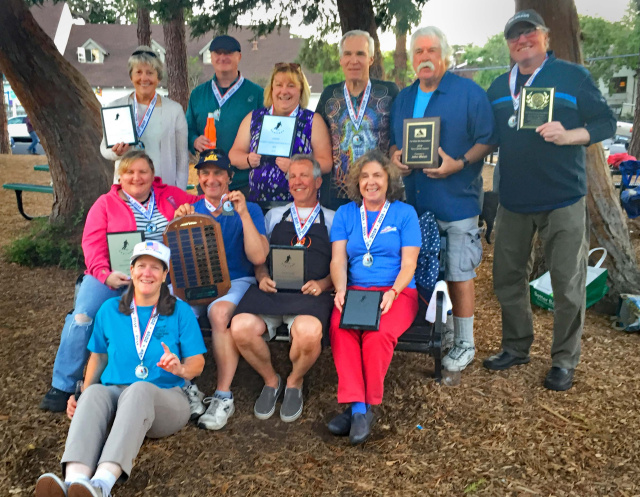 Celebrated Inskiers racers receive a multitude of racing accolades from FWSA, John Walsh. The Inskiers team won the BAC's prestigious "Most Points Per Racer" for the second year in a row.
John Walsh receives the Far West Ski Association's Terry Smith award. This is FWSA's highest award for a skier.
---
Inskiers Annual June Bocce Picnic
Angie and Carol Toss Bocce With Inskiers in Background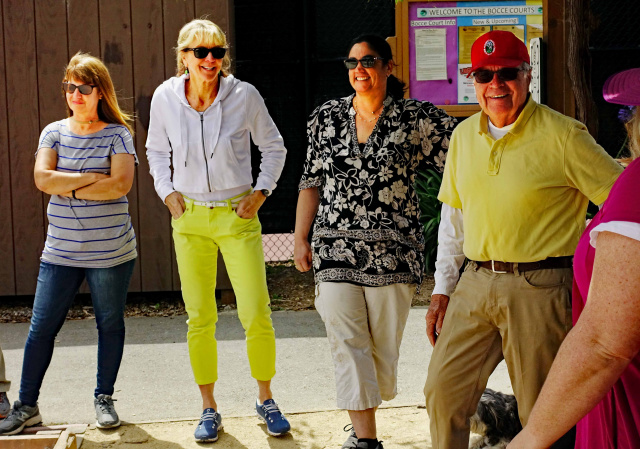 Ready to Play Bocce Ball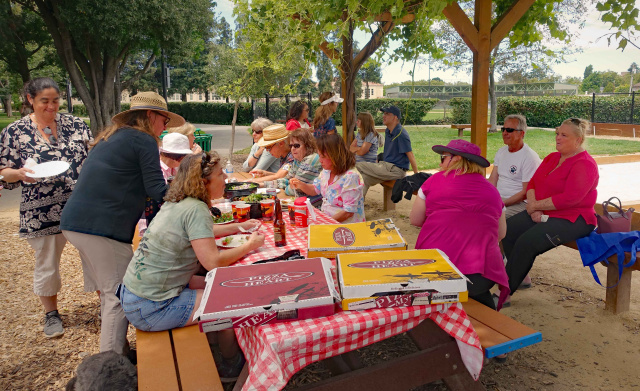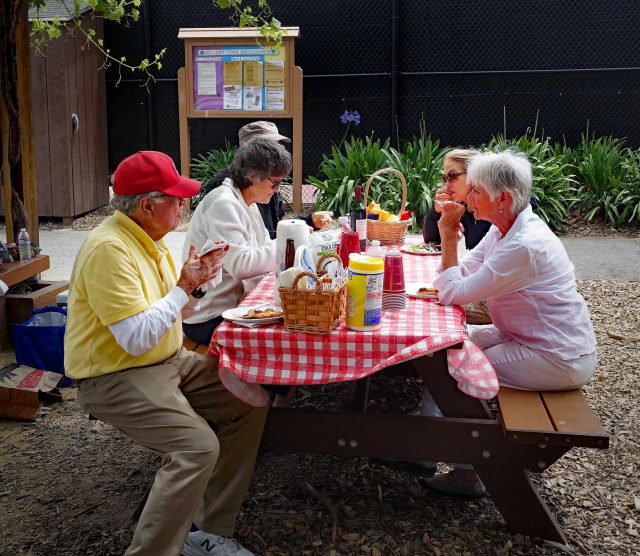 Lunch Break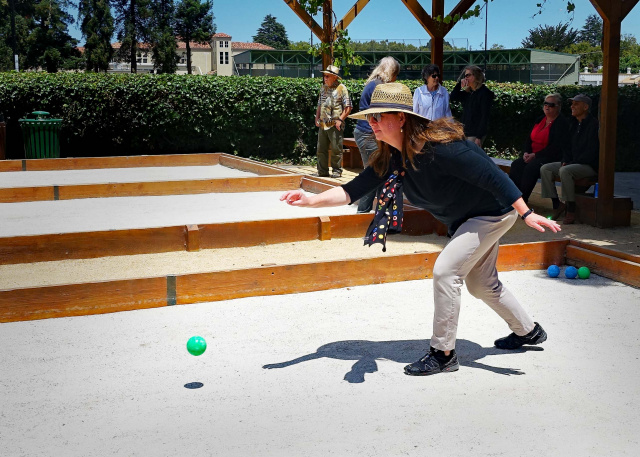 Bocce Victors: Dave, David, Denise, and Marilyn Marie Tosses the Bocce Ball
---
Inskiers Very Own - John Skidog Walsh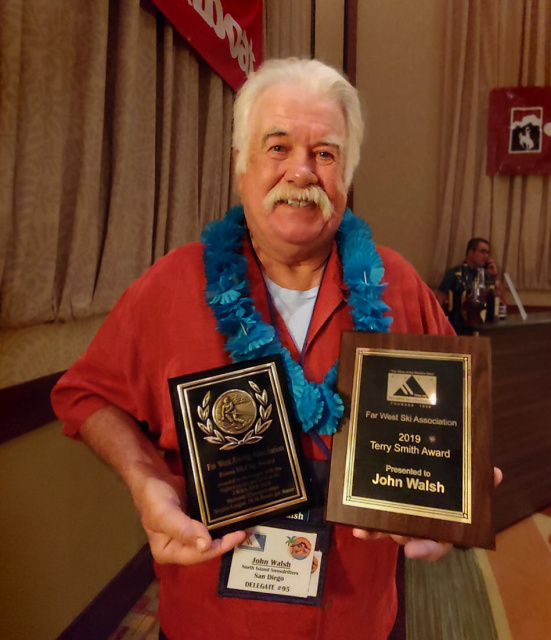 At Far West Ski Convention 2019 in Indian Wells (near Palm Springs): "I am honored to win the Terry Smith Award for ski racing and the Roma McCoy Trophy for Singles League highest points average at the Far West Championships in Heavenly Valley this year. I am very flattered by all this ." - John Skidog Walsh
---
Inskiers Race Team at Racey Affair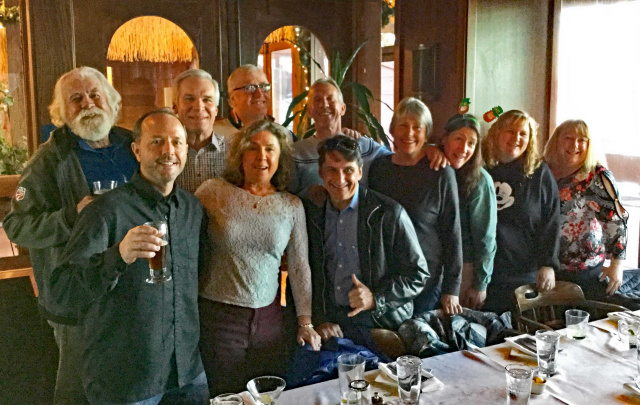 Inskiers Race team celebrate the season's victories at Jake's on the Lake. The Inskiers
racers dominated the highly competitive Singles League field with Jan O and Cathy B winning
most points per female racer and David B winning most points per male racer. Congratulations team!
---
Inskiers at Far West Ski Week in Steamboat Springs, Colorado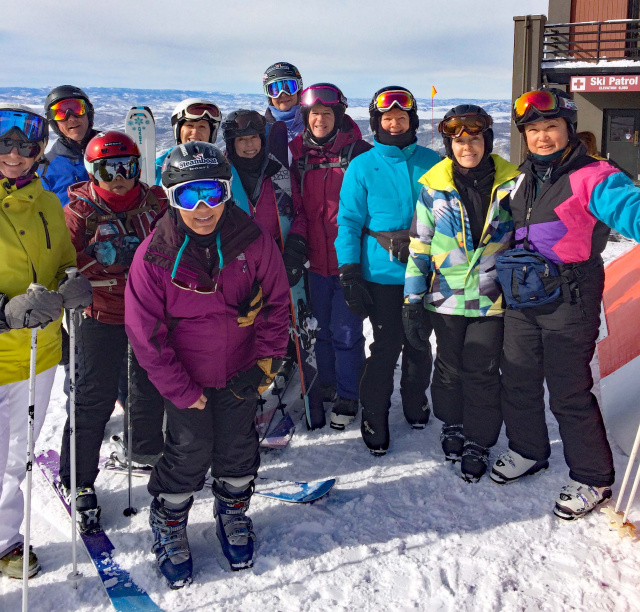 Inskiers Atop Gondola at Steamboat Springs
Kathy, Angie, and Sonia on High Alert Inskiers Relaxing
for Steamboat Wildlife
Just back from a wonderful Far West Ski Association Ski Week in Steamboat Springs, CO. Some 11+ Inskiers and honorary Inskiers (Amy, Karin and Elsie) descended into the Hayden Airport and then took a short Go-Alpine Shuttle into the Steamboat Springs Ski Resort. Lodging for the BAC included the Bronze Tree, Dulany, Lodge and Ptarmigan Hotel. Some were true ski in/out, some ski in, and others needed a short shuttle to access the mountain. The free shuttles made the access pretty easy.
Sunday was the first day of skiing for most and a snow squall came in very fast, shutting down the Gondola, a few ski lifts that were higher up the mountain and the free Mountain Tour, around 11a. Seems that just as quickly as the squall came roaring in, it left, leaving a good day of skiing, sans the flat light. Afterwards, there was a Super Bowl Party at the Steamboat Grand. There was plenty of good food and drink the entire game! My fellow Inskiers surprised me with a birthday cake and rousing rendition of Happy Birthday, at half-time. I was blown away by the gesture, you all are the BEST! Thank you so much! Some of us went over to the Lodge to watch the end of the game in Brian, Amy, Kathy and Sonia's condo.
Monday was the first Giant Slalom Races, on the run off of Christie Peak Express Chair. It looked pretty steep up top, but you'd have to ask Dave Baird, Craig Faitel or Brian Burgess, as they were the Inskiers who raced. The rest of us enjoyed skiing all over the Mountain. That night, we dined at the Truffle Pig, down in the Gondola Square. That is where the group picture on the Polar Bear was taken.
Tuesday and Wednesday were ski days. Did I mention the mountain is a blast? Varied terrain, lots of blue runs, some groomed black runs, wide open bowls to tree skiing (not me). In other words, something for everybody and different skill sets. Tuesday, we had a yummy Italian dinner in town, at a place called Mambo. I think everyone enjoyed their meal and wine there. I remember more partying at the Lodge in BAKS condo and being shown a backway short cut back to the Dulany and then more gabbing, laughs, and education in herbal supplements, thank you Linda Watanabe. Wednesday night was our BAC Council dinner at the Ore House, followed by a western line dance lesson. The dance floor was packed! Lots of fun! Oh, and I forgot to mention that we met Billy Kidd that night.He is such a good public speaker. His enthusiasm for all things skiing is infectious.
Thursday, while others did their thing, Sonia, Amy and I had an amazing massage at the Spa in the Steamboat Grand. My massage was courtesy of my very thoughtful and generous friends. Can't thank you all enough. You all are too much. For me, the massage was perfect timing: tired, achy legs and painful knees. That night was the Banquet and Dance at the Steamboat Grand. Our BAC trip leader, Gail Burns, was all decked out as Glenda, the good witch. Betsy Couch looked adorable in her Scarecrow costume. Again, the dance floor was packed.
Friday, our last day of skiing, the ski gods gave us sunny skies, good lighting and great runs. Good way to end the ski week. I'd have to say that overall, the ski/snow conditions were very good. Some had a couple inches of powder to ski through that sounded like a blast.
Saturday, our departure day, a few of us went downtown to check out the Winter Festival. They actually closed down the main road, Lincoln street, for "races" horse drawn skiers pulled down the street to see who and which horse had the fastest time. I saw a few snow sculptures on the side of the road and organziers where hoping to break a Guiness world record that night for the largest fireworks.
If you have been thinking about doing a FWSA Ski Week, do it! It really is a lot of fun, and someone else does the planning of the trip for you. I met so many really nice people, had a great time, got in some good skiing and made new friends with a group from the Modesto Ski Club (my condo roomies).
Lastly, I'd like to give a big thank you to our Gail Burns, who worked so hard prior to and during the ski week, making sure everything worked out okay for all of us.
---
Inskiers Enjoying Morning Freshies at Alpine Meadows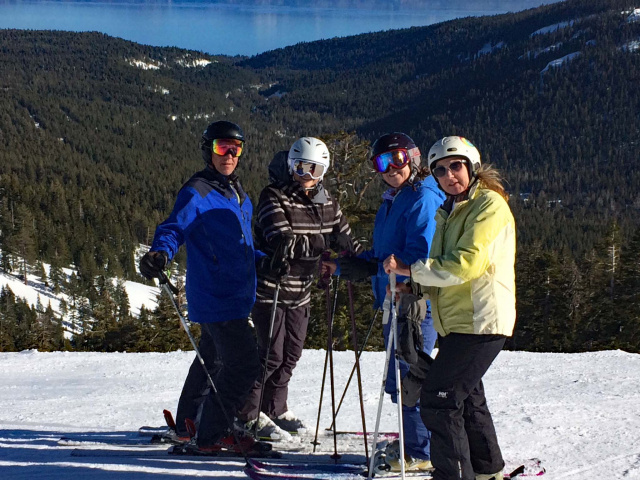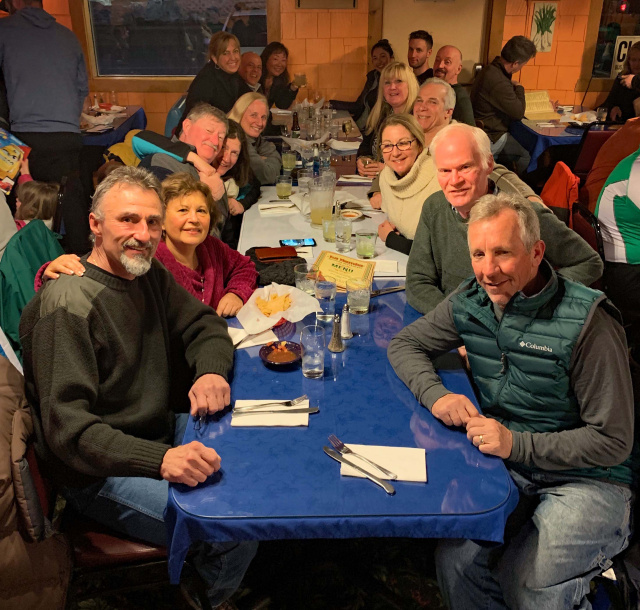 Atop Sherwood Bowl: Brian, Mary Ann, Sonia, Angie, and Kathy Inskiers at La Bamba's
David, Jan, Cathy, and Kathy Ready for dinner after a hard day of skiing
---
Inskiers Celebrate Dave's Delicious Dinner - 2018 Edition
The gathering was a bit larger than usual - Dave and Cathy had to rig an extension to their dinner table. Still, the kitchen was up to the task -- delivering perfectly cooked and timed courses. The wine was plentiful, and the pairings were inspired (including two bottles of Margaux). The conversation was lively, but we did not discuss politics, religion or gender, and did not solve any world problems. It was another wonderful Inskiers evening.
Richard, Bill, Graeme, Chef Dave, Craig, Grace, Susan, and Cheryl
Here was the menu from Dave's Delicious Dinner:
Caprese Salad Amuse-bouche

Scallops wrapped in Prosciutto

Garden Salad with Nuts with Blue Cheese Dressing

Pasta with Red Cream Sauce

Macadamia Encrusted Cod

Filet Steak

Chocolate Sponge Cake with Vanilla Ice Cream
- Richard
---
Inskiers Taste at Fogarty Wine Cellars
Gail, Susan, Kathryn, and Bill had perfect weather, great wine and food at our Fogarty event this past Sunday!
Photo by Gail.
---
Inskiers Tour FILOLI Gardens
This weekend Pamela, Elizabeth, Carol, Cathy, Susan and Sonia walked the stunning floral garden display at nearby FiLOLI.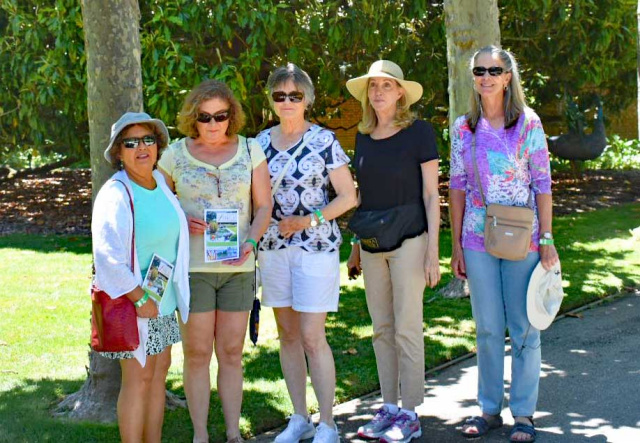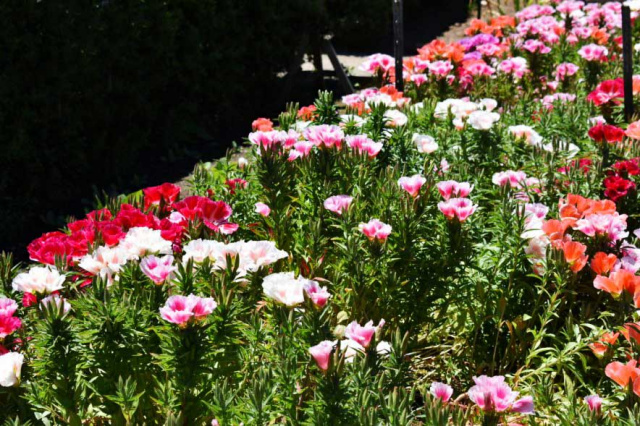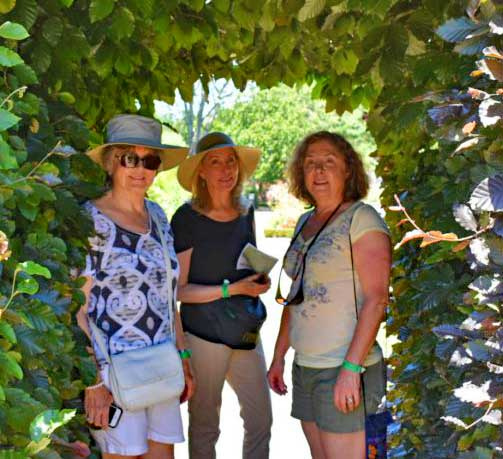 ---
Inskiers "Escape Room" Challenge
This past Saturday the Inskiers who won the Escape Room auction item enjoyed a team bonding, fun, and at times a frustrating, challenge. We tried to solve puzzles, make sense of various clues and locate hints to "Escape the Asylum." Sadly, no one escaped! Afterward, most of us went over to O'Neil's for a drink.
- Angie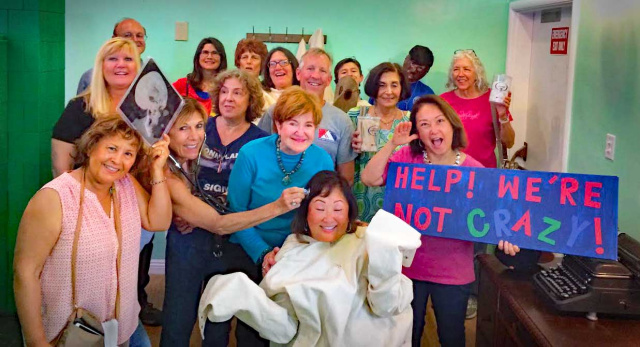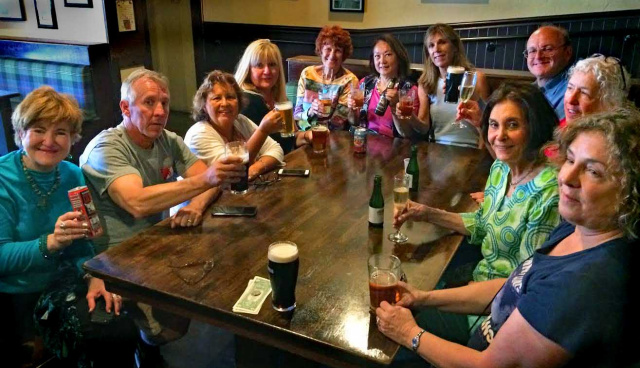 ---
Inskiers 4th of July Fireworks Potluck at David and Bonney's
Fireworks boomed and and glasses clinked at a most festive Independence Day celebration hosted by David and Bonney.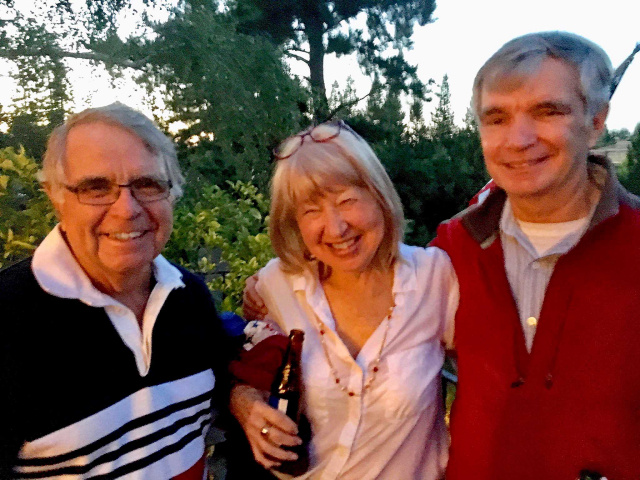 ---
Inskiers Astro Bowl
Marilyn hosted a lively and jovial bowling night at Astro Bowl in Pacifica this past weekend. Seen here posing with Mr. Bowling Pin are Brian, Marilyn, Cheryl, David and Richard. This event is becoming so popular that Marilyn is considering expanding this event into a regular club affair.
---

Inskiers Annual Picnic and Bocce Ball Tournament
Ah! Warm summer days with bocce ball, pizza, and good friends. Over sixty Inskiers gathered at the Burlingame Rec Center bocce courts for our annual bocce tournament and summer picnic. Seen below are Alica and Kathy tossing the bocce. We all then took a break to share lunch on the picnic tables. See also the two groups of tournament winners. First Group: Mary Ann, Angie, Don, and Marylyn. Second Group: Kathryn, Elizabeth, Cathy, and Debbie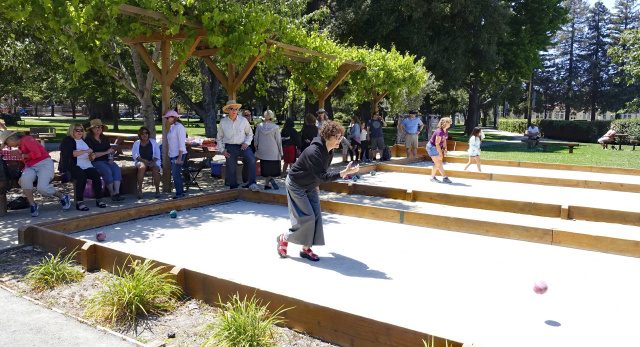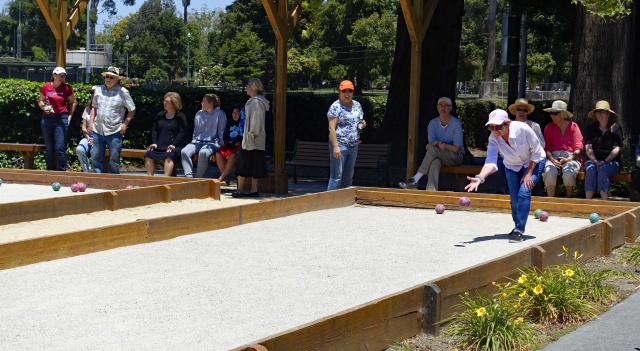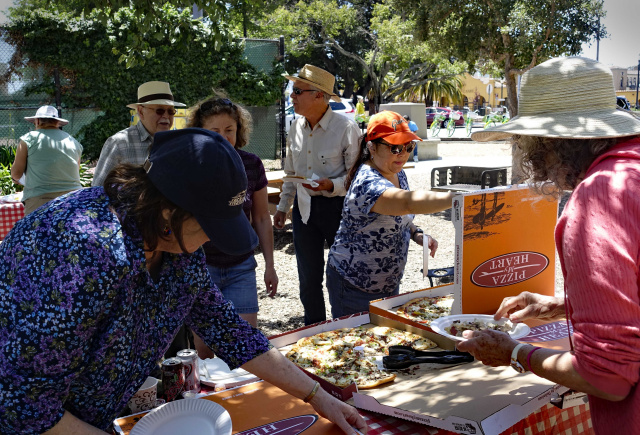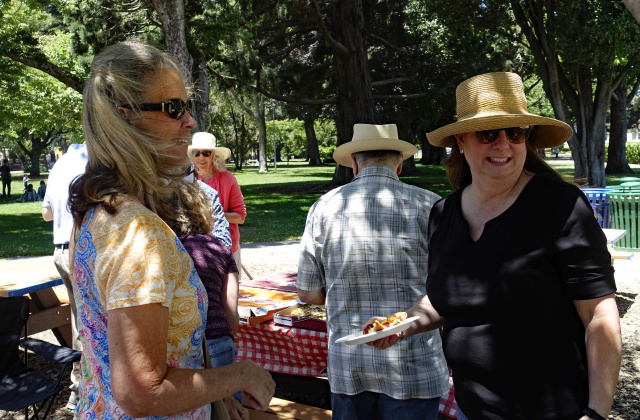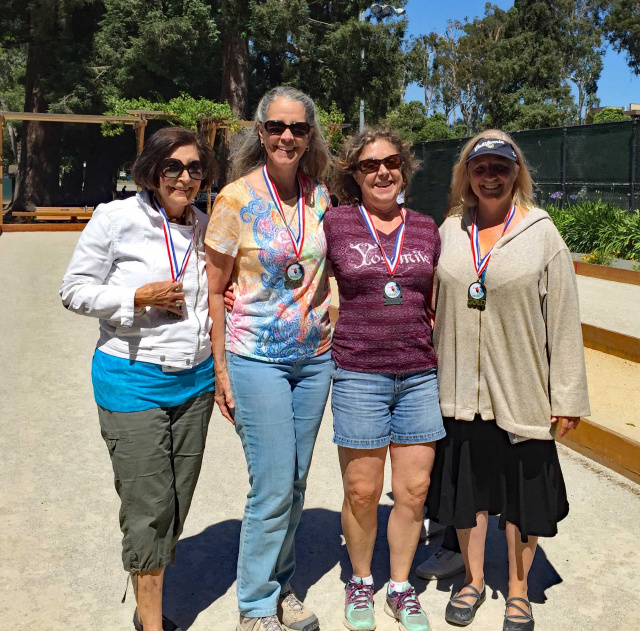 ---
Inskiers Spring Bocce Ball
Thank you to Brenda for hosting and Ed for organizing the Inskiers Spring Bocce Ball Tournament. Everyone dined on fine wine and a BBQ that included David's much acclaimed Louisville style ribs. The boys vs. girls format of the games provided for a lively afternoon of bocce with each side showing special encouragement for the other. Though the boys led the scoring for twenty frames, the girls persisted and surged in the last frame to outscore the boys and claim the tournament trophy.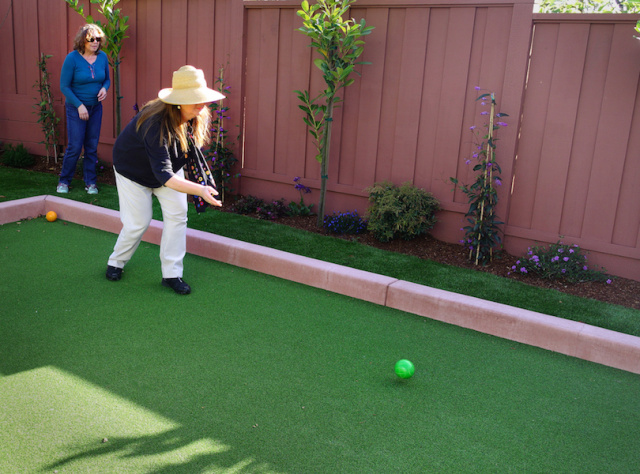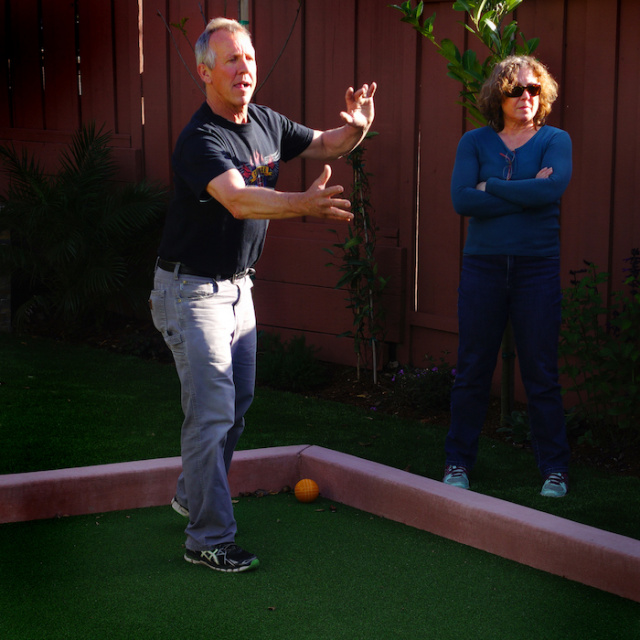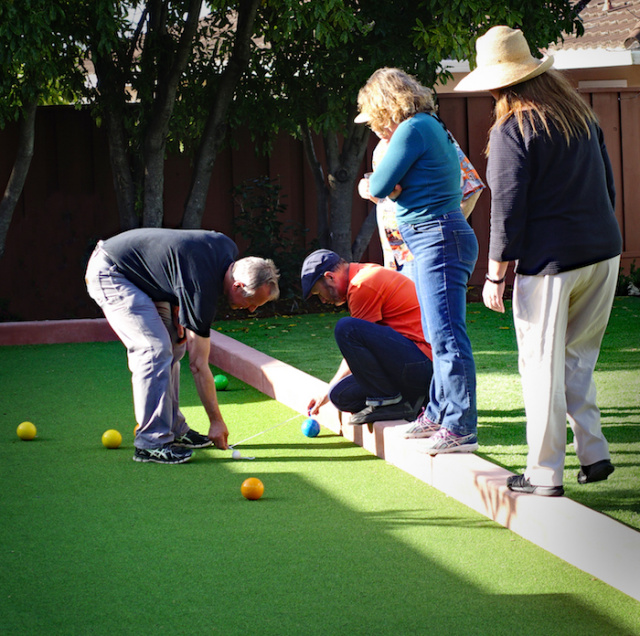 Marie Skillfully Tosses the Bocce Ball David Directing His Throw Time For A Measurement
Sheryl Delivering a Score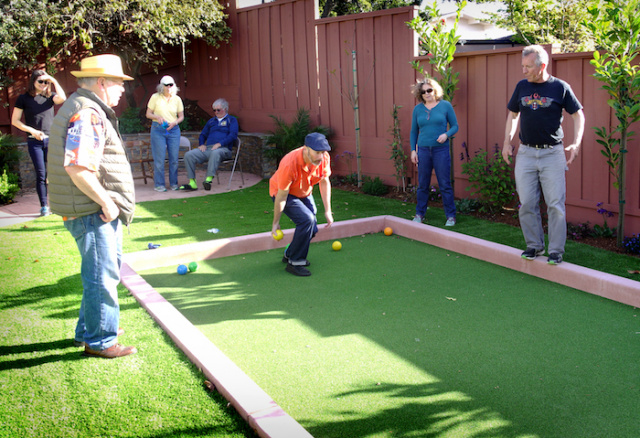 Bill Is In Perfect Form Richard Giving a Clinic on Bocce
Proud Inskiers Ladies Beaming On Podium With Winning Trophies
---
Happy Chinese New Year!
Inskiers celebrated the Year of the Dog with fine dining and good company at King Chuan. Gung Hay Fat Choy!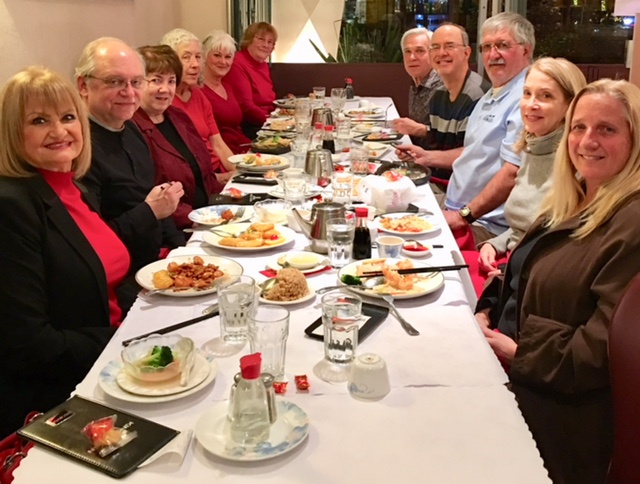 ---
Edgewood Park Hike and Lunch at Canyon Inn
Inskiers hiked the Sylvan loop at Edgewood Park before meeting up with friends at the Canyon Inn for lunch.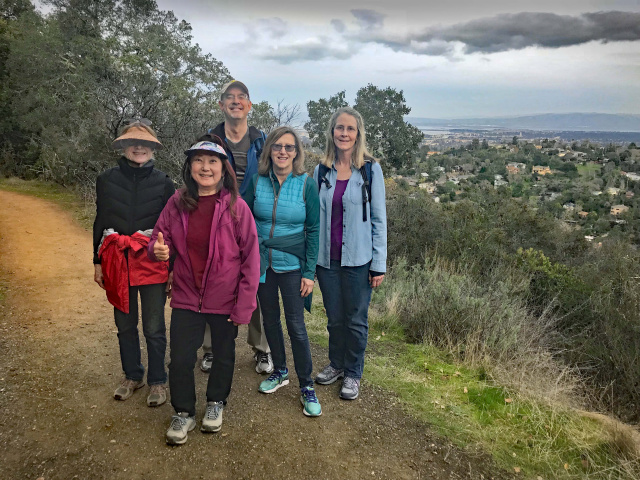 Linda, Bonnie, Cathy, Elizabeth, Don
- Photo by David
---
Sonia and Keith Remembered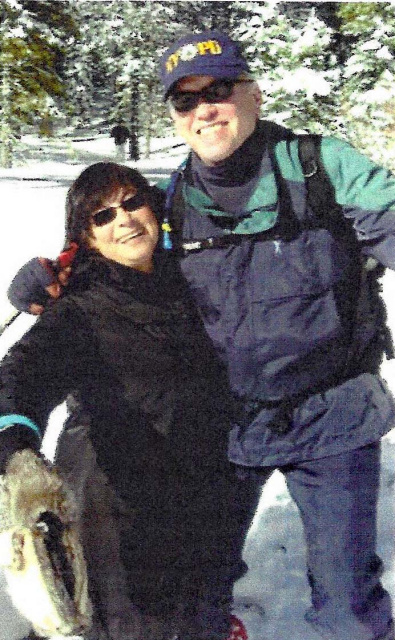 Keith and Sonia were past Inskiers board members and two of the friendliest and most enthusiastic participants of the Inskiers club. Please read their story here: Kieth and Sonia Pg 1, Keith and Sonia Pg 2
Thanks for submitting, Angie.
---
Inskiers Holiday Party
Its the most wonderful time of the year! Friends gathered at Sonia's home Saturday to celebrate the
holidays with good cheer, music, dancing and great food. Sonia's party was unforgettable and house filled
with love and joy.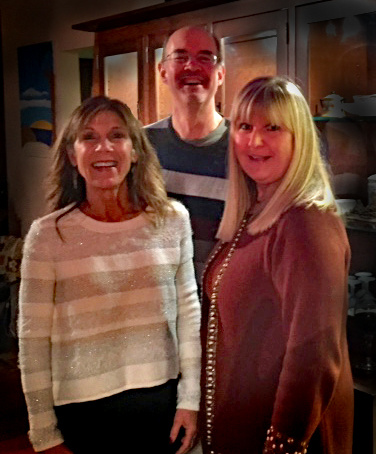 David, Sara, Elizabeth, Ed, Margie, Cathy Denise, Don Mary Ann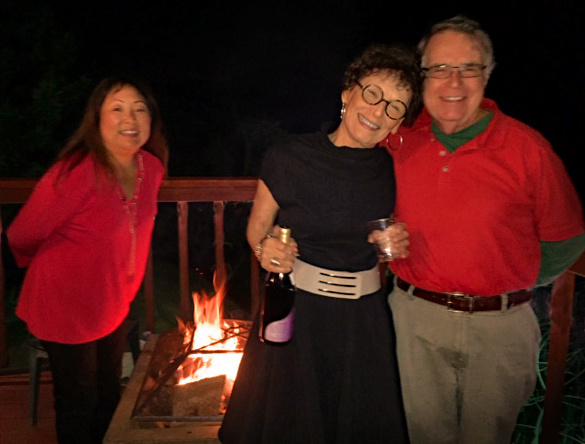 Angie, Alicia, David Mary Ann, Denise, Margie, Marian, Terri, Gail
Thanks for the photos, Angie.
---
Annual Warren Miller Film Tradition
Over fifty Inskiers gathered at The Fox Theater in Redwood City Friday evening for the new Warren Miller film, Line of Descent.
The annual club event is a celebration of the start of the winter ski season and provides a taste of the skiing excitement that
is to come this winter. Thanks go to who Pam coordinated an uproarious happy hour/supper beforehand at Quinto Sol.
Winter is coming soon and the Inskiers are rallying.
---
Dave's Delicious Dinner
This past Saturday we completed another annual edition of Dave's Delicious Dinner. This year's menu was an all-American surf and turf meal anchored by filet mignon and lobster tail -- with Dave's special touches to make each dish distinctive. We started with a risotto amuse-bouche, and then another herbed shrimp appetizer. This was followed by a green salad and a vegetable medley to accompany the paired entrees: filet mignon with herbed butter and chanterelle au jus, and a perfectly cooked lobster tail with lemon butter. Dessert was apple pie a` la mode. The wine pairings were inspired and finished with a California port. Another amazing Inskiers evening!
- Richard
Elizabeth, Marci, Mike, Dave, Richard, Gail, Bill
---
Bill's Fantastic Wine and Cheese Night
Kathy, Richard, Bill, Cathy, David, and Gail
Bill hosted his Fantastic Wine and Cheese Night this past Saturday.
Bill outdoes himself every year with a superb selection of wines, cheese and salami, and this year's selections were outstanding! We avoided political discussions this time around and talked about everything else.
- Richard
---
Inskiers Ping Pong Extravaganza
We wrapped up the first annual Inskiers Ping Pong Extravaganza this past Saturday. The event was held on the clubhouse patio of Gary's slope-side residence in San Carlos.
After a short review of the rules, the games began in earnest. The competition was fierce, but at the conclusion of the event, three trophies were awarded: Miss Congeniality – awarded to Cheryl by acclamation, Best Trash Talker, and Best Drunk Player went to Marci and Mike Lyzun. Marci won one trophy and Mike the other. (No one is sure who won which.)
Our hosts were Gary, Kathi, Don and Terri. They provided healthful snacks and libations during the games and fed us delicious chicken and Santa Maria tri-tip for dinner.
- Richard
Ping Pong Extravaganza (click here)
David and Bonney Prepare for a game.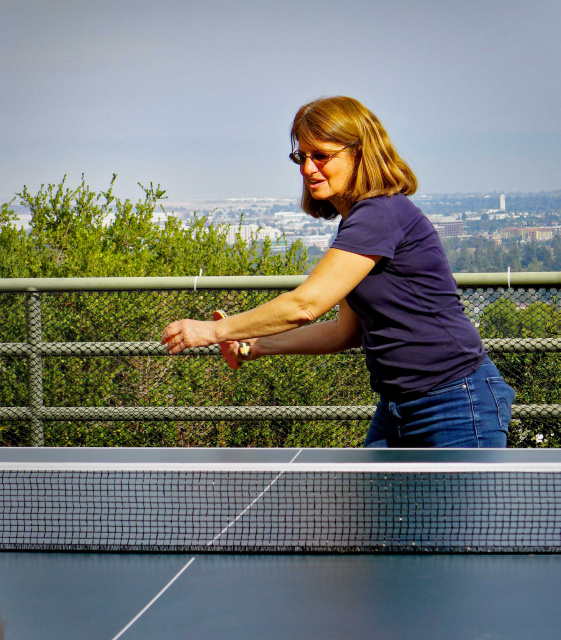 Marci With a Hard Volley Terri Prepares to Serve
---
Inskiers Weekend at Lana's in Stockton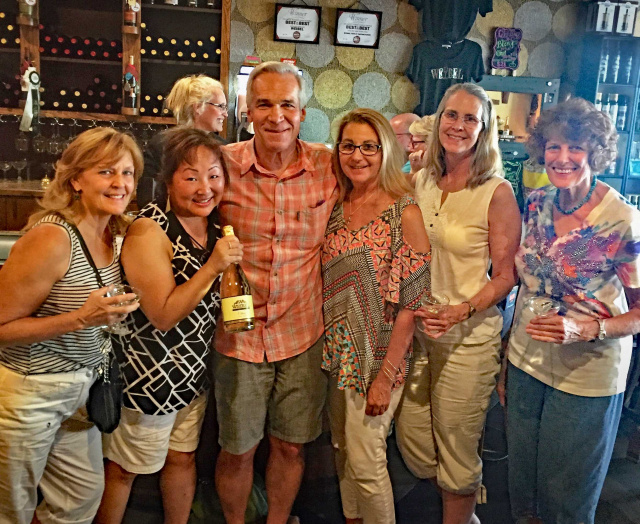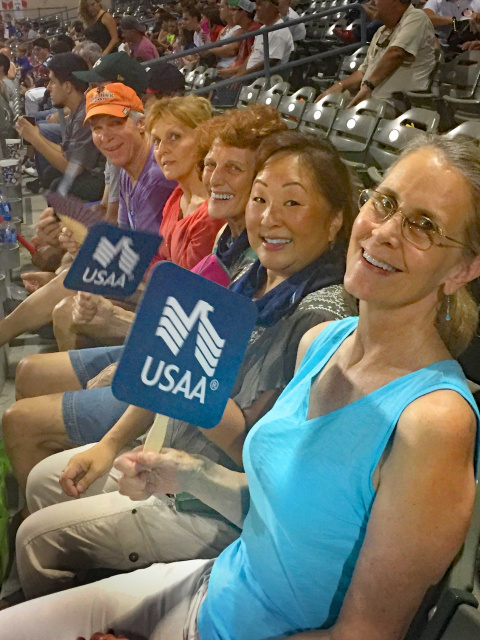 On the very hot weekend of September 2nd and 3rd, Lana Clarke and Kathy Silver hosted a fun-filled Inskier Auction event for Angie I, Brian B, Elizabeth A, and Marji M. We descended upon Lana's beautiful condo by the water, in Stockton, (and yes, Lana has great air conditioning) and were greeted with libations and excellent appetizers. After time to relax and socialize, we were treated to a gourmet picnic type of dinner before heading off to watch the Stockton Ports take on the San Jose Giants. We had seats right behind the Giants dugout!!! It was a great game, especially if you are a San Jose Giants fan. Kathy Silver even scored a baseball, slyly rolled out to her on the dugout, by #22, Shawn, a pitcher. The final score was something like 11-3, but don't quote me on that as the heat was making me a bit loopy by then. After the game, they had really impressive fireworks booming over the left-center field area. Time to return to Lana's for more libations, dessert, games and AIR CONDITIONING! We had a pretty competitive game of Mexican Train going.
The next day, we enjoyed coffee and breakfast in Lana's outdoor area, complete w/Koi pond. After breakfast and a quick game(?) of Catch Phrase, we headed to downtown Lodi for Champagne and Wine tastings in 2 awesome tasting rooms. Even Brian, who was dd, was enjoying his sparkling grape drink. A few of us came home with bottles of bubbly. If you are looking for less crowds, new wines to taste, and far less expepensive than Napa or Sonoma, this is a great area! Downtown Lodi looked to have quite a few tasting rooms that you can just walk to, and I noticed wineries all around, as we were driving into downtown.
Late Sunday afternoon, we bid our hosts goodbye with many thanks for a very enjoyable weekend.
- Angie
---
Ed led an intrepid party of Inskiers in some "fieldwork." The subject of study was beer and food. The TGIF was held at the new Fieldwork brewery on Delaware St. in San Mateo.
---
Inskiers Tahoe-Donner Weekend
A scene from "The Magnificent Seven"? "The Wild Bunch"? These would be good guesses, but David and Bonney hosted a Tahoe-Donner weekend filled with action events such as kayaking, hiking, Shakespear at Sand Harbor, and horseback riding. The posse of Marianne, Maurice, David, Mary Ann, and Marie (above) are shown relaxing after riding the scenic trails above Tahoe-Donner.
---
Inskiers Summer Picnic and Bocce Ball Tournament
Hi Inskiers,
We had very fun time playing bocce ball, with new and returning players. Lunch was delicious pizza, salad and plenty to eat. We even had shade and benches to sit on by the bocce court. Nice to socialize with everyone. Keep practicing your Bocce moves - this could be a repeat event!
Pres Cathy and your Inskier Board
Inskiers Bocce Ball Champions - Marilyn, Bill, and Cathy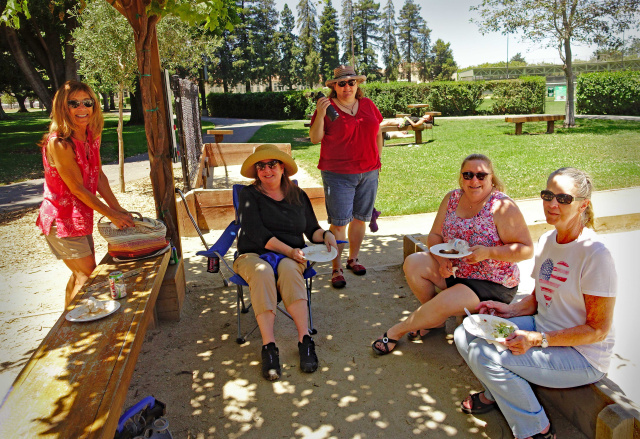 Time Out For Lunch - Denise, Marie, Pam, Karen, Elizabeth David Showing Championship Form
---
Inskiers Gala 4th of July Potluck and Extravaganza!
Over one hundred Independence Day celebrants gathered at David and Bonney's for a festive and patriotic potluck. In addition to the wonderful food and libations provided - an enormous fireworks display was viewed by all on the nearby lawn.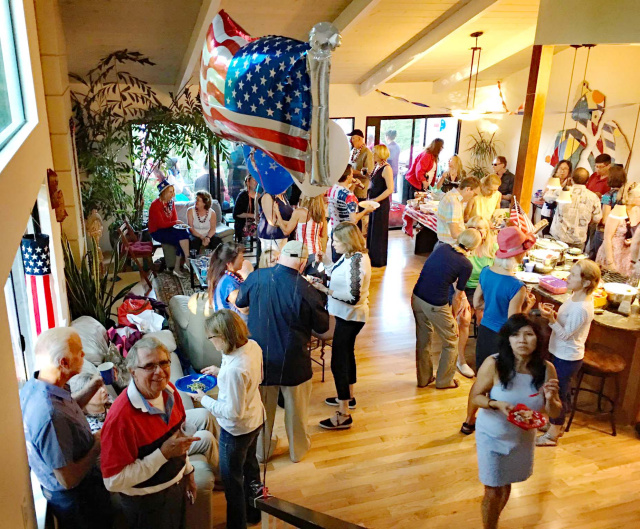 ---
Inskiers Annual Auction Fundraiser
Throngs of Inskiers and their guests filled Mimi's Café to bid on many fun filled events and donated items. The auction was an overwhelming success and the revenue will not only help sustain the club ski cabin in the following season, but will help underwrite our favorite club charity - the FWSA Junior Olympic Ski Scholarship Fund. Pictured here are Marie and Karen (event administration); Richard and Marci (announcers); Cathy (auction Vanna). Many thanks to these members and Bill M for their efforts.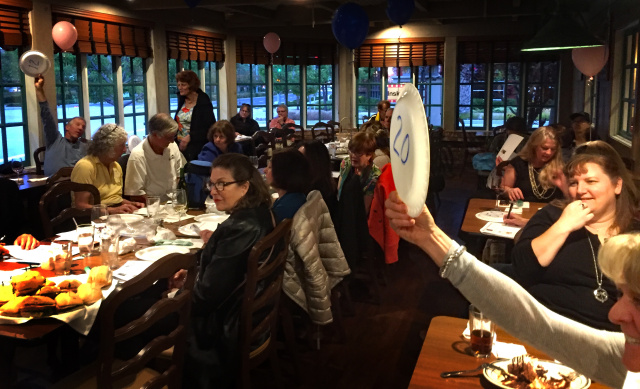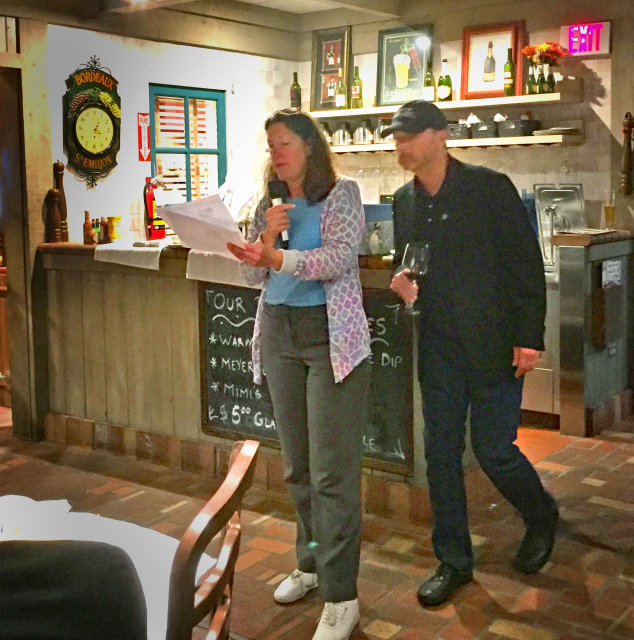 ---
Inskiers Cross-Country Ski Weekend
Cross-Country Enthusiasts at Royal Gorge Dinner at Smokey Joe's On Friday Evening
Eighteen enthusiastic Inskiers braved a snowy drive to the cabin on Friday, but were rewarded with excellent spring skiing conditions over the weekend. The April cross-country event was a most enjoyable way to shutter the club cabin after another very successful and memorable ski season. We are already looking forward to another cabin lease next winter.
---
Inskiers Race Team. A fast shutter speed and we just caught them.
---
BAC 2017 Man of the Year - David Baird
Congratulations to Davis Baird, Inskiers 2017 Race Director, for being awarded the Bay Area Council of Ski Clubs "Man of The Year." David's many years of service and dedication to the skiing community were recognized this past month at the BAC meeting.
---
St. Patrick's Evening at McGraw's Irish Pub
Twenty Inskiers and friends wore green and joined together for an evening of corned beef and cabbage and Irish brews at McGraw's Pub on St. Paddy's Day. Winner of the Tullamore Dew for the most festive dress was Mary Ann.
Marie, Ed, and Mary Ann Don and Terri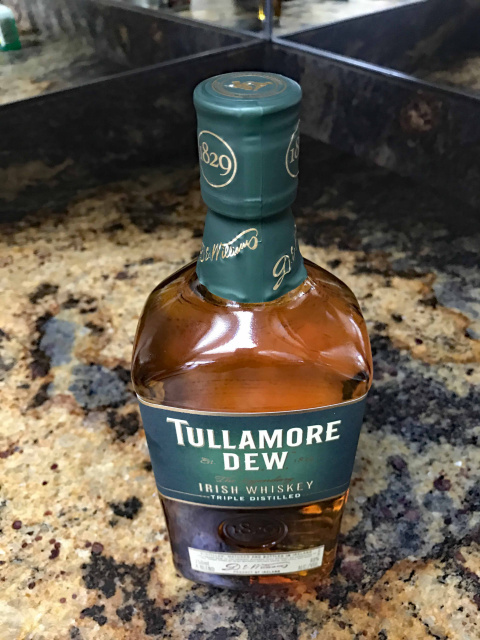 Grand Prize
---
Richard Schnabel Speaks of Winter Safety at Inskiers March General Meeting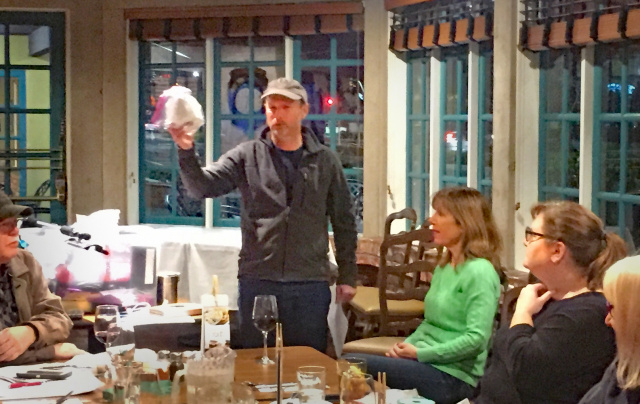 Noted skier and Inskiers club member, Richard Schnabel, gave a presentation to over seventy people at our March general meeting at Mimi's Cafe. An enthusiastic proponent of skiing safety, Richard has compiled a comprehensive list of gear for seasoned veterans and newcomers to include in our travels back and forth to Lake Tahoe. Richard's authortative discussion was lively as always and we learned much. Share Richard's safety list by clicking this link:
---
Happenings at The Inskiers Cabin
The Inskiers cabin (above) has ample amounts of snow. (Up to eaves!) Thank you for of all the snow dances and prayers for for the white stuff. They obviously worked. Jessica and Mary Ann have done a great job keeping the driveway clear of snow this season.
Boys In the Kitchen Cathy's Walk in the Woods
This weekend the kitchen at the Inskiers cabin resembled "Iron Chef" (above left). Led by five star chef David Baird, Richard Schnabel, Brian, and Criag, organized a sumptious meal for the cabin on Saturday evening. Sensibly, the Inskiers babes are over by the fireplace drinking cosmos and offering much encouragement.
Madam President Cathy Baird (above right ) straps on snowshoes and heads for the deep forest. The conditions were perfect.
Inskiers First Race Weekend of 2017: A Collage by Richard Schnabel
---
Seen On the Slopes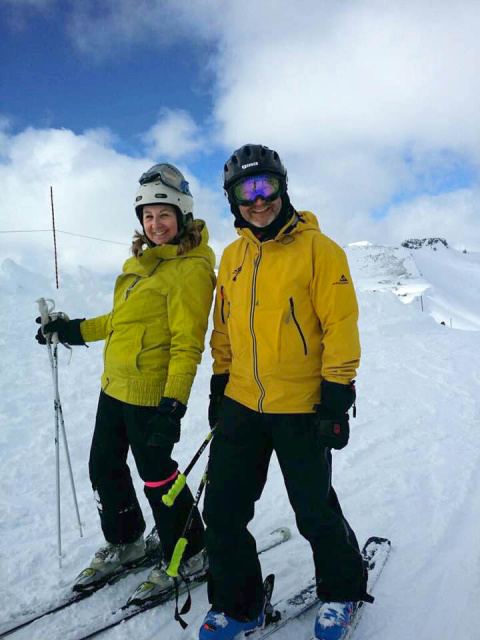 Cathy and Richard Enjoying a Powder Day at Squaw Valley
---
Inskiers Super Bowl Party
Mike and Marci opened their comfortably refurbished home again for Superbowl Sunday. The enthusiastic crowd of Inskiers watched the sports drama unfold on large screen TVs. Naturally there was plenty of good food and friends to celebrate the game with.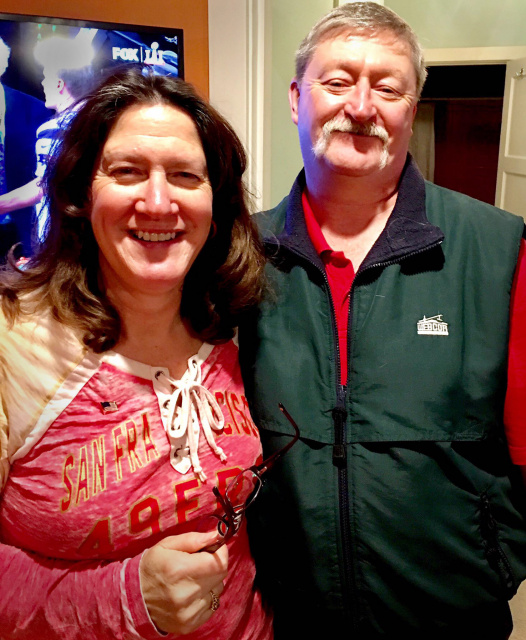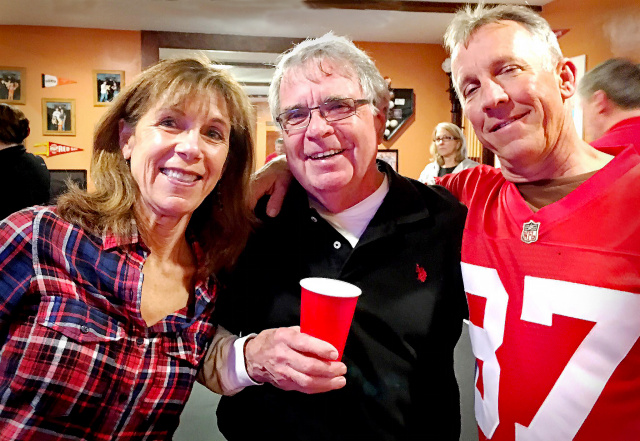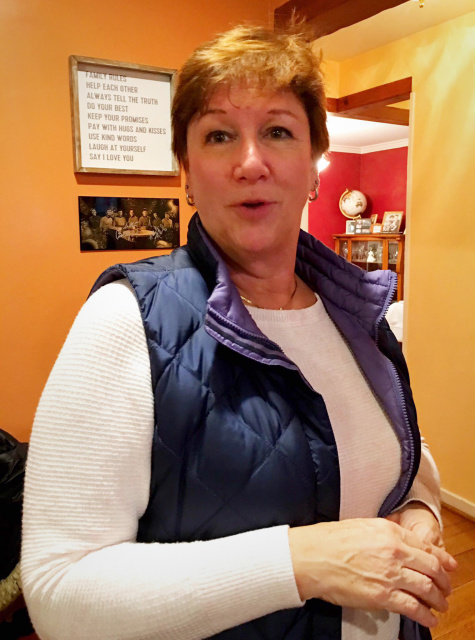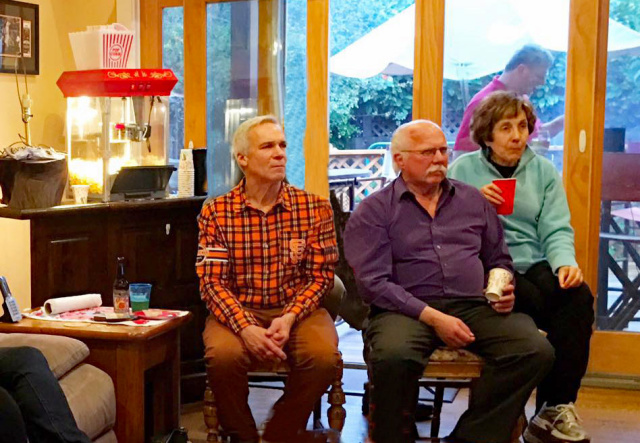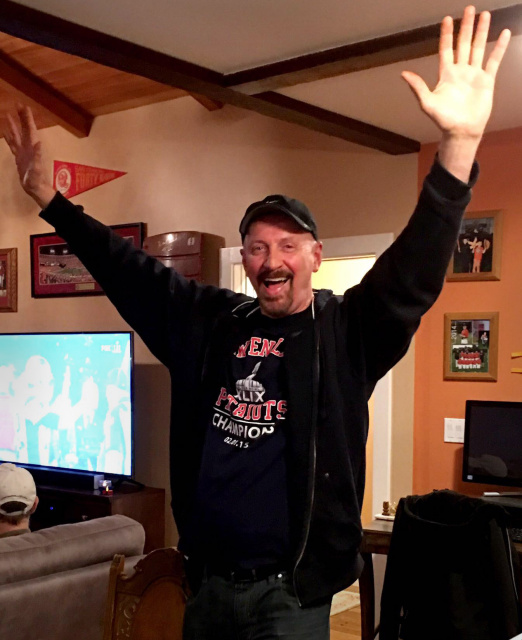 Thanks for the photos, Mary Ryan.
---
Inskiers Cabin Poetry
Squaw Creek Haiku
Gliding up the lift
over snow-toothed spruces -
all of us, smiling
R Schnabel
Have a skiing themed haiku you would like to share with your friends? Please submit it to webmaster@inskiers.com We'll collect them and publish the best.
---
Inskiers Celebrating The Year of the Rooster at King Chuan's in San Carlos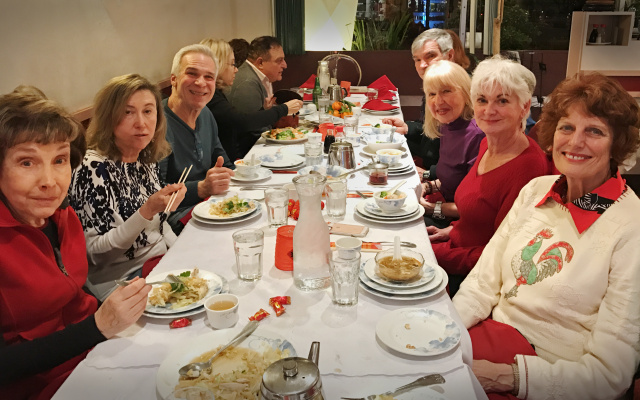 Thirteen Inskiers attended for a Year-of-the-Rooster dinner at King Chuan's last night. We ordered Chinese specialities mostly in groups of 3-4 people, so that they could shared family style. After, the restaurant's owner, Susan, gave short talk on the history the Chinese new year and its special traditions. ("It's always celebrated the night before and continues for two weeks after.") Susan, also a Tai Chi instructor in San Carlos Recreation Center, demonstrated the exercises and explained their goals. That made the evening special for the attendees.
- David Falconer
---


There is a bit of snow at the cabin
---
Inskiers Annual Holiday Walk
Three of Santa's elves are pictured here singing carols and spreading seasonal merriment on the Lyzun's annual holiday walk in San Carlos.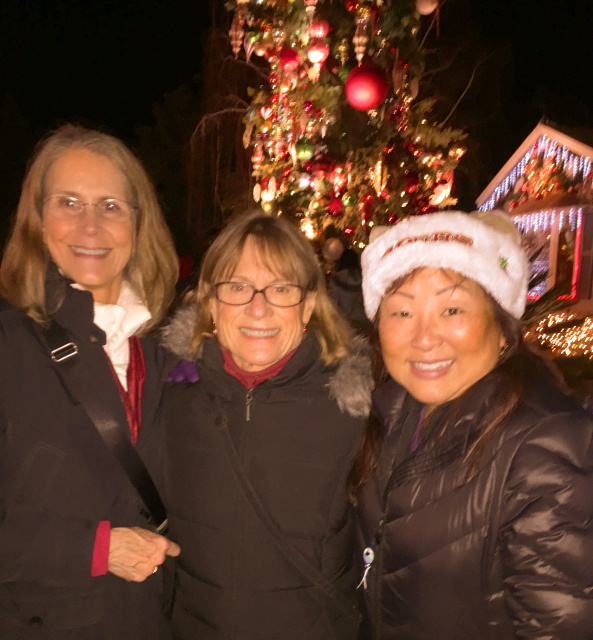 Elizabeth, Bonney, and Angie (Photo by David)
---


Inskiers Gather at Denise's for "Wine, Appetizers and Games Night"
Denise and John proved again that they are the most gracious of hosts. In this event to support our ski cabin fundraising - a dozen Inskiers dined on tempting anti pasto, scrumptious hors d'oeuvres, delicious fruits, and many other tasty dishes while playing dice and word games. The evening was filled with the laughter and the smiles of good friends.
---
Bill's Wine and Cheese Party
This Saturday, Bill Mahar hosted four Inskiers at his Belmont abode for a night of wine and cheese. He provided a generous selection of cheeses, nuts, olives, fruits and salami, and several bottles of Pinot Noir. As the wine flowed, the conversation became more spirited, even skirting discussions of religion and politics. We are all still friends! It was another fine event.
- Richard Schnabel
---
Chef Baird Preparing Culinary Delights For The Inskiers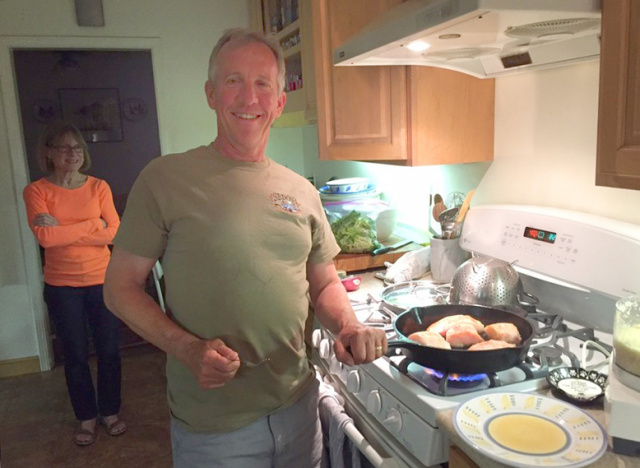 Four of us joined Dave and Cathy for dinner this past Saturday. It was a relatively small gathering as Dave meant to keep it small to keep it intimate and to maintain high quality in his kitchen. He did not disappoint. The theme was seafood, and we were served seven courses--including perfectly grilled shrimp and pesto macadamia encrusted cod from New Zealand. There was no shortage of wine. The hosts were gracious, the conversation was convivial, the food and wine were delicious, and the night was perfect.
- Richard Schnabel
---
Avast Ye Maties! Time traveling Inskiers took a trip back to the swashbuckling seas to solve a cold case murder. Justice was served and ribs.
---
Inskiers on Paddle Boards
Pamella, Suzanna, and Cathy
Cathy Baird (Pres), Pamella Miller (Social), and Suzanna (Member at Large) take to the waters off Half Moon Bay on paddle boards. All are avid paddling enthusiasts and often take friends along who are new to the sport.
---
Welcome Madam President!
Cathy Baird - Inskiers 2017 President
---
Inskiers at Burton Park for Summer Meetings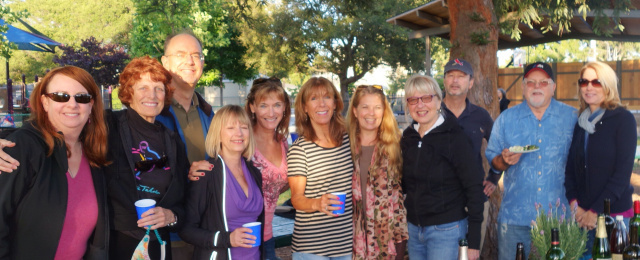 Join us for the summer BBQ's in Burton Park when we fire up the coals and enjoy the balmy summer evenings in San Carlos.
---
Inskiers Revel at Telluride FWSA
Over thirty Inskiers participated in this years Far West Ski Association sponsored ski week in Telluride, Colorado. Skiers are seen here saving energy by dimming the lights gathering around a fire.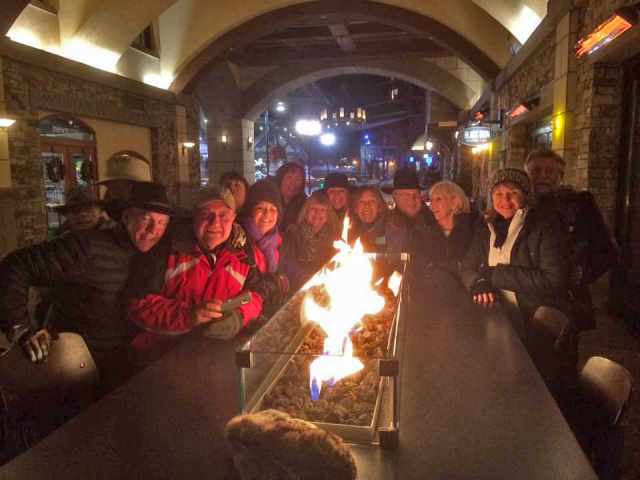 Photo by Ken Mahar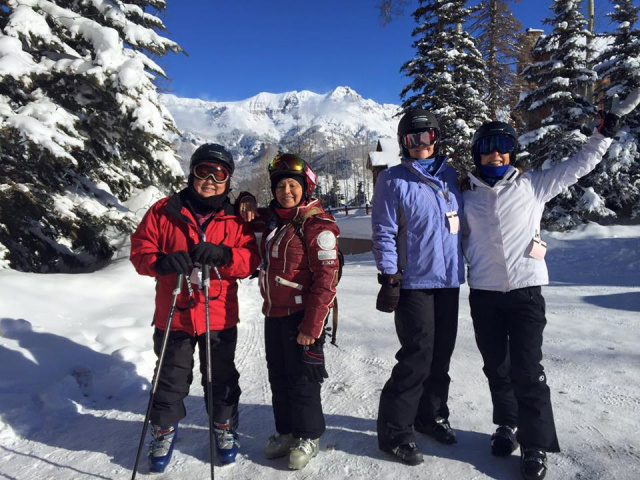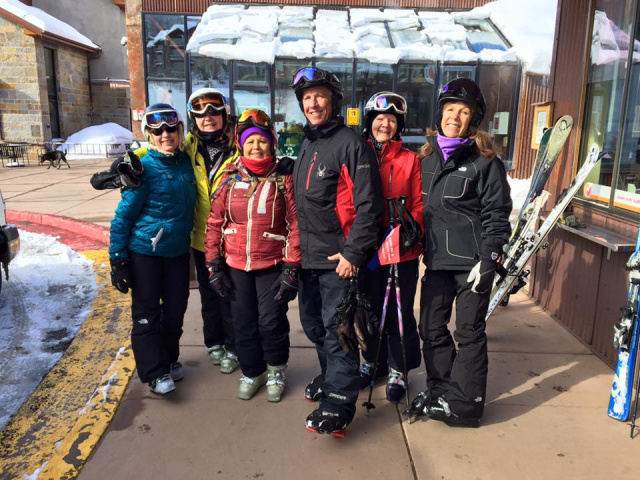 ---
Inskiers Night at the San Francisco Exploratorium
Pam Miller hosted sixteen Inskiers for the Adult Night at the San Francisco Exploritorium (Pier 15) this October. After dinner together at the Exploritoium cafe, the Inskiers delighted in having the run of all the hands-on exhibits. We compared it to a "Disneyland for grownups - but without the lines." This was so much fun, we will do it again this coming spring.
Meeting at the Exploritorium Navigating the "Distortion Room"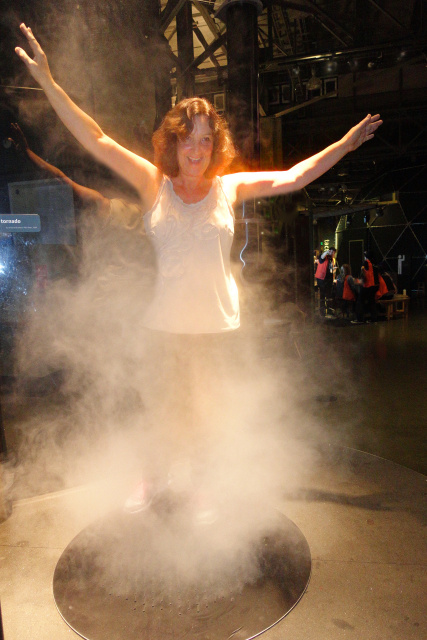 Carole dancing in "The Tornado"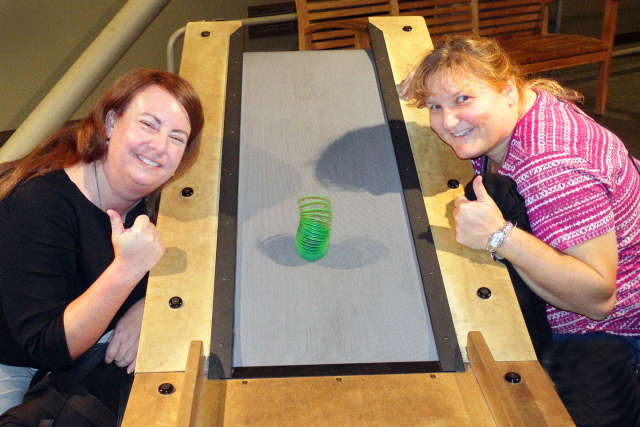 Marie and Pam play "Mr. Slinky" Pam and Marie battle the robots
---
Don Goodnature and Leona Landers hosted our annual Inskiers membership party at McGraw's Pub in Belmont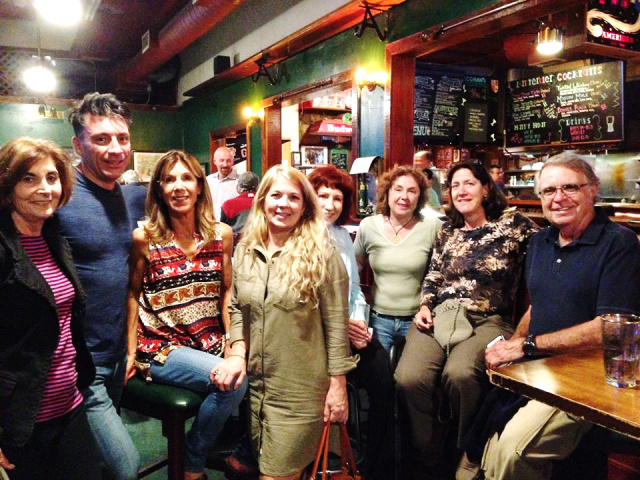 The membership drive was wildly successful and we saw many returning faces - happy to see one another and eager for a great ski season at the club cabin.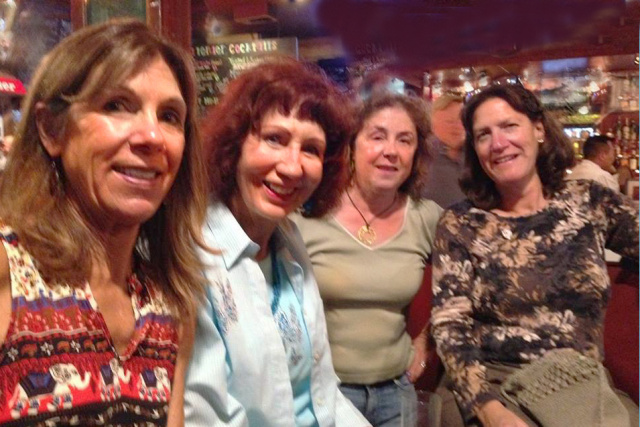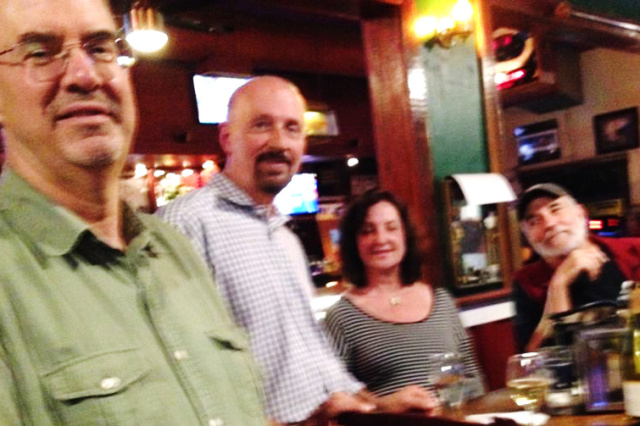 Thank you Terri Zorn for the photos.
---
Inskiers Directeur Sportif and Cabin Chef de Cuisine,
Monsieur David Baird, Plating a Boeuf de Truckee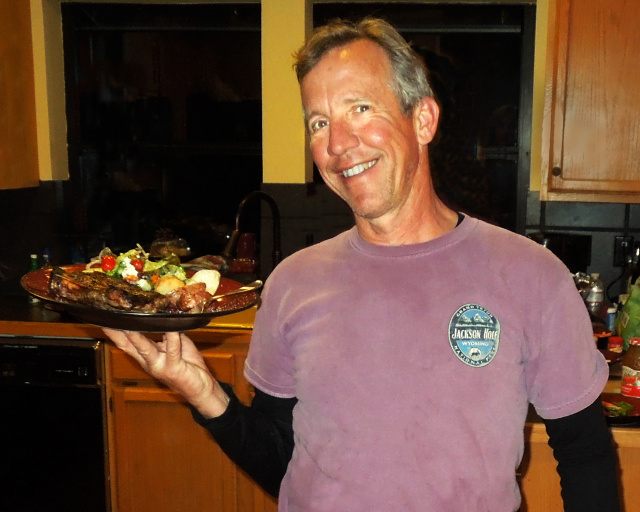 Photo by Jim Mrazek
CHECK OUR CALENDAR FOR UPCOMING EVENTS & MORE
---



Mission Statement
To promote interest in skiing and winter sports, social and athletic activities, to sponsor trips and other skiing activities, to facilitate the various arrangements attendant with skiing; to derive social pleasure from the companionship of skiing enthusiasts; and to support safer and better skiing.
The Inskiers are a group of single adults who love winter sports and the mountains! We are associated with both the Far West Ski Association and the Bay Area Snow Sports Council . As a member of the Bay Area Singles League, we enjoy skiing, snowboarding, racing and social events with other clubs from the Bay Area. As a year-round club, we also enjoy other sports and activities such as biking, hiking, picnics, wine tasting, dining, movies and many types of events.
National Ski Council Federation along with approximately 30 other councils across the United States, representing over 300,000 people! www.skifederation.org (user name: ski club; password: member)
Updated 2Jan21
Follow us on Facebook Follow Us On Meetup