Inskiers meet at this location in the fall and winter months :
In the fall and winter months, the Inskiers meet at Mimi's Cafe in Foster City. Come and enjoy Mimi's casual atmosphere, good food, and fair prices. (www.mimiscafe.com) We are easy to get to and there is plenty of free parking.
The Inskiers also meet once a month at a member's home for a potluck. The get together is informal and fun. The club provides tableware and everyone bings food to share as announced. The Inskiers potluck starts at 6:30 p.m. and annoucements are made through Yahoo Groups.
---
Inskiers Night at the San Francisco Exploratorium
Pam Miller hosted sixteen Inskiers for the Adult Night at the San Francisco Exploritorium (Pier 15) this October. After dinner together at the Exploritoium cafe, the Inskiers delighted in having the run of all the hands-on exhibits. We compared it to a "Disneyland for grownups - but without the lines." This was so much fun, we will do it again this coming spring.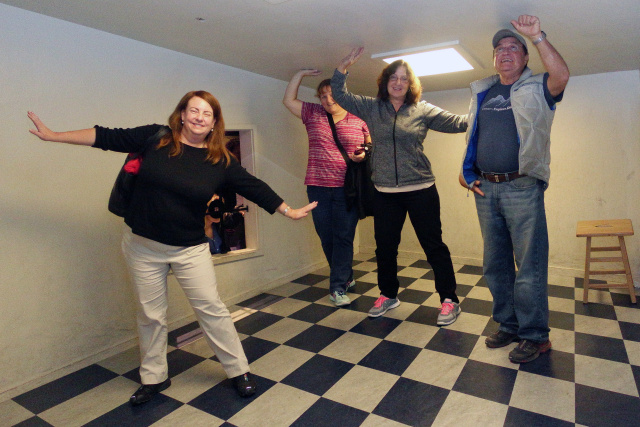 Meeting at the Exploritorium Navigating the "Distortion Room"
Carole dancing in "The Tornado"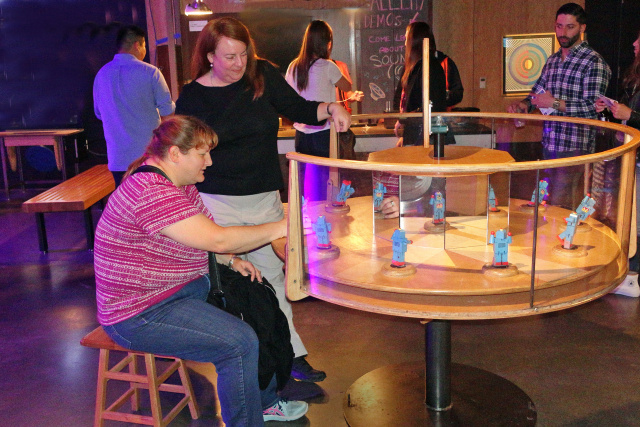 Marie and Pam play "Mr. Slinky" Pam and Marie battle the robots
---
Don Goodnature and Leona Landers hosted our annual Inskiers membership party at McGraw's Pub in Belmont in October
The membership drive was wildly successful and we saw many returning faces - happy to see one another and eager for a great ski season at the club cabin.
Thank you Terri Zorn for the photos.
---
Inskiers, please see the "Inskers Club Singles League Race Schedule for 2016" now in the "Racing" page. Dave Baird, Race Director, will be posting more details soon.
---
2015 Inskiers Bocce Ball Tournament: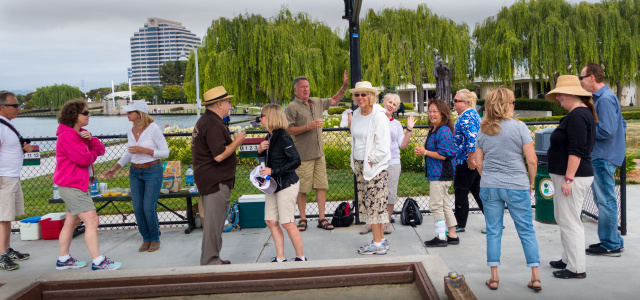 Inskiers at Foster City Bocce Ball Grounds
David Baird Bowling Ken Mahar Bowling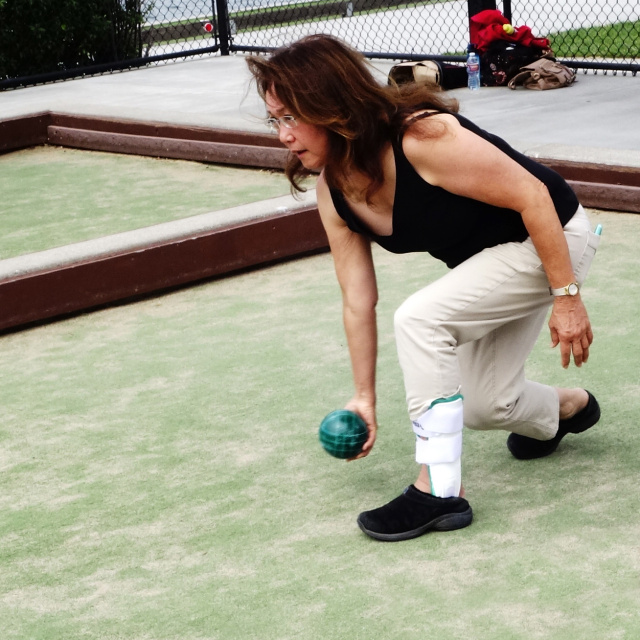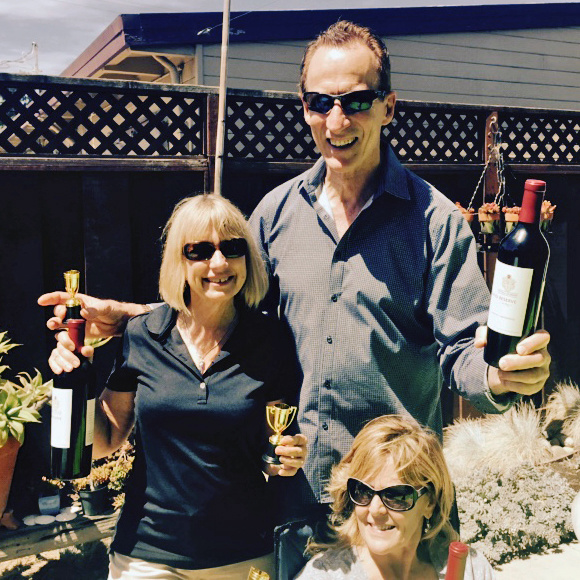 Linda Bowling Inskers 2015 Bocce Champions
- Gail, Don, and Lana
Ken Mahar and Jessica Disney sponsored the Inskiers 2015 Annual Bocce Ball Tournament this August at the Foster City Recreation Center Bocce Ball Grounds. The competition this year was, again, most fierce. Although the heavily favored team of Ken Mahar and David Baird (2014 Inskiers Bocce Champions) played extremely well, the upsart team of Gail Burns, Don Goodnature, and Lana Clark put on a dazzeling bocce performance to claim tournament victory and the honored title of 2015 Inskiers Bocce Champions. All celebrated enthusiastically at Ken and Jessica's home afterwards.
---
2nd Annual BAC Sharks Hockey Night
Let's get ready to "Drop the Puck" with the Bay Area Snow Sports Council (BAC) and the San Jose Sharks on Saturday November 7, 2015 at the Shark Tank in San Jose! This is a fundraiser in support of a local junior ranked racer sponsored by the Far West Ski Association. The BAC has group seating in Section 223. If we sell these out quickly, we'll be able to get additional seats in a section next to us! For more information, go to "November 7, 2015" in the Inskiers club calendar or got to www.skibac.org on the web.
---
Classy bunch at the Inskiers member appreciation night: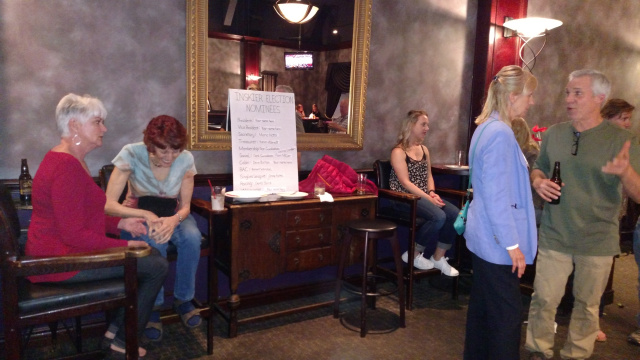 ---
FWSA 2016 Telluride Ski Trip
Hello Inskiers,

Next season's FWSA ski week will be in Telluride, Colorado during the week of Jan. 30-Feb. 6, 2016.

The Inskiers board is heartily recommending this trip to all Inskiers and we would like to participate this year as a club. Several members have already committed to go. It is possible for us to get optimal housing arrangements and we can arrange for Inskiers to reside in the same suite or general area.

Please let me know if you plan to go on this great trip. At this point, early registration will require a $200 deposit.

-Richard, your BAC rep

Here's the flyer: Telluride 2016
Here's the application: Telluride Trip Application
---
Inskiers June BBQ at Burton Park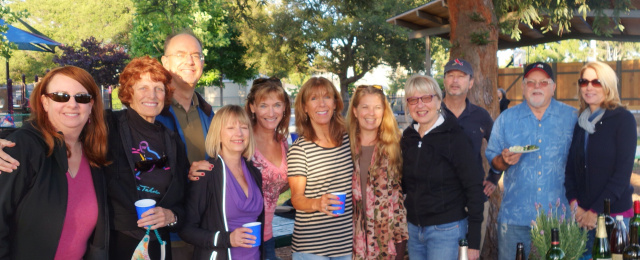 Join us for the summer BBQ's in Burton Park when we fire up the coals and enjoy the balmy summer evenings in San Carlos.
---
Inskiers President and Cabin Chef de Cuisine,
Monsieur David Baird, Plating a Boeuf de Truckee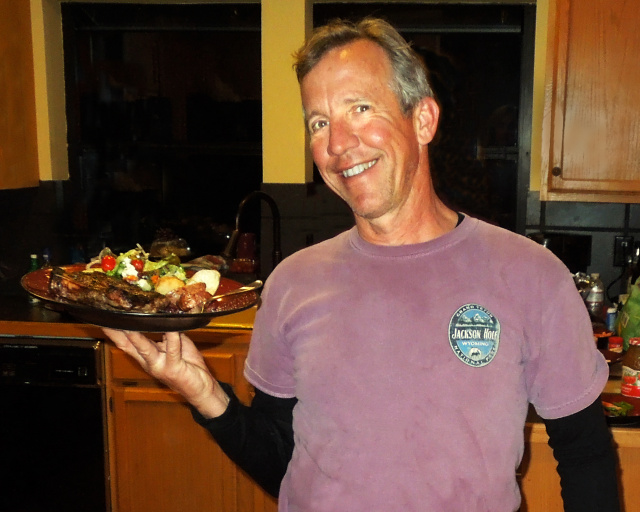 Photo by Jim Mrazek
CHECK OUR CALENDAR FOR UPCOMING EVENTS & MORE
---

Mission Statement
To promote interest in skiing and winter sports, social and athletic activities, to sponsor trips and other skiing activities, to facilitate the various arrangements attendant with skiing; to derive social pleasure from the companionship of skiing enthusiasts; and to support safer and better skiing.
The Inskiers are a group of single adults who love winter sports and the mountains! We are associated with both the Far West Ski Association and the Bay Area Snow Sports Council . As a member of the Bay Area Singles League, we enjoy skiing, snowboarding, racing and social events with other clubs from the Bay Area. As a year-round club, we also enjoy other sports and activities such as biking, hiking, picnics, wine tasting, dining, movies and many types of events.
National Ski Council Federation along with approximately 30 other councils across the United States, representing over 300,000 people! www.skifederation.org (user name: ski club; password: member)
Updated 25Feb15
Follow us on Facebook Follow Us On Meetup