Inskiers meet at this location in the fall and winter months :
In the fall and winter months, the Inskiers meet at Mimi's Cafe in Foster City. Come and enjoy Mimi's casual atmosphere, good food, and fair prices. (www.mimiscafe.com) We are easy to get to and there is plenty of free parking.
The Inskiers also meet once a month at a member's home for a potluck. The get together is informal and fun. The club provides tableware and everyone bings food to share as announced. The Inskiers potluck starts at 6:30 p.m. and annoucements are made through Yahoo Groups.
Inskiers President and Cabin Chef de Cuisine,
Monsieur David Baird, Plating a Boeuf de Truckee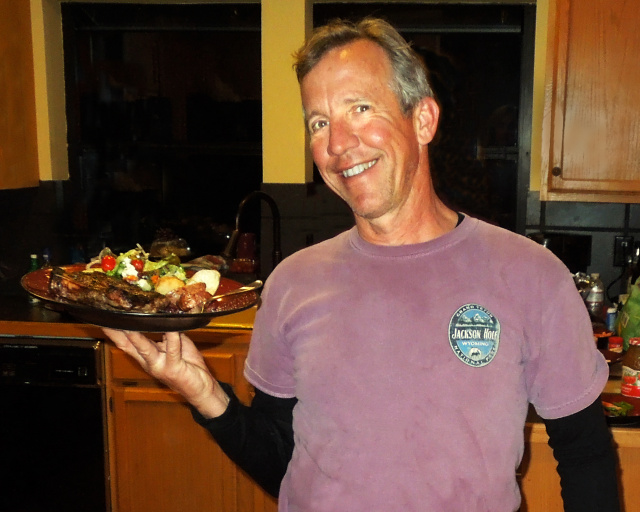 Photo by Jim Mrazek
Race with the Inskiers this season! Registration is now open. To register to race with Singles/Sierra League, go to the Racing page on this website and follow the registration link.
CHECK OUR CALENDAR FOR THE FOLLOWING UPCOMING EVENTS & MORE
Thursday, November 29, 2013 - 2:00+ p.m. Kathi and Gary's Beach Bonfire
Tuesday, December 3, 2013 - 6:30 p.m. Inskiers Club Meeting at Mimi's Cafe
---
SKI TRIPS AND TOURS FROM OUR TRAVEL PAGE
BAC Ski Week 2014 at Beaver Creek, Colorado Jan 25 – Feb 1

Not exactly roughing it!

BEAVER CREEK:

The BAC is currently accepting signups for the 2014 FWSA Ski Week at Beaver Creek, CO Jan 25 - Feb 1. See attached flyer for description of trip and what's included.

Trip cost without air will be $1230 or $2350 depending on lodging option. The attached Beaver Creek information sheets includes lodging options and pricing along with payment schedule and cancellation policies. Lodging assignment is first-come-first-served. The earlier you signup the better your chances of getting first choice accommodations.

BRECKENRIDGE:

The BAC is also offering post ski week extension to Breckenridge, CO Feb 1 - 5. This will be a great deal for the EPIC pass holder. The attached flyer includes lodging, pricing, and what's included.
Mission Statement
To promote interest in skiing and winter sports, social and athletic activities, to sponsor trips and other skiing activities, to facilitate the various arrangements attendant with skiing; to derive social pleasure from the companionship of skiing enthusiasts; and to support safer and better skiing.
The Inskiers are a group of single adults who love winter sports and the mountains! We are associated with both the Far West Ski Association and the Bay Area Snow Sports Council . As a member of the Bay Area Singles League, we enjoy skiing, snowboarding, racing and social events with other clubs from the Bay Area. As a year-round club, we also enjoy other sports and activities such as biking, hiking, picnics, wine tasting, dining, movies and many types of events.
National Ski Council Federation along with approximately 30 other councils across the United States, representing over 300,000 people! www.skifederation.org (user name: ski club; password: member)
Updated 25Apr13
Follow us on Facebook Follow Us On Meetup