Inskiers meet at this location in the fall and winter months :
In the fall and winter months, the Inskiers meet at Mimi's Cafe in Foster City. Come and enjoy Mimi's casual atmosphere, good food, and fair prices. (www.mimiscafe.com) We are easy to get to and there is plenty of free parking.
The Inskiers also meet once a month at a member's home for a potluck. The get together is informal and fun. The club provides tableware and everyone bings food to share as announced. The Inskiers potluck starts at 6:30 p.m. and annoucements are made through Yahoo Groups.
---
Inskiers Annual Valentine's Day Potluck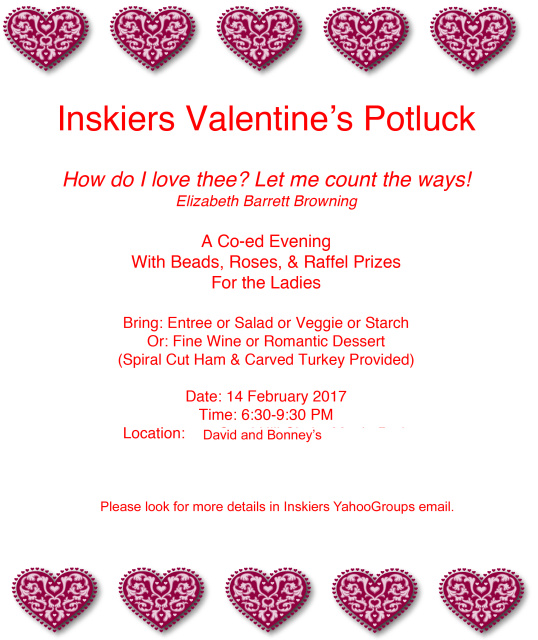 ---
Inskiers Annual Holiday Walk
Three of Santa's elves are pictured here singing carols and spreading seasonal merriment on the Lyzun's annual holiday walk in San Carlos.
Elizabeth, Bonney, and Angie (Photo by David)
---

Inskiers Gather at Denise's for "Wine, Appetizers and Games Night"
Denise and John proved again that they are the most gracious of hosts. In this event to support our ski cabin fundraising - a dozen Inskiers dined on tempting anti pasto, scrumptious hors d'oeuvres, delicious fruits, and many other tasty dishes while playing dice and word games. The evening was filled with the laughter and the smiles of good friends.
---
Bill's Wine and Cheese Party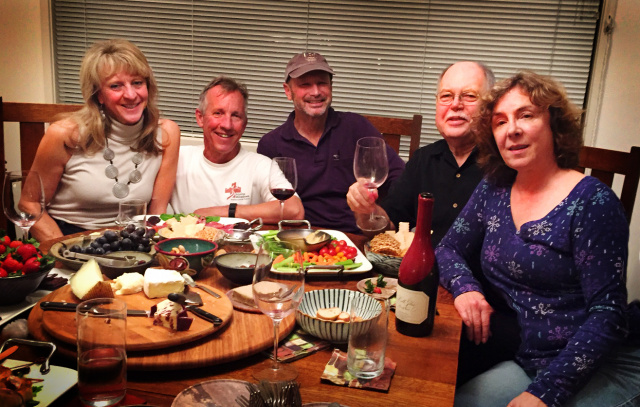 This Saturday, Bill Mahar hosted four Inskiers at his Belmont abode for a night of wine and cheese. He provided a generous selection of cheeses, nuts, olives, fruits and salami, and several bottles of Pinot Noir. As the wine flowed, the conversation became more spirited, even skirting discussions of religion and politics. We are all still friends! It was another fine event.
- Richard Schnabel
---
Chef Baird Preparing Culinary Delights For The Inskiers
Four of us joined Dave and Cathy for dinner this past Saturday. It was a relatively small gathering as Dave meant to keep it small to keep it intimate and to maintain high quality in his kitchen. He did not disappoint. The theme was seafood, and we were served seven courses--including perfectly grilled shrimp and pesto macadamia encrusted cod from New Zealand. There was no shortage of wine. The hosts were gracious, the conversation was convivial, the food and wine were delicious, and the night was perfect.
- Richard Schnabel
---
Avast Ye Maties! Time traveling Inskiers took a trip back to the swashbuckling seas to solve a cold case murder. Justice was served and ribs.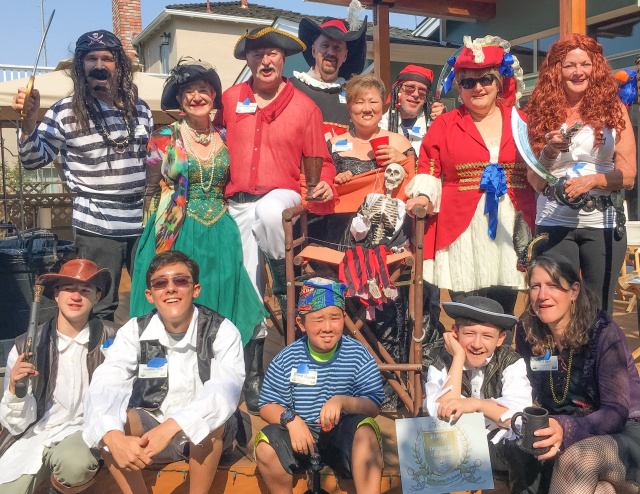 ---
Inskiers on Paddle Boards
Pamella, Suzanna, and Cathy
Cathy Baird (Pres), Pamella Miller (Social), and Suzanna Sarasvati take to the waters off Half Moon Bay on paddle boards. All are avid paddling enthusiasts and often take friends along who are new to the sport.
---
Welcome Madam President!
Cathy Baird - Inskiers 2017 President
---
Inskiers at Burton Park for Summer Meetings
Join us for the summer BBQ's in Burton Park when we fire up the coals and enjoy the balmy summer evenings in San Carlos.
---
Inskiers Revel at Telluride FWSA
Over thirty Inskiers participated in this years Far West Ski Association sponsored ski week in Telluride, Colorado. Skiers are seen here saving energy by dimming the lights gathering around a fire.
Photo by Ken Mahar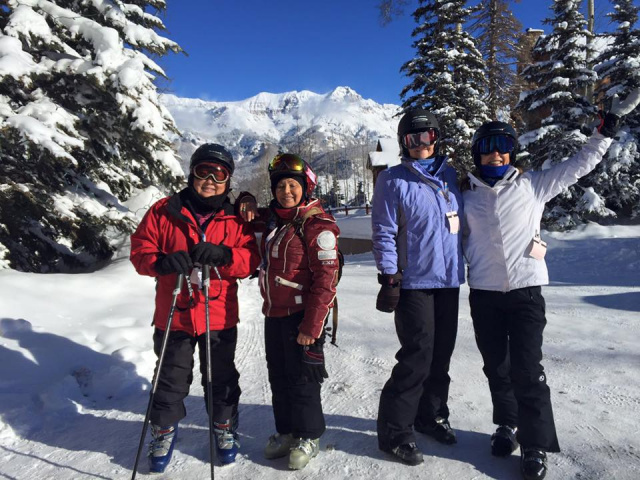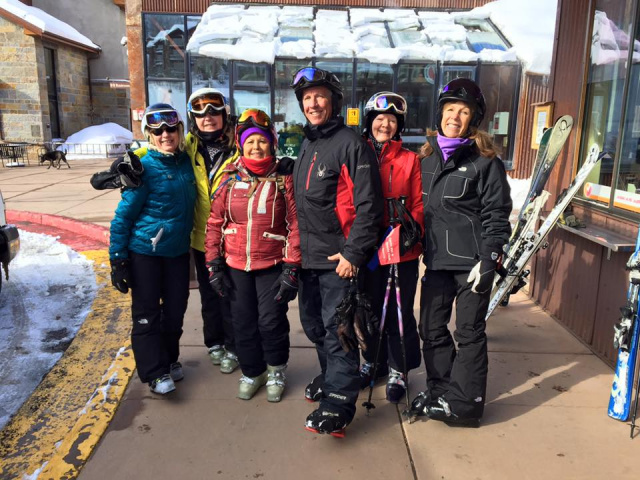 ---
Pam Miller and Cathy Baird getting in a great day at Northstar
---
Inskiers Night at the San Francisco Exploratorium
Pam Miller hosted sixteen Inskiers for the Adult Night at the San Francisco Exploritorium (Pier 15) this October. After dinner together at the Exploritoium cafe, the Inskiers delighted in having the run of all the hands-on exhibits. We compared it to a "Disneyland for grownups - but without the lines." This was so much fun, we will do it again this coming spring.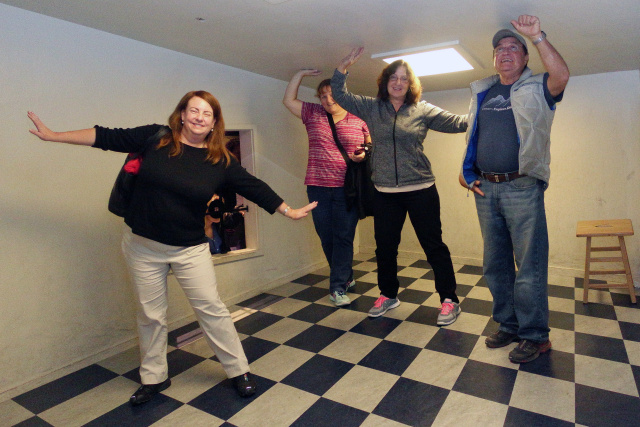 Meeting at the Exploritorium Navigating the "Distortion Room"
Carole dancing in "The Tornado"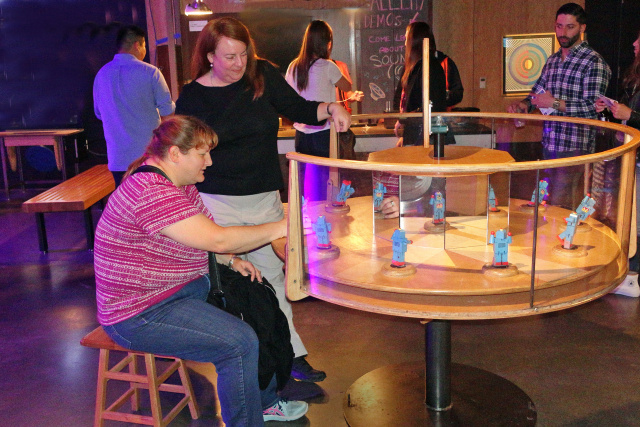 Marie and Pam play "Mr. Slinky" Pam and Marie battle the robots
---
Don Goodnature and Leona Landers hosted our annual Inskiers membership party at McGraw's Pub in Belmont
The membership drive was wildly successful and we saw many returning faces - happy to see one another and eager for a great ski season at the club cabin.
Thank you Terri Zorn for the photos.
---
Inskiers Directeur Sportif and Cabin Chef de Cuisine,
Monsieur David Baird, Plating a Boeuf de Truckee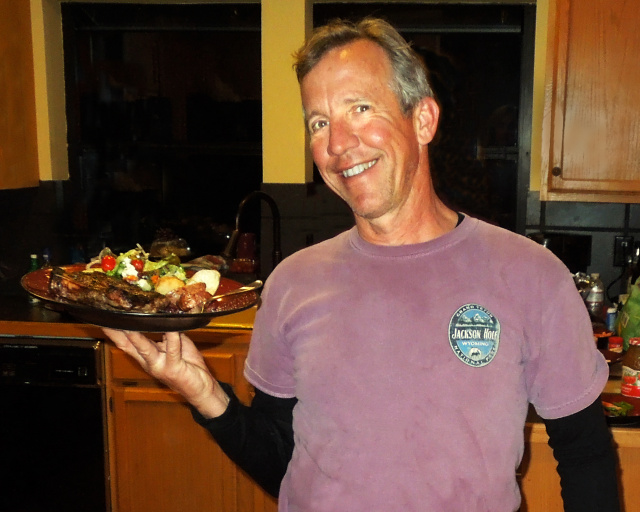 Photo by Jim Mrazek
CHECK OUR CALENDAR FOR UPCOMING EVENTS & MORE
---

Mission Statement
To promote interest in skiing and winter sports, social and athletic activities, to sponsor trips and other skiing activities, to facilitate the various arrangements attendant with skiing; to derive social pleasure from the companionship of skiing enthusiasts; and to support safer and better skiing.
The Inskiers are a group of single adults who love winter sports and the mountains! We are associated with both the Far West Ski Association and the Bay Area Snow Sports Council . As a member of the Bay Area Singles League, we enjoy skiing, snowboarding, racing and social events with other clubs from the Bay Area. As a year-round club, we also enjoy other sports and activities such as biking, hiking, picnics, wine tasting, dining, movies and many types of events.
National Ski Council Federation along with approximately 30 other councils across the United States, representing over 300,000 people! www.skifederation.org (user name: ski club; password: member)
Updated 2Jan17
Follow us on Facebook Follow Us On Meetup