Inskiers meet at this location in the fall and winter months :
In the fall and winter months, the Inskiers meet at Mimi's Cafe in Foster City. Come and enjoy Mimi's casual atmosphere, good food, and fair prices. (www.mimiscafe.com) We are easy to get to and there is plenty of free parking.
The Inskiers also meet once a month at a member's home for a potluck. The get together is informal and fun. The club provides tableware and everyone bings food to share as announced. The Inskiers potluck starts at 6:30 p.m. and annoucements are made through Yahoo Groups.
---
A special skiing report report from Richard Schnabel . . . .
A Day at the Races
Just in time for spring, winter has arrived in Tahoe. We've seen a significant amount of precipitation in the mountains these past few weeks—not all of it has been the powdery stuff we prefer, but this last weekend at Alpine Meadows, it was mostly snow, and we had the some of the best conditions of the season.
Gail and I headed up to the Inskier cabin for the weekend. We picked up David Baird and arrived at the cabin late Friday evening after a forced stop at In-N-Out Burger near Sacramento. David loves In-N-Out Burgers. Brian B was already at the cabin. Gary D arrived with two guests the next day, and we had another companionable Saturday evening with a fine dinner prepared by Gary, Gail and David. We uncorked 6 bottles of red wine. We used the white wine for the carbonara.
Gary recounted his adventures at Burning Man, igniting a spark of an idea for a future Inskier adventure…maybe.
David, Brian, Gail and I headed to Alpine Meadows for the GS races on Sunday.
Conditions were blustery, but most of the mountain was open with a great variety of terrain. I skied with Gail, Brian, David and Kristi W (who snowboarded with us after winning the morning demolition derby event at the Snowdrifter cabin), and we saw groomers, tree skiing, heavy powder, and chop.
It was Gail's first foray into racing for our club. She placed second in her category, but had the finest form with her Euro-platform technique. I think she enjoyed herself.
All in all, a good weekend at Tahoe. Even the return traffic was not too bad.
---
Inskiers President and Cabin Chef de Cuisine,
Monsieur David Baird, Plating a Boeuf de Truckee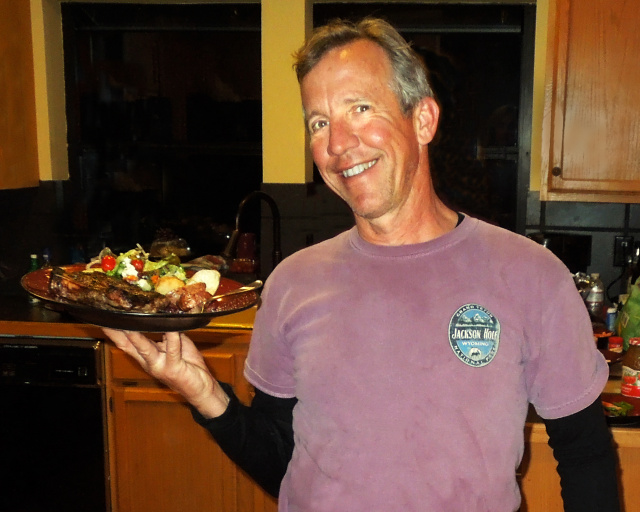 Photo by Jim Mrazek
Race with the Inskiers this season! Registration is now open. To register to race with Singles/Sierra League, go to the Racing page on this website and follow the registration link.
CHECK OUR CALENDAR FOR THE FOLLOWING UPCOMING EVENTS & MORE
Tuesday, March 4, 2014 - 6:30 p.m. Inskiers Club Meeting at Mimi's Cafe
---
Mission Statement
To promote interest in skiing and winter sports, social and athletic activities, to sponsor trips and other skiing activities, to facilitate the various arrangements attendant with skiing; to derive social pleasure from the companionship of skiing enthusiasts; and to support safer and better skiing.
The Inskiers are a group of single adults who love winter sports and the mountains! We are associated with both the Far West Ski Association and the Bay Area Snow Sports Council . As a member of the Bay Area Singles League, we enjoy skiing, snowboarding, racing and social events with other clubs from the Bay Area. As a year-round club, we also enjoy other sports and activities such as biking, hiking, picnics, wine tasting, dining, movies and many types of events.
National Ski Council Federation along with approximately 30 other councils across the United States, representing over 300,000 people! www.skifederation.org (user name: ski club; password: member)
Updated 25Apr13
Follow us on Facebook Follow Us On Meetup