Inskiers meet at this location in the fall and winter months :
In the fall and winter months, the Inskiers meet at Mimi's Cafe in Foster City. Come and enjoy Mimi's casual atmosphere, good food, and fair prices. (www.mimiscafe.com) We are easy to get to and there is plenty of free parking.
The Inskiers also meet once a month at a member's home for a potluck. The get together is informal and fun. The club provides tableware and everyone bings food to share as announced. The Inskiers potluck starts at 6:30 p.m. and annoucements are made through Yahoo Groups.
---

In Memory of Allen Brumm
1958 - 2015
Allen served on the Inskiers board as Race Director and was an active supporer of our club. Those who knew him will miss his quiet strength , sense of humor, and warm personality.
The funeral for Allen Brumm is Saturday, October 3, 2015 at 2 p.m.

It is in the Crystal Springs Chapel at Skylawn Funeral Home,
Route 35 at Highway 92, San Mateo, CA 94402

Telephone: (650) 349-4411

Skylawnmemorialpark.com
There is a memorial service for Allen at Oracle next Thursday, 10/8, 4 p.m., at the Oracle Conference Center.
Note: Plese see the "Memories of Allen" tab in the left column of this site for a gallery of snapshots taken of Allen.
---
Don Goodnature and Leona Landers are hosting our annual membership party at McGraw's Pub in Belmont on October 30. See the calendar page for details.
---
Inskiers, please see the "Inskers Club Singles League Race Schedule for 2016" now in the "Racing" page. Dave Baird, Race Director, will be posting more details soon.
---
2015 Singles League Snowball:
---
2015 Inskiers Bocce Ball Tournament: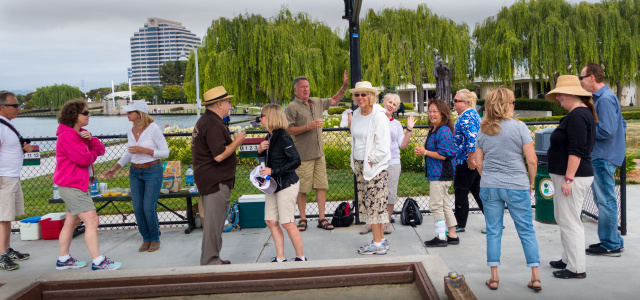 Inskiers at Foster City Bocce Ball Grounds
David Baird Bowling Ken Mahar Bowling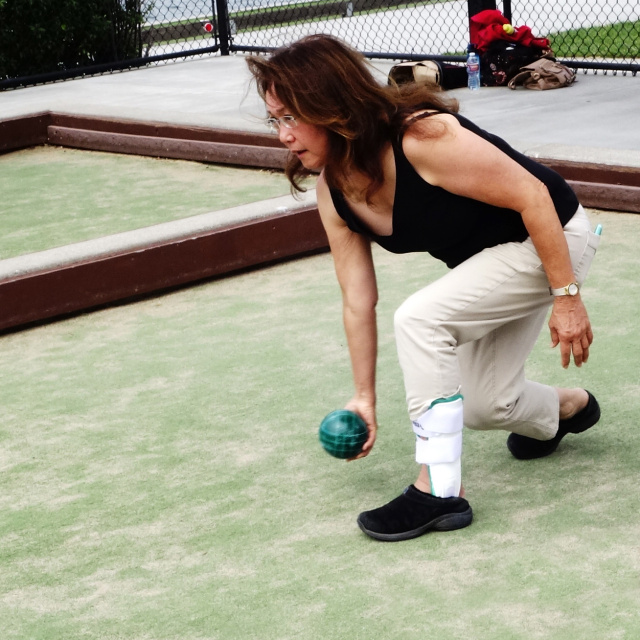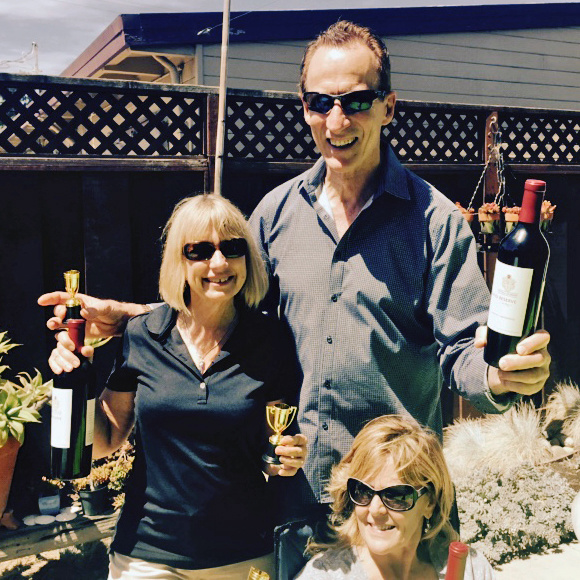 Linda Bowling Inskers 2015 Bocce Champions
- Gail, Don, and Lana
Ken Mahar and Jessica Disney sponsored the Inskiers 2015 Annual Bocce Ball Tournament this August at the Foster City Recreation Center Bocce Ball Grounds. The competition this year was, again, most fierce. Although the heavily favored team of Ken Mahar and David Baird (2014 Inskiers Bocce Champions) played extremely well, the upsart team of Gail Burns, Don Goodnature, and Lana Clark put on a dazzeling bocce performance to claim tournament victory and the honored title of 2015 Inskiers Bocce Champions. All celebrated enthusiastically at Ken and Jessica's home afterwards.
---
2nd Annual BAC Sharks Hockey Night
Let's get ready to "Drop the Puck" with the Bay Area Snow Sports Council (BAC) and the San Jose Sharks on Saturday November 7, 2015 at the Shark Tank in San Jose! This is a fundraiser in support of a local junior ranked racer sponsored by the Far West Ski Association. The BAC has group seating in Section 223. If we sell these out quickly, we'll be able to get additional seats in a section next to us! For more information, go to "November 7, 2015" in the Inskiers club calendar or got to www.skibac.org on the web.
---
Classy bunch at the Inskiers member appreciation night: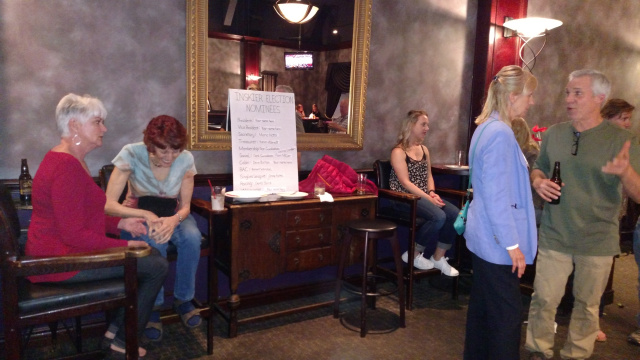 ---
FWSA 2016 Telluride Ski Trip
Hello Inskiers,

Next season's FWSA ski week will be in Telluride, Colorado during the week of Jan. 30-Feb. 6, 2016.

The Inskiers board is heartily recommending this trip to all Inskiers and we would like to participate this year as a club. Several members have already committed to go. It is possible for us to get optimal housing arrangements and we can arrange for Inskiers to reside in the same suite or general area.

Please let me know if you plan to go on this great trip. At this point, early registration will require a $200 deposit.

-Richard, your BAC rep

Here's the flyer: Telluride 2016
Here's the application: Telluride Trip Application
---
Take a look at Inskiers enjoying the last race weekend of the season, and with top racer Craig Faitel showing us how it's done on the course. Good times!
https://www.youtube.com/watch?v=6rg1kXT4AJ0&feature=youtu.be
---
Big White!!
David B and I are back from a 5-day stay at Big White Resort in British Columbia, Canada.
Big White is the highest Resort in BC, which at 7606 feet at the summit still sits lower than most resorts in the American west. Big White is big: about as big as Northstar. The resort is an hour shuttle away from Kelowna airport, which is now served nonstop from SFO by United. Big White accommodations are all ski-in/ski-out, with diverse choices ranging from hotel style accommodations to huge multi-family chalets. For couples and small groups, the sweet spot might be the Chateau Big White, located on one edge of the village mall. Dave and I were one block downhill at the Inn at Big White, with serviceable travel-hotel type accommodations. Big White is a ski-specific resort targeted to families-so there is not an abundance of nightlife, shopping, sightseeing, museums or art galleries. They do have restaurants, bars, and spas. And great downhill skiing.
The mountain is well laid out for skiing- with 3 broad, interconnected areas with many groomed blue runs, and with accessory lifts and T-bar access to expert terrain. Along with most of the North American west this season, Big White has had a dry mid winter, but we were fortunate to arrive the day after a 3-inch dusting of fresh snow. We especially liked the swoopy blue runs and the black tree skiing off the Gem Lake lift.
We made friends every day at the resort. The staff and the guests are mostly from the British Commonwealth, but we did meet a large group from Germany/Austria at the Inn. We skied with a French Canadian couple from Ottawa, and shared libations and conversations with Brits, Aussies and Kiwis. We particularly enjoyed the food, beverages, and hospitality at the Black Diamond Restaurant in the Chateau. We shared a terrific 45 ounce "Tomahawk" ribeye steak at the Kettle Valley Steakhouse, and relished the food and wine at the Globe tapas restaurant-where we attended a wine-tasting highlighting affordable wines from the nascent wine-making region of the (local) Okanagan Valley. Dave got expansive. I got full. We did promise to return to Big White.
The morning of our departure, we had enough time for a breakfast sandwich at the Black Diamond before our return shuttle to Kelowna airport- the morning staff gave us spontaneous farewell hugs to send us off: "See you next year".
- Richard "Skiing With" Schnabel
---
Snowball!
A dozen well-dressed and lively Inskiers attended this year's Snowball event in November! Craig Faitel,our Singles League rep, did a fabulous job with the auction items and promotion! We honored our Inskiers' "Woman of the Year" lovely Cathy Baird and our "Man of the Year" generous David Falconer. The Inskiers partied hardy dominating the dance floor all night prior to moving up to socialize at the after midnight Party Suite.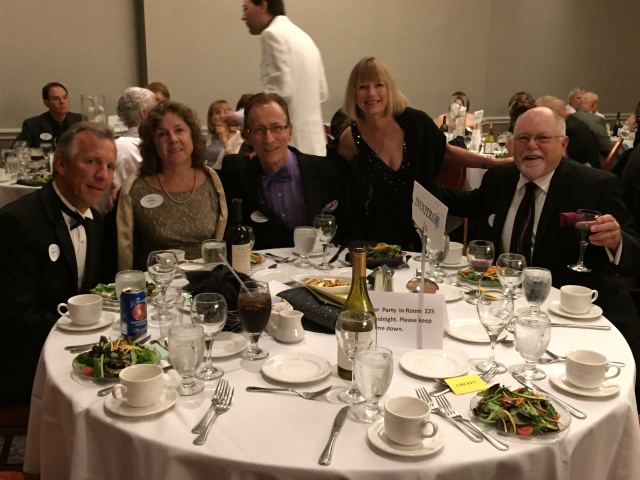 Pictured from left to right: David & Cathy Baird, Don Goodnature, Gail Burns, & Bill Mahar. Pamela Miller was the photographer.
---
2015 BAC Fireworks Night and A's Game Tailgate
Mark your calendars now for this fun annual sold out event:
---
Inskiers June BBQ at Burton Park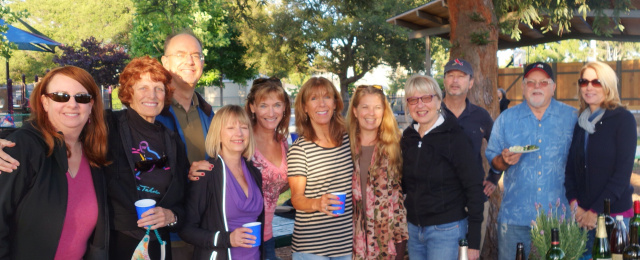 Join us for the summer BBQ's in Burton Park when we fire up the coals and enjoy the balmy summer evenings in San Carlos.
---
Inskiers President and Cabin Chef de Cuisine,
Monsieur David Baird, Plating a Boeuf de Truckee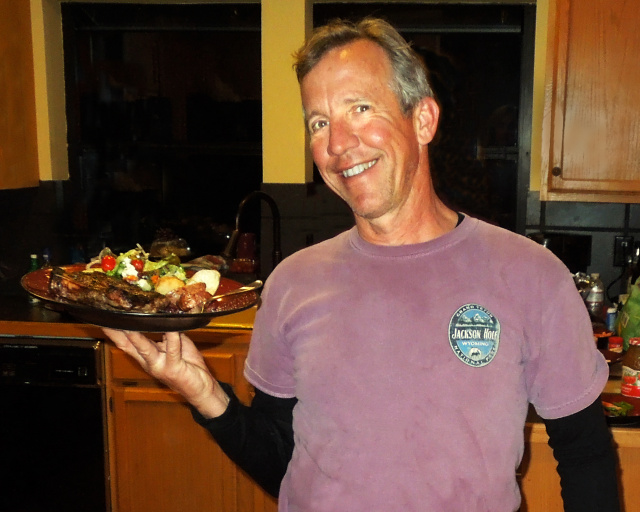 Photo by Jim Mrazek
CHECK OUR CALENDAR FOR UPCOMING EVENTS & MORE
---

Mission Statement
To promote interest in skiing and winter sports, social and athletic activities, to sponsor trips and other skiing activities, to facilitate the various arrangements attendant with skiing; to derive social pleasure from the companionship of skiing enthusiasts; and to support safer and better skiing.
The Inskiers are a group of single adults who love winter sports and the mountains! We are associated with both the Far West Ski Association and the Bay Area Snow Sports Council . As a member of the Bay Area Singles League, we enjoy skiing, snowboarding, racing and social events with other clubs from the Bay Area. As a year-round club, we also enjoy other sports and activities such as biking, hiking, picnics, wine tasting, dining, movies and many types of events.
National Ski Council Federation along with approximately 30 other councils across the United States, representing over 300,000 people! www.skifederation.org (user name: ski club; password: member)
Updated 25Feb15
Follow us on Facebook Follow Us On Meetup