Inskiers meet at this location in the fall and winter months :
In the fall and winter months, the Inskiers meet at Mimi's Cafe in Foster City. Come and enjoy Mimi's casual atmosphere, good food, and fair prices. (www.mimiscafe.com) We are easy to get to and there is plenty of free parking.
The Inskiers also meet once a month at a member's home for a potluck. The get together is informal and fun. The club provides tableware and everyone bings food to share as announced. The Inskiers potluck starts at 6:30 p.m. and annoucements are made through Yahoo Groups.
---
Hockey Night!
A good time was had by all!
---
September BBQ with Entertainment by the Inskiers band - "Inskers Unplugged"
Our last Burton Park BBQ of the summer featured a special performance by our Inskiers Band! With Richard Schnabel, Don McCoury, and Terry Adams on guitar and her daughter Jenny on vocals, they serenaded us with a set of five acoustic tunes. We listened to great harmonizing duets on the songs: " I Can Hear Music", "Dream," and "Norwegian Wood."

Many of the Inskiers after wining and dining on BBQ Fare sang along on "Kumbaya." Richard brought his ukuele for a Hawaiian version of "Somewhere of the Rainbow" and Terri Zorn and Gail Burns joined together on vocals.
They are taking song requests for their next gig at future potluck. Rumor has it that they may play a Neil Young set! Hope to see you there! BRAVO!!!
- Gail Burns
---
Inskiers at 2014 Annual BAC A's Game BBQ & Fireworks Night
The Inskiers tailgated to tasty hamburger BBQ and enjoyed the best seats in the house at A's stadium to watch the Oakland A's baseball team win over the LA Angels. As a bonus, there were fireworks afterward! Proceeds from the event went to Disabled Sports Far West.
Denise, John, Gail, Richard Lana, David, Kathy, Angie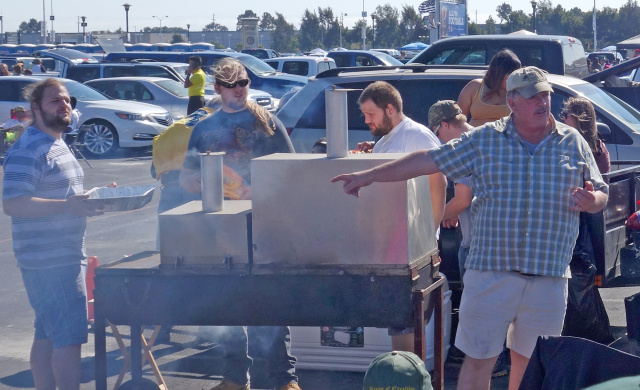 BAC Pres Dennis Making Announcements
BAC club members relaxing and eating in the BBQ area of the A's baseball park.
---
Inskiers Reveling at AT&T Park Giants - Mets Baseball Game
Click here and read a play-by-play account of how the Inskiers cheered on the home team to victory.
Thank yous to Inskier photojournalists Gail, Richard and Don.
---
Inskiers June BBQ at Burton Park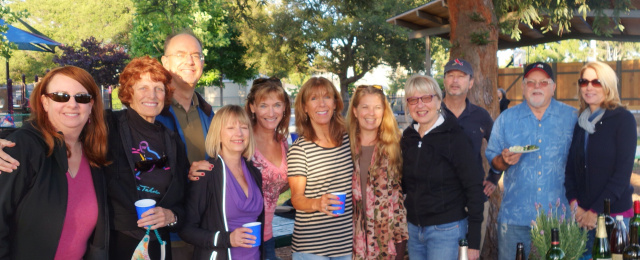 Join us for the summer BBQ's in Burton Park when we fire up the coals and enjoy the balmy summer evenings in San Carlos.
---
Inskiers President and Cabin Chef de Cuisine,
Monsieur David Baird, Plating a Boeuf de Truckee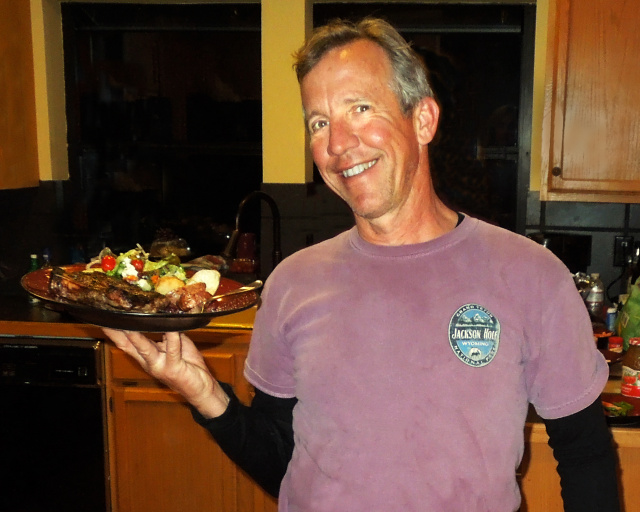 Photo by Jim Mrazek
CHECK OUR CALENDAR FOR UPCOMING EVENTS & MORE
---

Mission Statement
To promote interest in skiing and winter sports, social and athletic activities, to sponsor trips and other skiing activities, to facilitate the various arrangements attendant with skiing; to derive social pleasure from the companionship of skiing enthusiasts; and to support safer and better skiing.
The Inskiers are a group of single adults who love winter sports and the mountains! We are associated with both the Far West Ski Association and the Bay Area Snow Sports Council . As a member of the Bay Area Singles League, we enjoy skiing, snowboarding, racing and social events with other clubs from the Bay Area. As a year-round club, we also enjoy other sports and activities such as biking, hiking, picnics, wine tasting, dining, movies and many types of events.
National Ski Council Federation along with approximately 30 other councils across the United States, representing over 300,000 people! www.skifederation.org (user name: ski club; password: member)
Updated 25Apr14
Follow us on Facebook Follow Us On Meetup